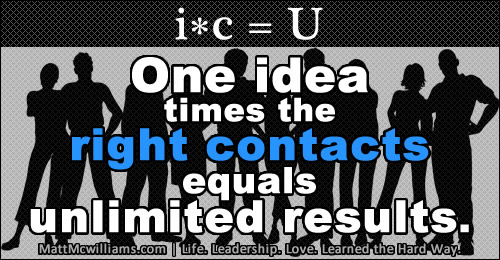 Network Math: One idea times the right contacts equals unlimited results. ~Mark Victor Hansen.
(Click to Tweet)
I heard that quote in an interview with Mark Victor Hansen recently. It perfectly sums up the power of your network.
Your potential goes only as far as your network.
Your income is limited and expanded by your network.
The success of your next project, your next business, or your next fundraiser is dependent on your network.
So what is stopping you from building and maintaining a powerful network today?
I've written extensively about networking in the following posts. If you have not read them, you should. If you have read them but aren't putting them into practice, read them again and take action!
Maintaining a Warm Network – What I've Done
Your Networking Budget – 200 Hours and $1000
You can leave a comment by clicking here.
---
If you enjoyed this post, make sure to subscribe to get posts via email (and get my free book as a bonus) or my RSS feed.