This is the humorous, painful, and probably not very instructional story of a presentation gone horribly wrong.
I recently tweeted this and Erik Fisher gave me the idea to post about this: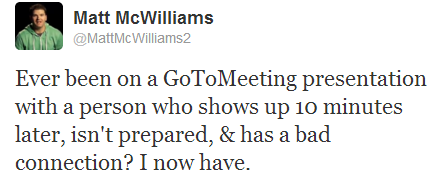 Below is how things went down. What came from the debacle was a side chat with one colleague and a group chat with the rest. I have changed their names but the comments are copied and pasted from our Skype windows.
I hope that you laugh. I hope that you cringe (in a good way). And I hope that you learn something. I'll settle for laughing and cringing though.

Time for the meeting to begin. I've cleared my schedule for an hour and I am ready for some learning. The topic is dealing with fraud in affiliate marketing and how this particular vendor can help.
We chat amongst ourselves for two minutes then settle down in expectation of the arrival of the presenter. No arrival.