The world truly lost a legend yesterday.
Nelson Mandela was a champion of principle. He fought for what he believed in and left a legacy for the entire world.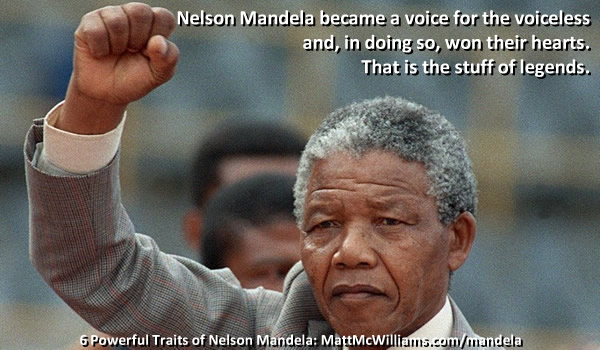 Last night, as the news broke of Nelson Mandela's death, I tweeted:
If I live half my years as well as Nelson Mandela lived his 95, I'll have lived a full life. We lost a legend today.

— Matt McWilliams (@MattMcWilliams2) December 5, 2013
How is it that a man in his position could rise to worldwide prominence? How is it that hundreds of years from now, people will use the words "modern-day Nelson Mandela" to describe another man or woman? And how can we leave a legacy like he has?
Odds are that none of us will ever go through what Mandela went through in his life. He spent 27 years in prison, often in conditions so dreary and dark that it led to him developing a case of tuberculosis shortly before his release in 1990. And yet we can all learn six powerful traits from him.