My generation is soft.
I am thirty-four years old and most of my peers are soft. I suppose that thirty-five hours a week of television, a welfare state, and a decade or two of "role models" dressing like tramps and being more known for their drunken exploits will do that to a generation.
And we're only getting softer. Less responsible. Less motivated. Less determined. Less impactful.
At the risk of starting a political debate (please don't) the most troubling part of the president's healthcare law had nothing to do with freedom, constitutionality, or cost. It's the provision that allows offspring (notice I didn't say "children") to stay on their parents' plans until the age of twenty-six. Twenty-six years old! They're twenty-six years old and they still get to, per a government mandate, stay on Mommy and Daddy's health insurance. Give me a break!
But that is no excuse for this generation. And there is still hope.
My generation must learn from Sugay Ray Leonard.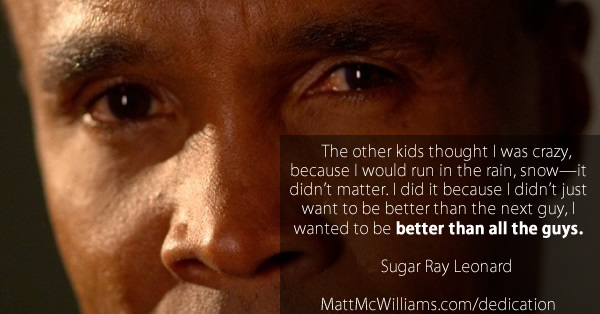 As a child, Sugar Ray Leonard would wake up just like all of the other kids. He would get dressed for school just like all of the other kids. He would walk to the bus stop just like all the other kids. But right there, as the bus pulled up, is where the similarities between Sugar Ray Leonard and all the other kids end.