I'll be happy when _________.
Go ahead, fill in the blank. That blank is your definition of "success."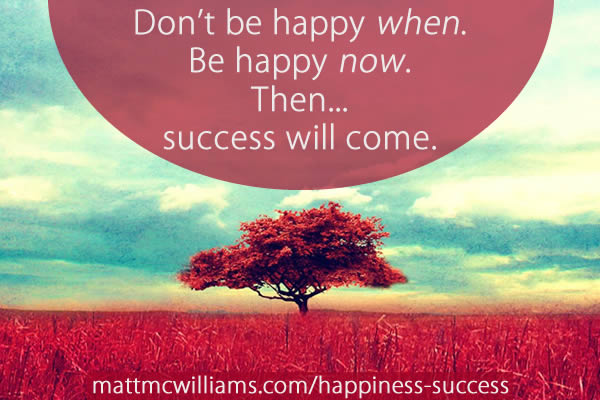 Don't be happy *when.* Be happy *now.* Then…success will come. (Tweet That) | Share this Graphic on Pinterest | Share on Facebook
That is your goal. It's what you are striving for. It's what you think will make you happy. Or will it?
The Happiness-Success Paradox
Here is a surprising paradox for some: To achieve authentic success, you must be happy first. Happiness leads to success, which leads to more happiness, which leads to…and thus the cycle is born. Round and round you go on a positive cycle that seems to self-contain itself in an impenetrable bubble. The same principle works in effect for negativity and unhappiness. Negativity leads to failure, which leads to more negativity and unhappiness, which…and the self-containing bubble grows bigger and stronger and seemingly unbreakable.
Happy people simply get more "breaks." Happy people find jobs easier, they find mates easier, and they find help from others easier. All because they made a choice to be happy.