Have you ever felt completely overwhelmed at life?
I have. And for the past three years, it happens like clockwork this time of year.
Our little girl is almost three. And every year I am reminded of that amazing day when she was born. As we plan the party, choose a cake, and wrap her gifts, my thoughts turn to the day she joined the world. It was a day that overwhelmed me. It continues to overwhelm me today.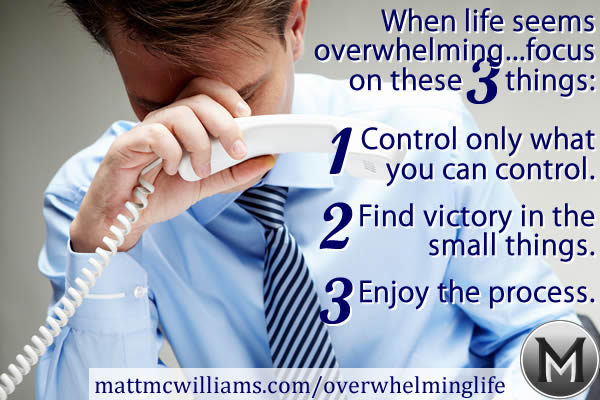 How do you overcome overwhelm? By focusing on these 3 things. (Tweet That) | Share this Graphic on Pinterest | Share on Facebook
My father passed away from ALS (Amyotrophic lateral sclerosis, better known as Lou Gehrig's Disease) eight years ago at the age of 51. His form of ALS was a rare one, so rare that they initially misdiagnosed him with Parkinson's. His mind deteriorated before his body, rather than the other way around.
For months, I watched as the man that I knew slowly left us. We would have conversations and he would repeat the same things multiple times and ask the same questions of me repeatedly. As hard as it was, I would give almost anything for just one more of those conversations.