This is part three in a three part series on ROWE (Results Only Work Environment). If you missed parts one and two, read them here:
Part One: Leaders, Should you Go to a ROWE?
Part Two: Three Common Mistakes in Implement a ROWE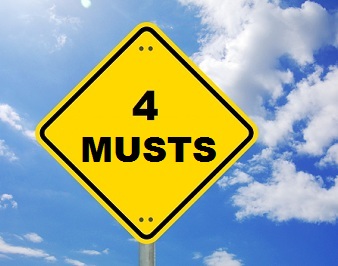 I've found four things companies and leaders must do when implementing a ROWE. They are not one time events, but continual practices that the leaders of the organization must take part in.
The Four Musts of Implementing a ROWE are:
You Must Train the Leaders…A Lot. In the previous post, I issued a warning regarding holding people accountable: If you or anyone on your leadership team is conflict adverse (i.e. you struggle with accountability), do not, under any circumstances, implement a ROWE. First, work on your leadership, then consider a ROWE. First, train your leaders and that includes yourself. Training must happen in-depth before implementing ROWE, during the implementation, and pretty much forever. If you don't like training other leaders, you should not be a leader yourself. (Click to Tweet that). Leaders should be fully prepared to lead in a ROWE before it is implemented. ROWE is not an "experiment" and should not be learn-as-you-go.
You Must Remind Your Team That ROWE is a Privilege. Working when you want and where you want is as a privilege. If you can't get your work done virtually, you either lose your privilege or you lose your job. That needs to be made clear up front and continuously without sounding like an evil drill sergeant. People will work hard to protect privileges.
Team Members Must Reach Out to the Leaders. They should be expected to reach out to you. This means at the very least a weekly report via email that they are required to send. I learned that there is a big difference between you (the leader) calling them and expecting them to take the initiative and call you. You must set the expectation that you expect them to call you sometimes, at least for your weekly one-on-one meeting. That little difference has a huge impact. When they call you, it is now their meeting, not yours. (Learn more about one-on-one meetings)
You Must Empower Your Team. Yes, leaders should hold team members accountable. Yes, you should meet frequently. And yes, as a leader, you will be required to make some of the tough decisions. In a ROWE, however, you don't set the schedules, just the expected results. So you must empower your team to make most of the decisions themselves, trust them to get the job done, and work together. If trust, delegation, and empowering your team are issues for you as a leader, do not even consider going to a ROWE. If it is an issue for any leaders in your organization, you must either change the leader or change leaders. That means training and/or hiring.
Conclusion: I am neutral on ROWE in the same way I am neutral on Mac vs. PC. I have seen it done very well and very poorly. It is right for many companies and absolutely wrong for others. If you are considering it or your curiosity has been piqued by this series, here are some further resources I suggest.
The book Why Work Sucks and How to Fix It by Cali Ressler and Jody Thompson, two former Best Buy employees who implemented ROWE there.
Google "Results Only Work Environment" and read 3-4 positive and negative articles. Decide for yourself.
What say you? Is ROWE right for your company? How do you think you would work or lead in a ROWE?