My wife, Tara, and I recently attended the Counting Crows concert here in Fort Wayne. They've been my favorite band for more than twenty years and I'd never seen them. That is until she got me the ultimate anniversary gift…3rd row, VIP tickets. Amazingly, while there I observed five things they do that all great leaders do.
During the course of the day and night of the concert, I noticed five things about the band that stood out. I was surprised to find leadership lessons from a rock band, but that is exactly what happened.
5 leadership lessons from Counting Crows
1. Great leaders continue to hone their craft.
Counting Crows released their first album in 1993. Few of you, if any of you, were online back then. It was before smartphones, instant messaging, blogs, and buying music online was unheard of. Even before that, lead singer Adam Duritz and his bandmates were in other bands, writing songs, and developing their skills.
And yet, there they were in the middle of the afternoon practicing and performing a sound check. After more than twenty years, they were still honing their craft.
Great leaders and those who change the world don't take their skills for granted. They continually invest their time and energy into improving themselves and making sure that they are doing the basics better.
I'm sure they could play all of their songs in their sleep and that sound check could be done in less than ten minutes, but they continued to hone their craft.
2. Great leaders give the spotlight to others.
If you're familiar with Counting Crows, you instantly think of the lead singer, Adam Duritz. His voice and his hair are instantly recognizable. There is no doubt that he is the leader and most famous figure in the band.
And yet, he consistently gives the spotlight to others. Throughout the show, there were scenes like this: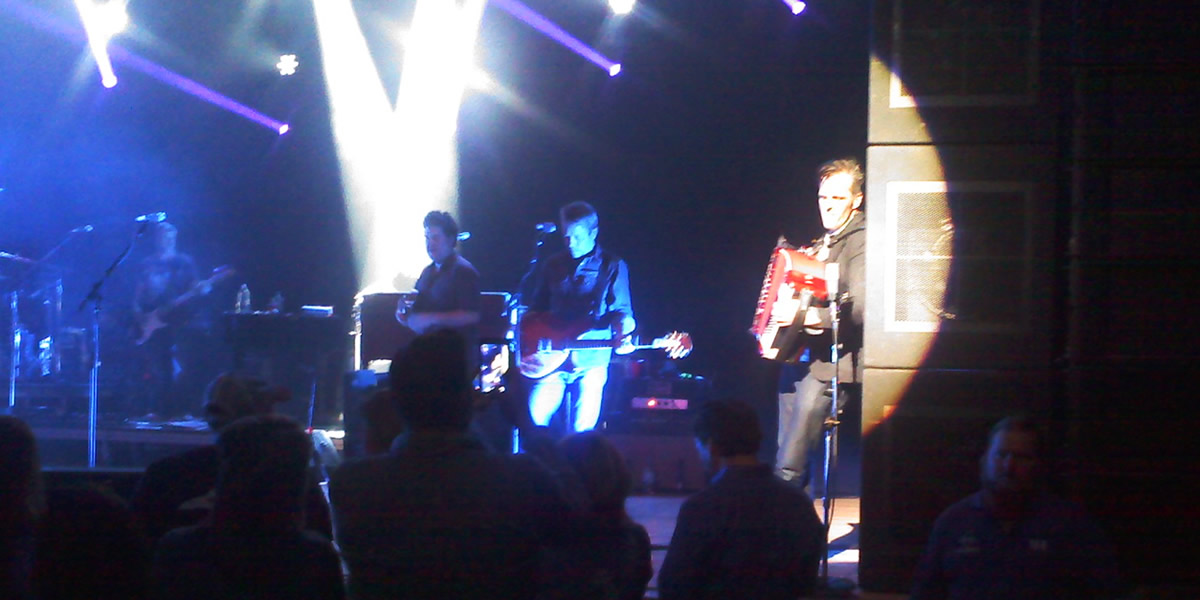 From day one, Adam has made it clear that Counting Crows is a band, a group of people who play music together. It's not about just him, even though he is the one who generally writes most of the songs, does most of the interviews, and is without a doubt the face of the band.
Just because his celebrity is bigger does not mean his ego is. Sure, he could take more of the credit and hog more of the spotlight, but, like a great leader always does, he shares the spotlight with others.
3. Great leaders develop new talent.
Adam and the other members of the band have made it. They've made tens, if not hundreds, of millions of dollars, toured the world, been on the covers of magazines, and are adored the world over.
So what do they do? They share the stage with lesser known acts and tour with them. And not just in the traditional sense of having an "opening act."
Adam not only introduced the band to the delight of the crowd, but he watched their entire set from the side of the stage. And to top it off, he invited them on stage to sing with him later in the show.
Counting Crows didn't just give the band a platform. They are developing new talent.




4. Great leaders involve the crowd.
Like any experienced band leader, Adam Duritz knows that audience participation is key to an enjoyable concert.
At least thirty times during the show, he stuck out the microphone over the crowd as if to say, "your turn." And we responded by singing our hearts out.
It didn't seem obligatory or routine, rather, he wanted to involve us. He wanted to hear us sing louder. He wanted us to feel as if we were a part of the show.
That's what great leaders do…they involve the crowd. They involve their team members and customers.
5. But they don't follow the crowd or give in to it.
| | | |
| --- | --- | --- |
| | | |
| | Lesson from @CountingCrows – Great leaders involve the crowd but don't follow it. | |
For twenty years, Counting Crows has maintained a distinct style. They've never given in to the current fads. And while that might have prevented them from being more popular among the mainstream audience, they've won the loyalty of their core fans.
After the show, Tara told me about an article she'd read about how they select their playlist for the night. It's simple: they play what they want to play. Sometimes, that leaves a fan disappointed, like I was that they didn't play my favorite song of theirs. But it allows them to keep it fresh and to stay excited. It works for them.
They involve the crowd, but like all great leaders, they don't follow it or give into it.
This year, resolve to continue to hone your craft and become the best version of yourself that you can be. Give others the spotlight and develop new talent. Give others more than just a platform, invest in them. And involve the crowd but don't sacrifice your principles and passion to follow it.
Which of these five traits of great leaders do you need to work on most?