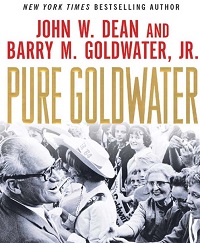 What makes a courageous man (or woman)?
One of the aspects of a courageous man (or woman) is the willingness to speak up when it's dangerous. To stick one's neck out and risk it all by speaking the truth.
I am currently reading a book by John Dean and Barry Goldwater, Jr. about the latter's dad, former Senator and 1964 Presidential nominee, Barry Goldwater. Pure Goldwater is a collection of his journal entries that gives the reader incredible access to the inner mind of a successful businessman and public servant.
Two of his entries stood about above all others. One is below. I will share the other soon.
"That is something neither of you should ever be afraid to do: say what you think if you think what you believe is right. You will never succeed telling the other fellow what he wants to hear, even if speaking your thoughts might get you some criticism, it will get you far more praise. A courageous man is respected not so much for his thoughts or his actions but for this courage in presenting his thoughts and doing his job."
~Barry Goldwater, to his sons in a journal entry dated March 16, 1940
Question: Do you sometimes find it hard to find the courage to speak the truth when you know there could be consequences? How have you overcome the fear?