If your audience has specialized knowledge that can be monetized then a challenge is a great way to help them succeed quickly and rapidly grow their business.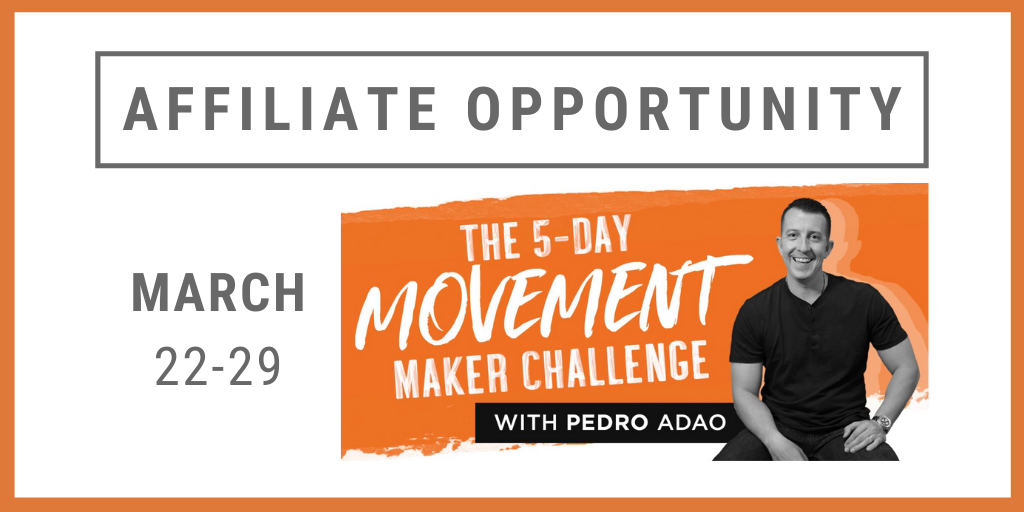 Pedro Adao's Challenge and Course teaches folks how to design and create their own challenge that will increase audience engagement and get them to take action to achieve results…ultimately leading to higher conversions on the products you sell.
Our business and our students' businesses have had amazing results when we use the challenge model.  Our List Launch Challenge and has helped hundreds if not thousands of students launch their email list and finally start their business!
And let's face it…Pedro does challenges better than we do.
I feel comfortable saying this because it's true and I'm excited to support Pedro's launch this year.
Which makes it all the more exciting to announce that we're running the affiliate launch for the Movement Maker Challenge this year!
Pedro and his Movement Maker Challenge have helped THOUSANDS of students, ranging from Ryan Levesque to students just like you, create their first or next Challenge.
And the best part…your audience can attend the Movement Maker Challenge completely free of charge.
I'm personally very excited about this launch for 3 reasons:
It's from Pedro Adao, aka "The Challenge Guy," who is the real deal. His resume speaks for itself.  He's known as "The Challenge Guy" for a reason. He's a five-time ClickFunnels Two-Comma Club Qualifier.His testimonial list includes many of the who's-who in online business — Dean Graziosi, Jeff Walker, John Lee Dumas, Ryan Leveque, Russel Brunson, Pete Vargas, Ryan Deiss, and many more.All of that is to say, Pedro has put together an incredible product. And you can bet that it is top-notch…as a matter of fact, if I wasn't 100% convinced, I probably wouldn't be writing this!
This Course Has Unparalleled Success. Pedro has a completely tested and proven system. This isn't theory or internet marketing mumbo-jumbo. It's designed to help you and your audience take action on what they learn instead of just buying more courses to collect digital dust.Many of the industry leaders in online marketing are currently using the methods Pedro teaches in both his 5-day challenge and his full course Crush It With Challenges.
You definitely want to add this launch to your calendar!
Target Audience
The Movement Maker Challenge is for anyone who currently has an audience and business or who is looking to start a business and wants to build it in a way that allows them to grow rapidly by helping their audience actually get results.
This includes:
Coaches

Speakers

Authors

Designers

Bloggers

Podcasters

Consultants

Experts

Influencers

…anyone else wanting to start a movement with their business
In short, if you know anyone looking for a way to grow their business with reliable, action-based, results-driven success this challenge is probably for them!
In our latest planning call, Pedro told me, "This is an investment in your audience, even if they never buy my course." You always hear me talking about GIVES and ASKS when it comes to your audience…This is a huge GIVE.
What's Included?
When attendees register for the Free 5 Day Movement Maker Challenge they get the exclusive 5 Day Challenge taught by Pedro himself. This has only been offered twice in the past year and never been offered as an evergreen challenge.
After the 5 Day Challenge, they'll be offered Pedro's Crush It With Challenges training program that will teach them how to start, grow, and scale any business in any niche using challenges.
Those who purchase the Crush It With Challenges will receive access to the full course with the methods Pedro has used to do over 15+ six-figure challenges, a $500K Challenge, and 2 Million Dollar Challenges.
Last year with the purchase of the course, his team offered bonuses legitimately over $20,000 total. Pedro is holding nothing back to help you crush it.
Launch Dates
The Movement Maker Challenge is available to promote starting March 22-29, 2021. The pre-promo period starts March 12.
Pricing
The conversions are outstanding (nearly 4% of leads) and the commissions are insane (nearly $1,000 per sale), so you can rest assured there's some serious money to be made here….as well as an awesome way to serve your audience!
5 Day Movement Maker Challenge: Free w/ optional upsells.
Crush It With Challenges Course: $1,995
Commission: 50% plus some incredible bonuses.
Testimonials
"Pedro Is a friend That Shows Up and Serves His Clients at the highest level. He has taken online challenges to a whole new level, the modern era" – Dean Graziosi
"Pedro helped me do my first ever challenge, and I saw conversion numbers like I have never seen before in my life. Pedro and his challenge model gets my most highest and enthusiastic endorsement." – Ryan Levesque, Ask Method
Pedro broke down his challenge model for Roland Frasier and I…Dude is super smart" – Ryan Deiss, Digital Marketer
"Pedro is without a doubt the leading marketing expert and authority on the subject of online challenges" – Joe Polish, Genius Network