We've heard over and over again that one of the keys to success in any aspect of life is to find a mentor that has achieved what you want to achieve and then learn from them.  Drawing upon the principles and message of her recently released book, One-Minute Mentoring, co-authored with Ken Blanchard, Claire Diaz-Ortiz is hosting the Success Mentor Summit in September and it is a great affiliate opportunity.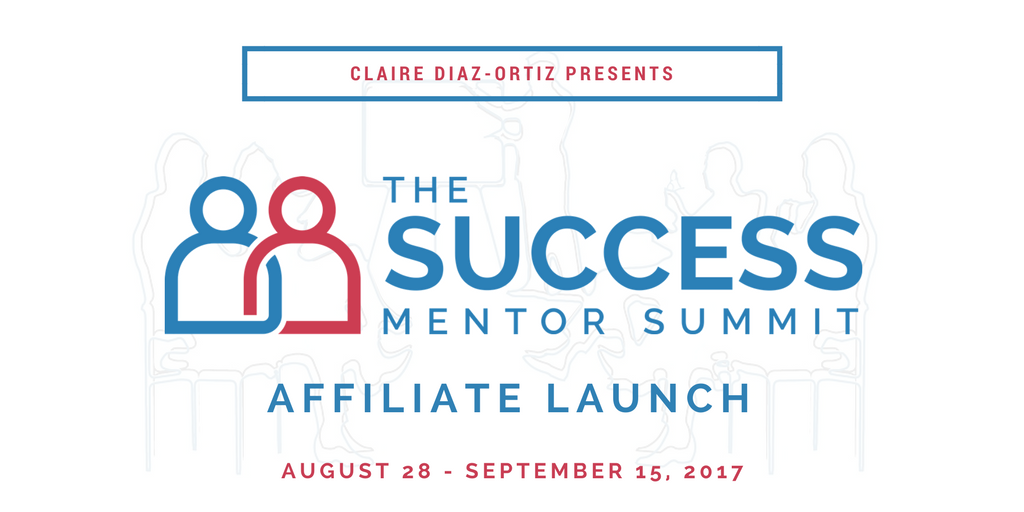 Looking for more great affiliate opportunities? Check out all of our recommended affiliate programs and sign-up to be notified of upcoming promotions.


Why I Am Excited About This Summit
1. Hours of great content. Claire has brought together over 70 experts that will mentor your audience in areas such as the value and importance of mentoring, creating a success-based mindset and then achieving success.  Regardless of where your audience is in their journey, they will benefit from this information.
2. It's free to attend. Where else could you learn from people like Craig Ballantyne, Chris LoCurto, Pam Slim, Chis Guillebeau, Ruth Soukup, Jeff Goins and dozens of other super successful people without paying a dime? This makes it a total give to your audience.  They'll love you for it!
3. Summits are great affiliate promotions. As I wrote recently, there are some really great benefits and reasons to promote virtual summits…and Claire's will be no different!
4. Claire. Claire is a past client and a good friend.  She is one of the most genuine people I know and has mastered the art of creating work that is meaningful and successful.  This is her second summit, so she is also a fantastic interviewer and is able to pull out huge amounts of valuable insights from each speaker.
About the Summit
The Success Mentor Summit was created to help your audience access the directed mentoring they need to level up their life.
Fueled by the message of the new book, One Minute Mentoring, by Ken Blanchard and Claire Diaz-Ortiz, the summit will teach attendees the power of mentoring and mindset when it comes to balanced success in life and business.
Each mentor will peel back the curtain on their own success and give the specific action steps needed to take to reach new heights.
This summit will give your audience the mentoring they need to embark on a new path to lasting success.
Featured Speakers
The Summit has more than 70 speakers, including:
Jon Acuff
Ally Fallon
Chris Guilleabeau
Ruth Soukup
Pamela Slim
Michelle Lederman
Chris LoCurto
Donald Miller
David Burkus
Navid Moazzez
…and many others…
Oh, and I'm speaking too 🙂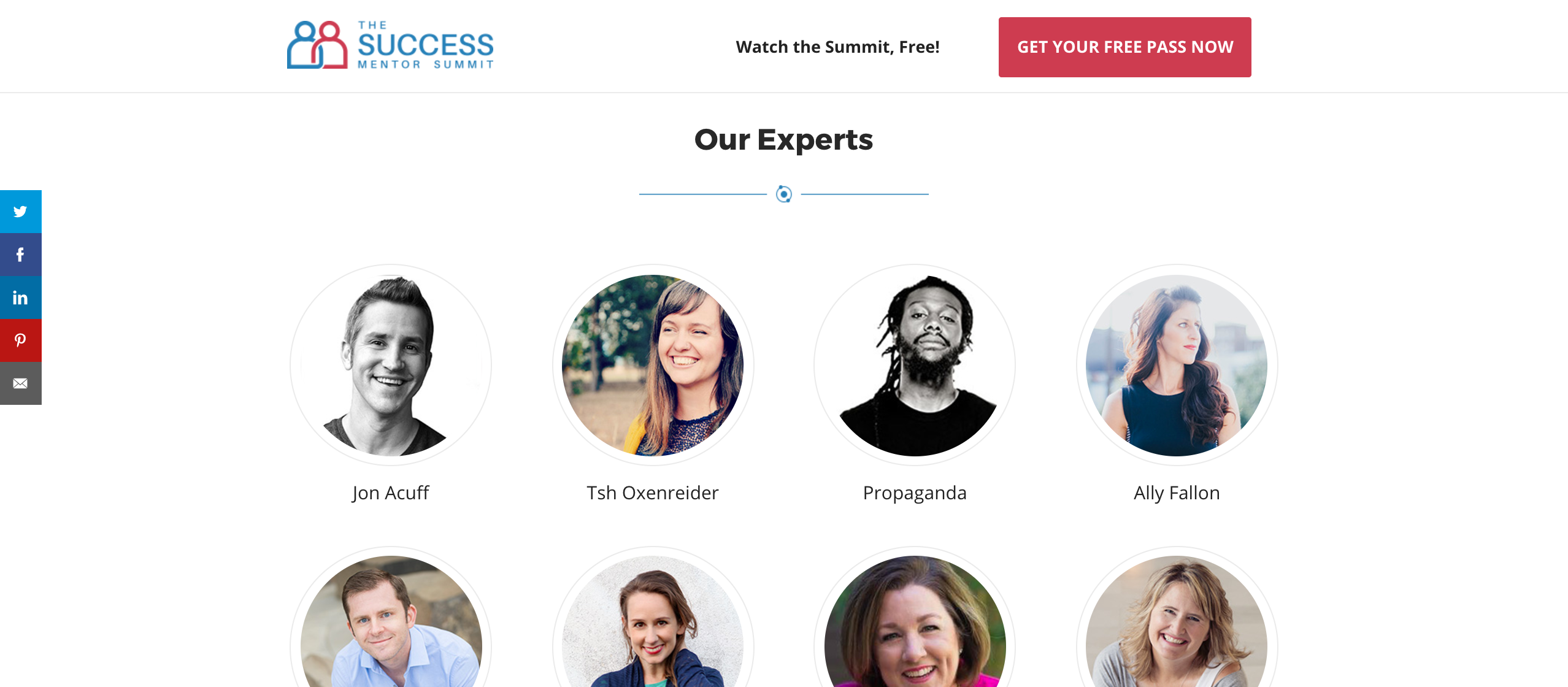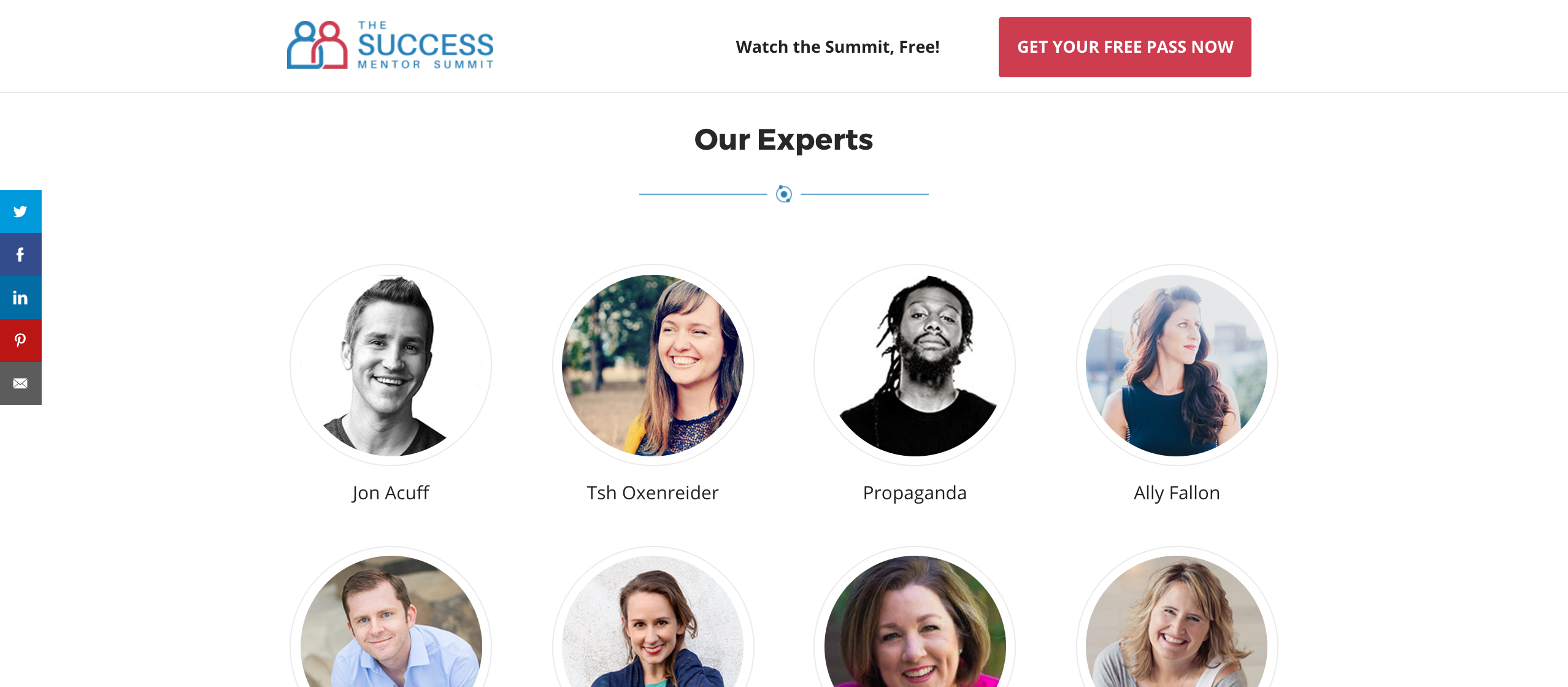 Target Audience
The Success Mentor Summit is for anyone who understands the importance of utilizing mentors and mentoring in leveling up their success in business and life.
Regardless of industry, career or background, if your audience wants to improve their lives, the information and advice provided by the expert mentors during the summit will be extremely valuable.
About Claire Diaz-Ortiz
Claire Diaz-Ortiz is an author, speaker, and entrepreneur who has been named one of the 100 Most Creative People in Business by Fast Company. She was an early employee at Twitter, and has been called everything from "The Woman Who Got the Pope on Twitter" (Wired) and "Twitter's Pontiff Recruitment Chief" (The Washington Post) to a "Force for Good" (Forbes) and "One of the Most Generous People in Social Media" (Fast Company).
She is the author of eight books, including the new One Minute Mentoring: How to Find and Work with a Mentor, and Why You'll Benefit from Being One with Ken Blanchard. She is also a frequent international keynote speaker. She writes a popular business blog at ClaireDiazOrtiz.com and serves as a LinkedIn Influencer. She holds an MBA and other degrees from Stanford and Oxford Universities and is the co-founder of Hope Runs, a non-profit organization in Kenya.
Claire has appeared widely in most major television and print news sources, including places like CNN, BBC, Time, Newsweek, The New York Times, Good Morning America, and The Today Show.
She is also a good friend and past client.
Want to feature your affiliate program like Claire? Click here to submit your launch or affiliate program.
Commissions and Upsells
Affiliates will earn 40% commissions on all upsells.
Registrants will have the option to purchase one of three all-access pass options.
Each level will include lifetime access to all interviews in video and audio and several other bonuses (see the full list of benefits below).
The cost of the passes will increase throughout the Summit.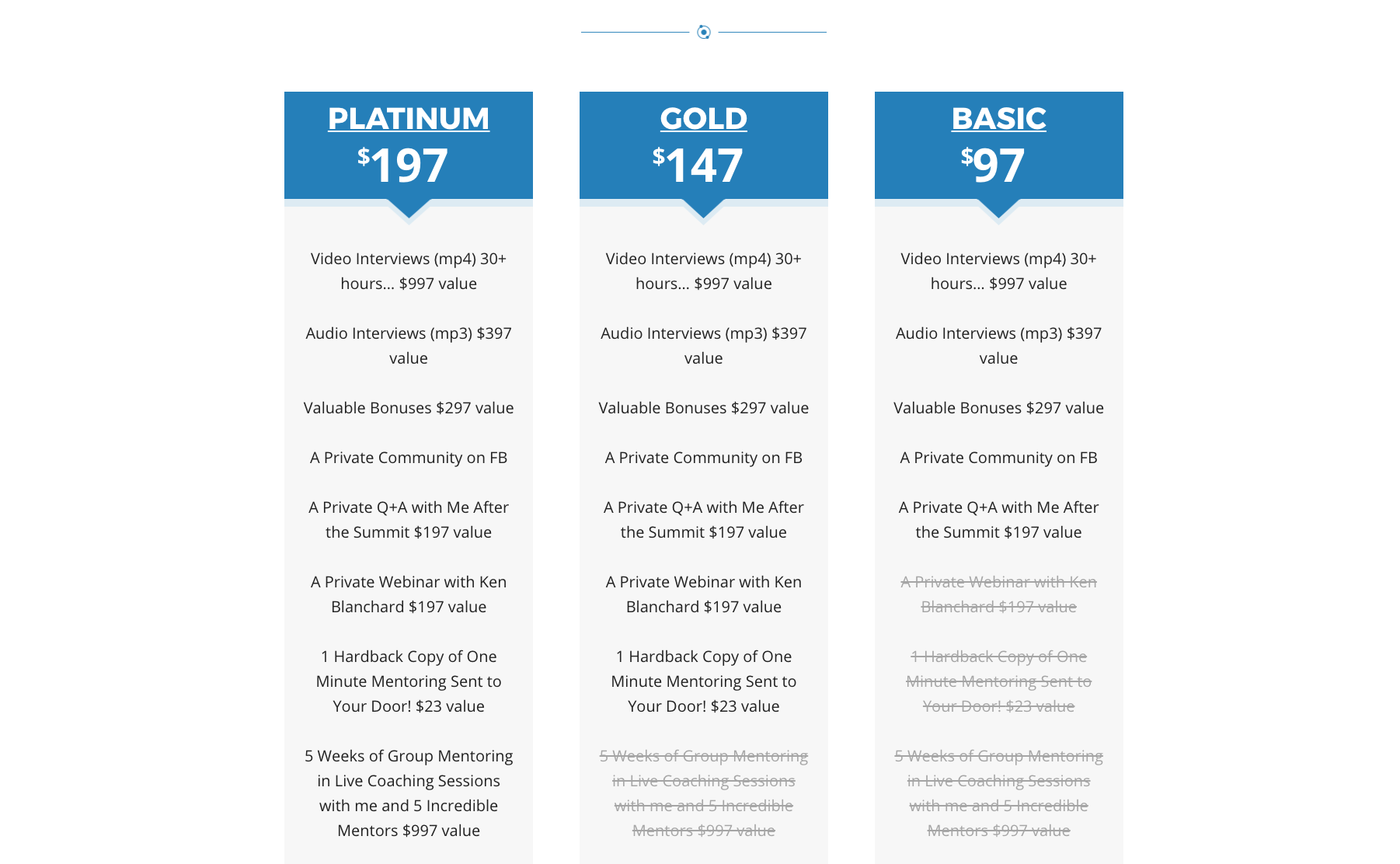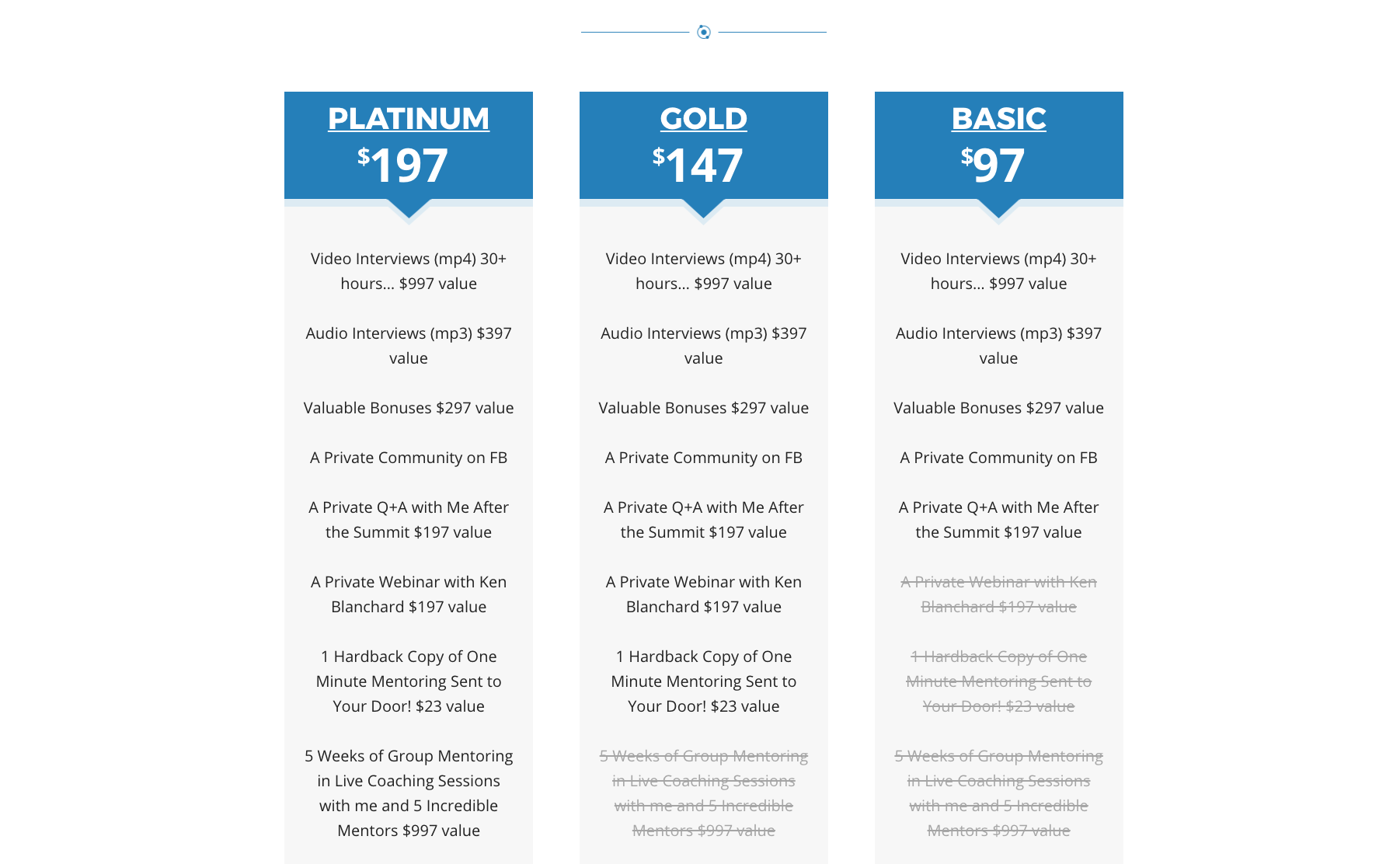 Important Dates
August 28: Summit Registration begins
September 4: Early Bird discount on All-Access Passes ends
September 5-15: Success Mentor Summit
September 15: Cart Close