In the online course creation space, no one is more widely respected than Danny Iny. And now we have teamed up with him for the next launch of his flagship course, Course Builder's Laboratory. If your audience has ANY interest in sharing their knowledge and expertise with the world, they will LOVE Course Builder's Laboratory! Oh, and it's an amazing affiliate opportunity as well. Read on for all the details.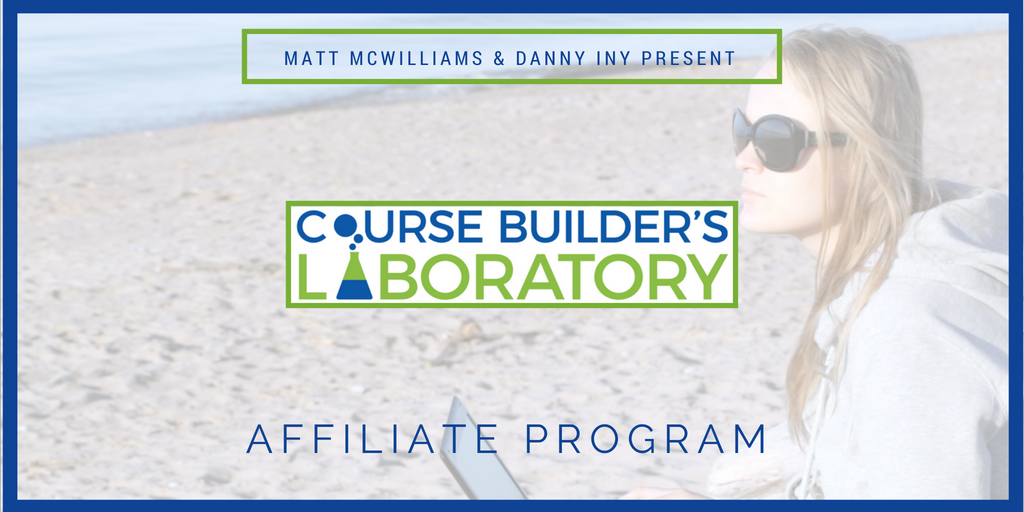 Four Reasons I Am Excited About Danny's Launch
There are several reasons I'm very excited about this launch personally. Here are four:
1. Great Product
I can tell you without a doubt that Danny and his team don't do ANYTHING halfway. I have been through Course Builder's Laboratory and have seen the quality of this product. I know that you and your audience will not be disappointed. From the production quality to the personalized attention, you can be confident in sharing this product with your audience.
2. Danny and His Team Sell FOR You!
One of the coolest things about this launch is that Danny employs real sales professionals to help close sales. That is how dedicated they are to providing personalized attention to their customers…and how dedicated they are to making sure that YOU, the affiliate, succeeds!
3. Danny Iny
Danny has become one of my favorite people over the past few years. I actually got to spend a few days with him in a mastermind setting and he is the real deal! When I'm promoting a launch, I care about who the person is behind the launch. If you're that way too, you can be confident in promoting this launch!
4. We're Running It
We've cut way back on the clients we will work with this year. So…the fact that we're running this launch should say something to you about the quality of it! Beyond that, you know the type of service you'll get as an affiliate. We're 110% committed to making this launch an absolute success for you as an affiliate…which will make it a success for Danny and for us as well! Win-win-win!
About the Course Builder's Laboratory
Course Builder's Laboratory will teach you the fastest, most effective, and most reliable process available today for building a profitable online course while making a positive impact in people's lives.
Danny's process is dialed in and proven. Your audience won't spend months creating a huge, complex beast of a course. Instead, Danny will teach them how to launch their first pilot course in as little as 60-90 days – even if, right now, they aren't 100% sure what to include in it or how to find people who'll buy it.
Here's one of the videos from the opening module of the course:
Target Audience
The ideal audience for Course Builder's Laboratory are small business owners with 0-10 employees.
More specifically, people who fall under one of two profiles: The Expert and The Professional.
The Expert is driven by passion. Passion drives The Expert to learn, absorb, and master almost everything there is to know about their areas of expertise. They may be a sought-after professor, respected researcher, published author, or recognized blogger in that area. 
But their income doesn't match their expertise. They want to find a way to monetize their passion in a substantial way. 
The Professional has acquired the necessary credentials, specialized training, and well-established track record to be recognized as an authority in their field. This includes consultants, speakers and others who are paid to teach and train in their chosen field. 
However, they are maxed out. They can't take on more clients or book more speaking gigs. They have reached the end of their influence and want to find a way to do more and serve more people.
What's Inside Course Builder's Laboratory?
As you would expect from a course about building courses, Danny's Course Builder's Laboratory is top notch in every way.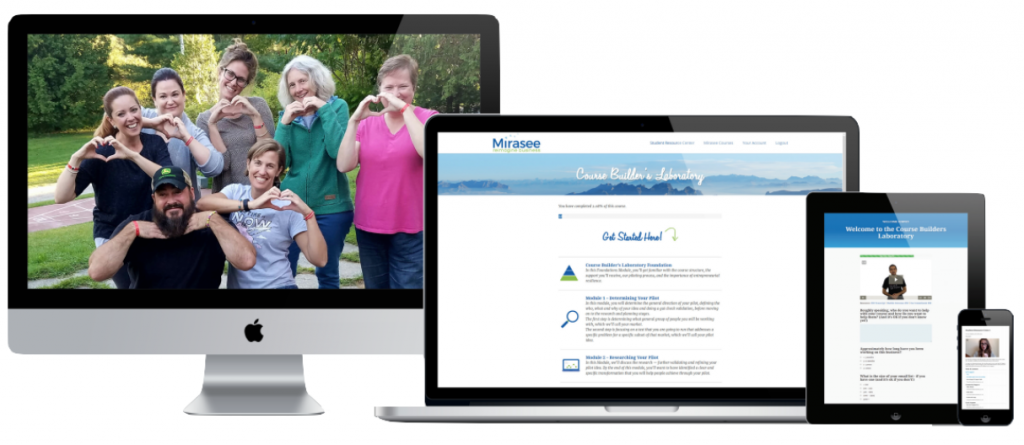 Here's some of what is included:
The entire Course Builder's Laboratory Program – 8 modules, with more than 60+ video lessons

Lifetime support from a dedicated Course Building Coach, who will respond within 24 hours on weekdays

More types of support than any other program, including Office Hours, Breakthrough Hours, and 1-on-1 milestone calls.

Lifetime access to the Course Builder's Laboratory Mastermind community

Plus much more…
The level of support that Danny and his team offer to their students is mind-blowing. Your audience is going to LOVE it!
Here's another sample lesson from the course:
About Danny Iny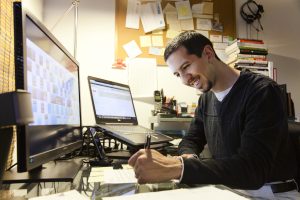 Danny Iny is the founder of Mirasee, host of the Business Reimagined podcast, best-selling author of multiple books including Engagement from Scratch!, The Audience Revolution, and Teach and Grow Rich, and creator of the acclaimed Audience Business Masterclass and Course Builder's Laboratory training programs, which have together graduated over 5,000 value-driven online entrepreneurs.

In just a few short years, Danny has grown Mirasee from nothing to multiple-seven figures in revenue and a team of 30+ people spread all over the world on a mission to support a very special global community of 50,000+ loyal and inspired entrepreneurs.
Want to feature your launch? Click here to submit your launch or affiliate program.
Pricing
Course Builder's Laboratory is one payment of $2,995.
There will also be a 12-pay option at $297.
Commissions
Affiliates will earn 30% commissions on all purchases.
Prizes
Prizes and contests for this launch will be announced as we get closer.
What Others Say About Course Builder's Laboratory
If you still aren't sure if this is right for your audience, you can look through some of the success stories Danny and his team have collected from students here.
This is going to be one of the most exciting launches of the year – don't miss out!