There are lots of course out there about how to create an online product, but there is only one course that teaches its students how to create an Experience Product.  My friend, Marisa Murgatroyd's course, the Experience Product Masterclass is flipping product creation on it's head AND converting VERY well for affiliate partners.  Read on to learn more about this awesome affiliate opportunity!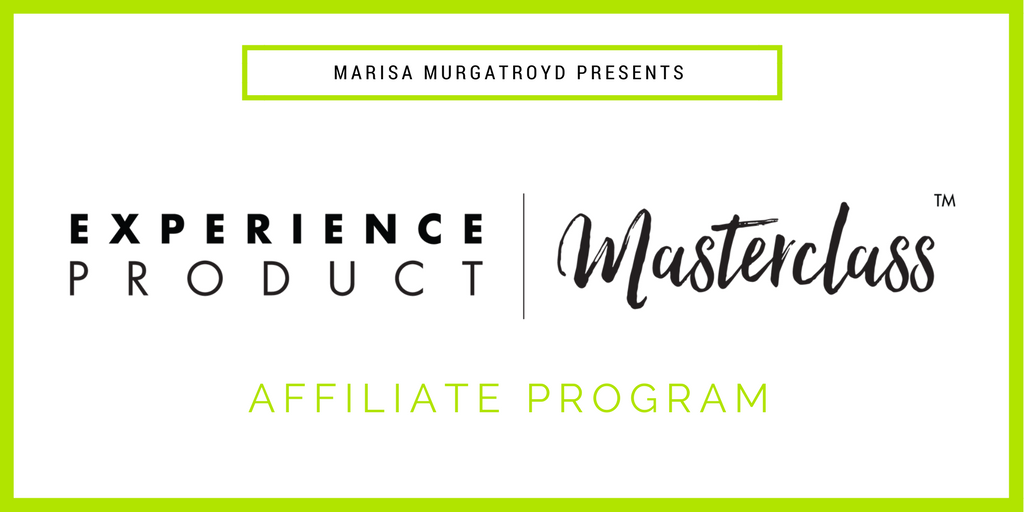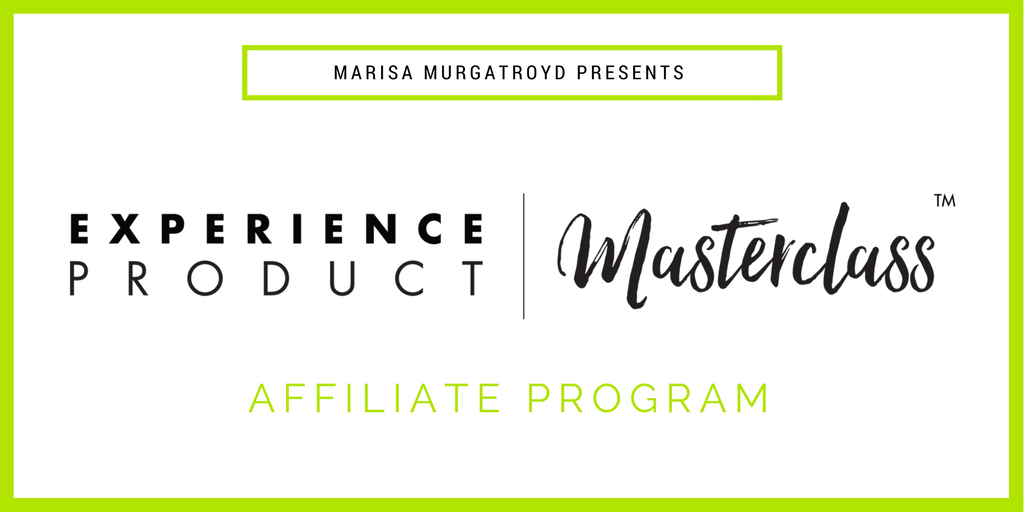 I am personally very excited for this launch for four reasons:
Innovative approach.  Marisa is taking the product creation niche by storm with a new and innovative way to teach and present information products that will help retain and engage students in a way only DREAMED of by most online course creators.
Marisa is one of the most genuine and FUN people I know online (and offline). Marisa is 4'10" of total awesomeness! Seriously, one of my favorite things about Marisa is that she doesn't take herself and business too seriously.  She believes that business and life should be fun and I completely agree…which means this launch will be a blast! (seriously, watch the welcome video below!!).
Amazing support. Marisa's team will be making and taking phone calls on the final day of the launch to help YOU close YOUR sales.  Whaaaaaaaa????  That is seriously awesome and next level service to not only your audience that you send over, but also to YOU by supporting and answering your audience's questions.  Rest assured, the people you send to Marisa will be taken care of…and that is a big deal!
This course is going to convert. In Marisa's launch last year, affiliate partners were getting over $38 per optin!!!  I've watched a lot of launches and that is a seriously awesome earnings per optin! You will be hard-pressed to find a course that will convert better than this one is converting!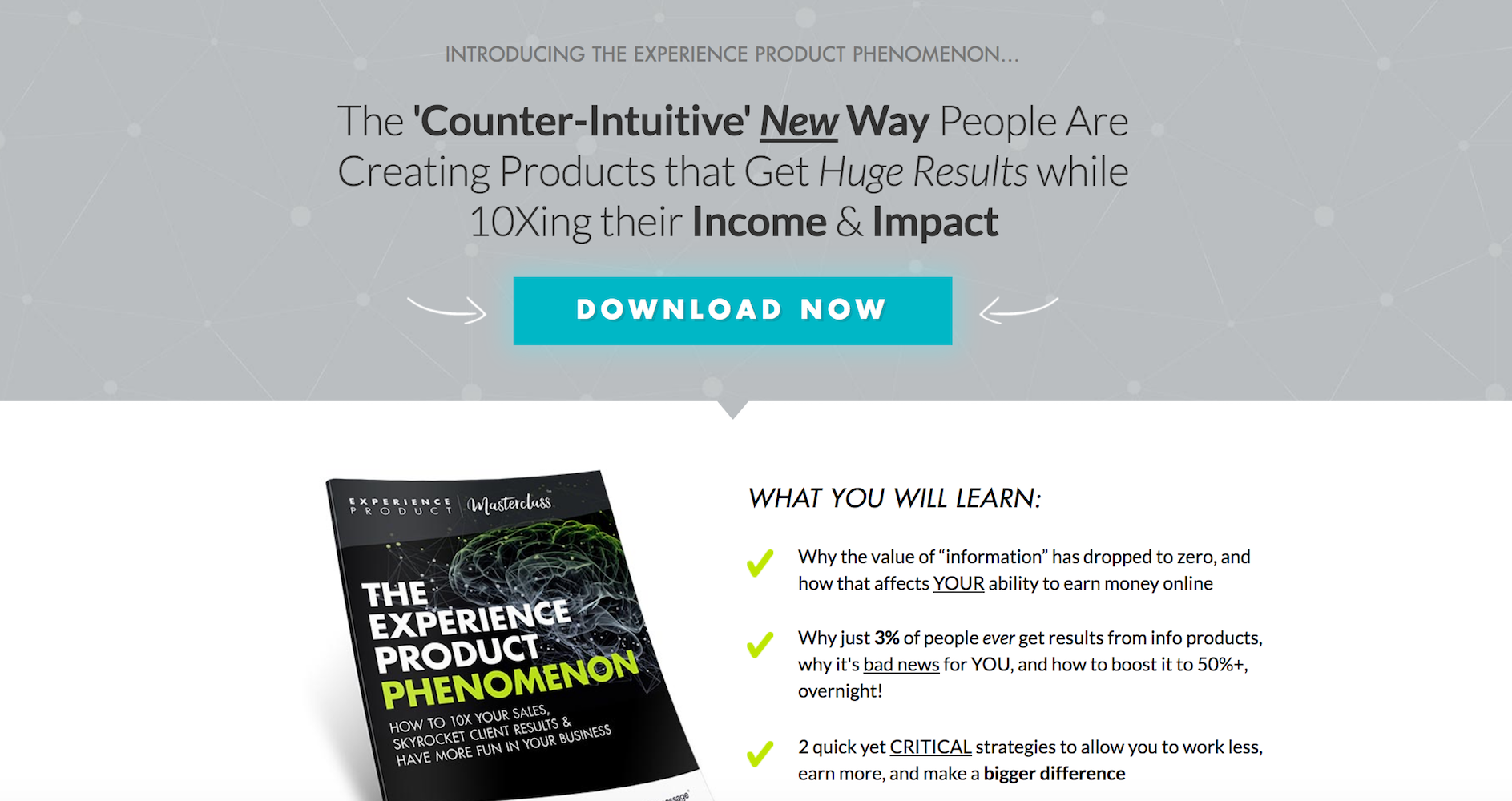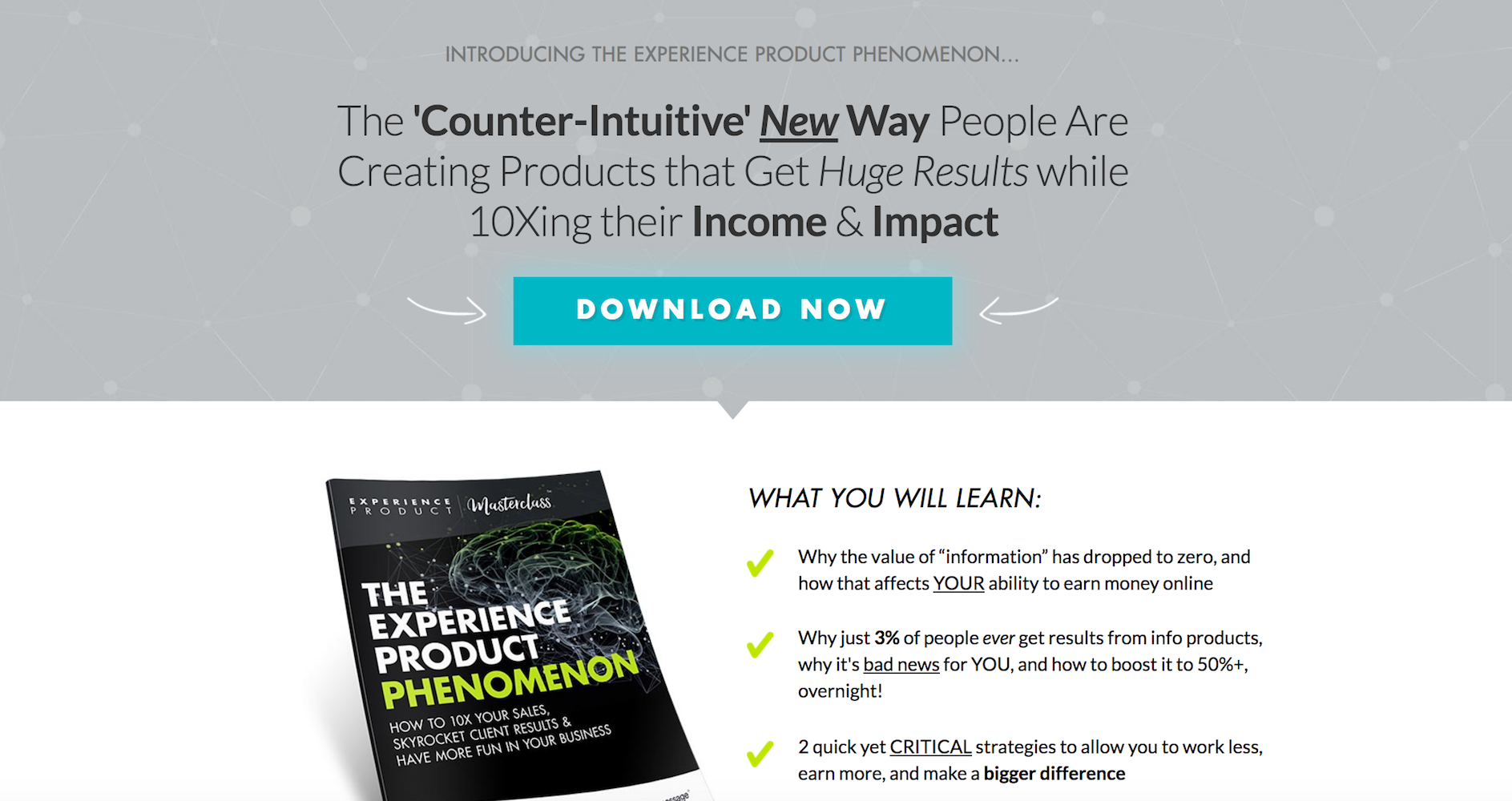 You are definitely going to want to mark your calendar for this launch!
Here are some details about the launch:
About the Course
Mark, from my team got to spend a weekend with Marisa and other top affiliate partners earlier this year learning all about Marisa's Experience Product framework and he came back wildly excited about what he learned. Your audience will be no different.
The Experience Product Masterclass starts by giving this mission to buyers: Your mission, should you choose to accept it, is to design, market and make $2000 or more from an experience product in 10-weeks or less, so you can get off the marketing hamster wheel, make more sales, and get your customers hooked on transforming their lives through you.
Everything that follows is 100% devoted to helping them achieve "Mission Accomplished" which occurs when they have finished designing, marketing and receiving $2000 or more in sales from that product.
So, unlike other products, participants in The Experience Product Masterclass ends with a product they can sell, plus over $2000 in actual sales from that product!
And the confidence, clarity, and capability to replicate that process over and over again, creating a lifetime income stream from customers who are hooked on learning from them and want to buy everything they create and tell their friends about it too, so they can get off the marketing hamster wheel while making more sales.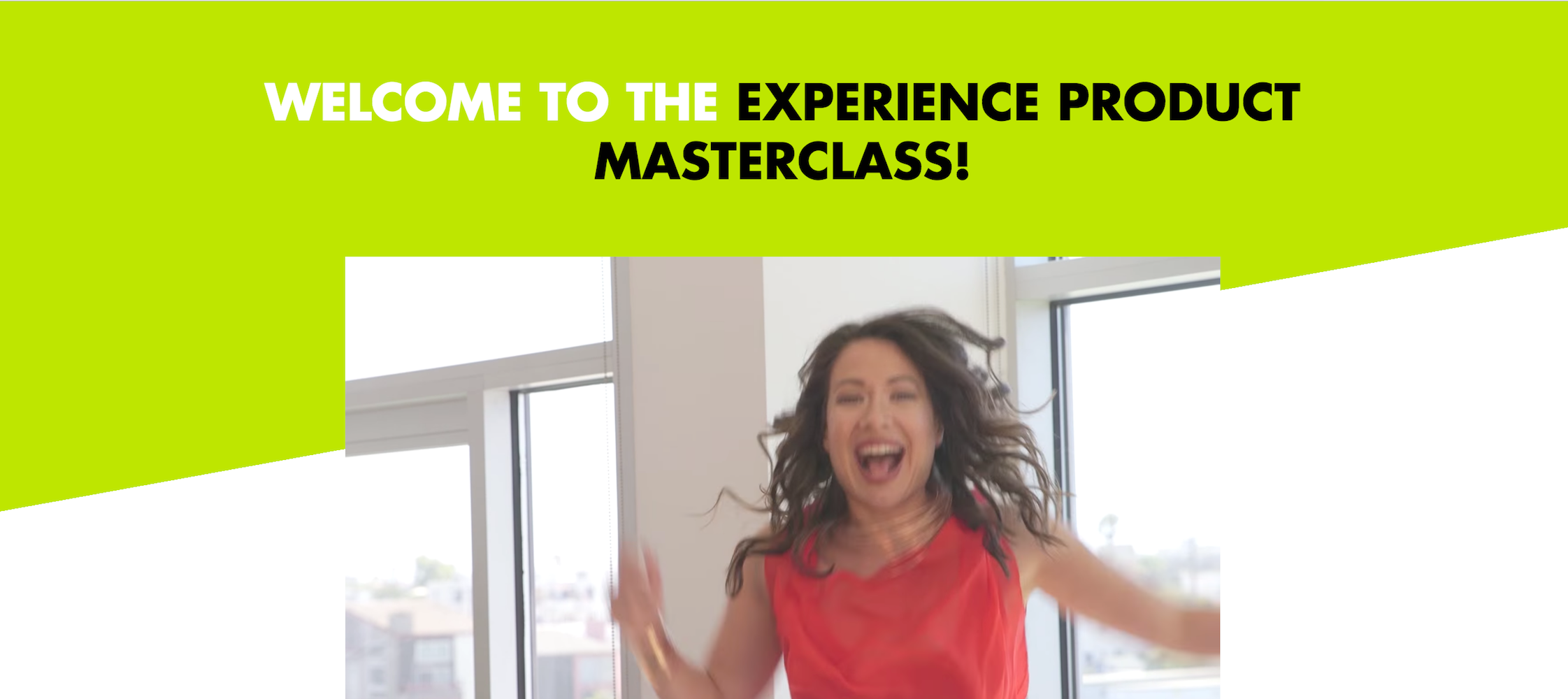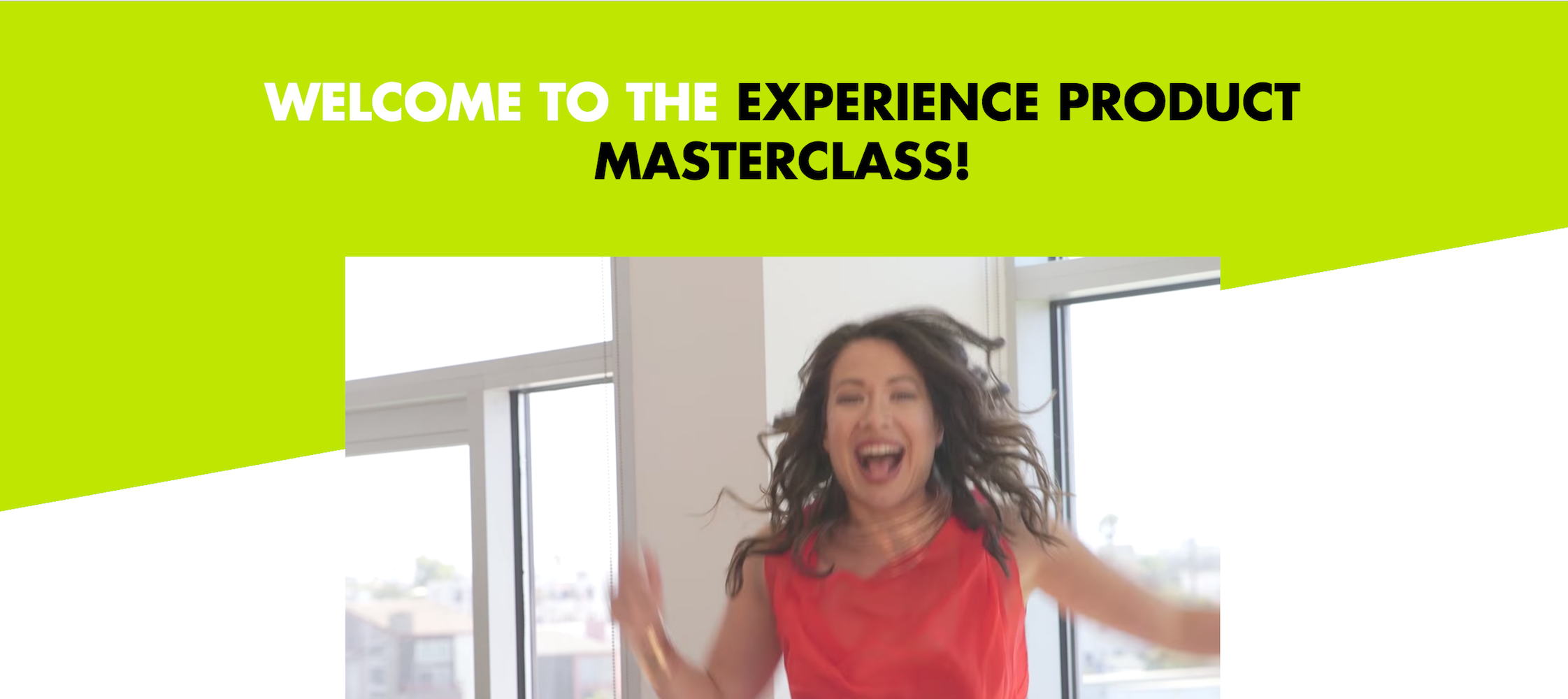 Since 50% to 90% of everyone who participates in an experiencified product ends up completing the course, that's a far cry from the 3% normal courses receive.
Plus, in the Experience Product Masterclass, if they don't achieve Mission Accomplished during the period of the course, Marisa and her team continue to support them with coaching until they do!
Finally, Marisa teaches the concept of Experiencification by example. Every aspect of the course is experiencified, with students receiving points for every action taken. Those points earn prizes, including a coupon to be used on any future LiveYourMessage.com product or service.
In short, you as an affiliate get paid a hefty commission, refunds will likely be zero (they didn't have to do any refunds on last year's launch!), and your tribe will love you for showing them how they can add huge value to their products and services through experiencification.
Target Audience
The Experience Product Masterclass has broad appeal.  It is focused on people who want to make a significant impact on their bottom line and the world through creating products that allow them to get off the marketing hamster wheel, make more sales, and get their customers hooked on transforming their lives through them.
Marisa has helped her students create Experience Products and Services in dozens of markets, such as,
Reiki

Publishing

Coaching and Consulting

Education

Careers

Online, Local & Traditional Marketing

Health & Wellness

Personal Productivity

Relationships

Spirituality

Art

Design

Non-Profits
Marisa has generated tens of thousands of customers and millions of dollars in sales for herself and her students.
The Experience Formula has worked in industry after industry, on every type and kind of product – from info products to online courses, from 1:many group coaching programs to 1:1 coaching or consulting, and even service businesses. And it's worked at every stage of business, from well-established businesses to people who didn't even have a business yet.
What's Inside the Course?
This course is taught in 5 modules over a 10-week period.  And, because the entire course is focused on teaching students how to engage their students, you can be sure that it will be engaging and fun!
Here's the welcome video from the course:
Below is Marisa's explanation of each module that she shared with me:
Module 1: Your Lightbulb Moment – The first step in the process is to choose your product so it becomes the most lucrative offer you can make at this particular time in your business, so you have the confidence you're choosing the right product for you, and the product that will allow you to make the greatest impact while delivering you the highest profits in the easiest way possible.
Module 2: Nailing Your Offer –  Once you choose the type of product you want to create, the next piece is to actually be able to create the right offer. In other words, how can you make your product irresistible so people can't help but say yes? In addition to your product itself, we'll also help you develop other aspects of your offer that are proven to get more and more people to say yes, like bonuses, social proof and urgency.
Module 3: Crafting the Perfect Experience – I'm a huge believer in the "Anti-Perfectionist Path to Rapid Product Creation," where you "Earn While You Learn" and deliver your product while you're creating it. This way, you can collaborate with your customers, students and clients during the process. You'll know what they don't understand, what they struggle with, and what's not working for them because they'll tell you so, which means you're guaranteed to end up with the best product for them, NOT the product you think is best for them.
We're also going to focus on creating your Experience Escalation Plan — this is your big picture outline for how to incorporate your information and knowledge into fun & engaging experiences so that you draw your customers & students into your Experience Product in the right way. That way they're set up to win from the start, feeling confident, and climbing up the growth spiral until they reach the end, mission accomplished.
Want to feature your launch like Marisa? Click here to submit your launch or affiliate program.
Module 4: Experience Marketing Essentials – This is when you rock out your first Experience Marketing campaign designed to fill your Experience Product, Program, Course or 1-on-1 coaching, consulting or service offer.
There are 6 main Experience Marketing campaigns that I'll be going through, and they all work for a wide range of business models and industries. Some people try to do it all with just one campaign, but I recommend you stack them 2 or 3 deep, because each one will support and improve the effectiveness of the others, making your marketing even more successful. And even if you don't have a business or a product idea yet, our two campaigns, the "Give them What they Want" Campaign and the "Chatterbox" Campaign, were actually introduced to you in the first Module, because they're designed to help you figure out your big idea, spark initial interest for it and start making money fast.
These 6 campaigns can be adapted and customized to work for any business at any stage, from beginner to more advanced. Remember when I said that an Experience Product can look literally any way you want it to? Well, that applies to your marketing as well — and these campaigns will help you stand out in a powerful, unique, fun, fresh and engaging way to your ideal customers, which is MORE than half the battle in today's noisy marketplace.
Module 5: Deliver the Wow – This step includes not just the delivery of your Experience Product itself, but everything that wraps around the curriculum to make it a great experience… I call this the warm snuggy blanket you wrap around your product. This could include emails, your Facebook Group, group coaching, and more. It's how you apply the experience formula to all aspects of your product, program or course to create a Wow Experience from the very first moment…
The way you deliver what you do is everything. That's why we're going to architect the flow of your program as a solid upward growth of Positive Experience Escalation so that you engage ALL your students, clients and customers immediately and keep as many of them as possible until the end of your program — MAXIMIZING the chances of their success, and repeat purchases.
Here's one more sample lesson:
In addition to these 5 modules, here are some additional benefits students receive?:
Every student is assigned a personal coach, who gets to know their business and is available to answer any questions they have throughout the course via unlimited email access and weekly small group coaching sessions.
They also have weekly access to laser coaching with Marisa on Mondays and Don "Get It Done" Crowther on Wednesday. Plus Marisa will be holding two 3-hour Laser Coachathons during the two break weeks in the program. All in, they have access to over 42 hours of group coaching with Marisa, Don and their coach, in addition to the core curriculum — that is an unbelievable level of support!
Buyer Bonuses
BONUS 1:

Sales for Superheroes ( $997)

BONUS 2:

Niche Down, Profits Up ($497)

BONUS 3:

One Complimentary Ticket to Marisa's Yearly Flagship Event — Message to Money LIVE on Feb 16-18, 2018 ($997)

BONUS 4: Marisa's

 21 "How to Name Anything" Templates + her My Font & Color Palette Templates to create your product brand ($997)

BONUS 5:

I'm Powerful ($997)

BONUS 6:

Experiencifying Your Presentations: Using the Latest Tools, Breakthrough Graphics and Video to Rock Your Audience's World ($497)

BONUS 7:

A 3 Month Pro Website Account with Heroic ($497), including all the pages you need to market and sell your product

BONUS 8:

Speak! How to Use Talks & Webinars to Grow Your Business ($997)

BONUS 9:

Two 3-Hour Laser Coachathons with Me during our Break Weeks ($3000)
Click here to see all of our recommended upcoming launches and programs.


And as if that wasn't enough, students will receive 2 graduation bonuses that they will get when they complete the program:
GRADUATION BONUS 1:

Graduation Bonus – Creating Customers for Life: The Perfect Membership Site ($997)

GRADUATION BONUS 2:

Lifetime license to use the Experience Product trademark ($1,000/year)
Oh, yeah, there's even more… They also get a Mission Accomplished bonus (when they reach $2000 in sales of their experience product by Marisa's deadline):
MISSION ACCOMPLISHED BONUS:

Website in a Weekend, a page-by-page, step-by-step masterclass in how to set up your website to sell from every page of your site, not just your sales page. Plus our 2-day live virtual website implementation workshop. ($5000)
Guarantee
Plus Marisa gives her students a "Can't Fail" guarantee.
That's where she will guarantee that each student will make at least $2,000 from their Experience Product in 10 weeks, or she will personally send them a check for the difference — up to $2,000.

That means they risk absolutely nothing by joining and trying out EPM, and even better, their participation in this program will cost them absolutely nothing.
As long as they follow the program diligently, do the work, and they will make at least $2,000 from their Experience Product in the 10 weeks of the program.
That makes it REALLY easy for you to share this Experience Product Masterclass with your audience!
Pricing
Price: $1,997 or 3 payments of $747
Commission
Marisa offers a tiered commission structure…that means the more you sell, the more you earn per sale!
Less than 5 Sales: 30% commission per sale
5-9 Sales: 35% commission per sale
10+ Sales: 40% commission per sale
Prizes
Marisa is giving away some unbelievable prizes for this launch — like over $190k of prizes!
Check out the list below: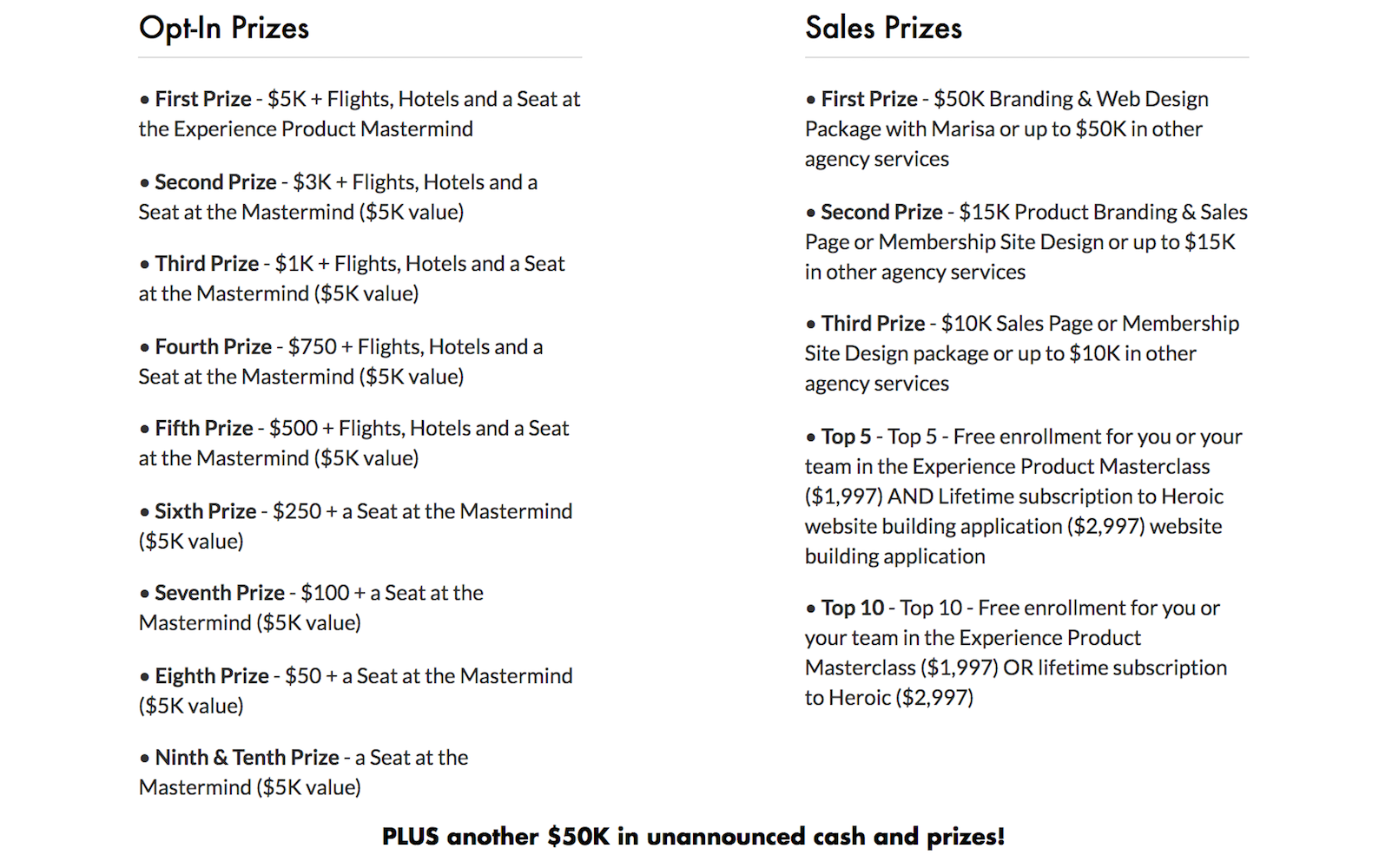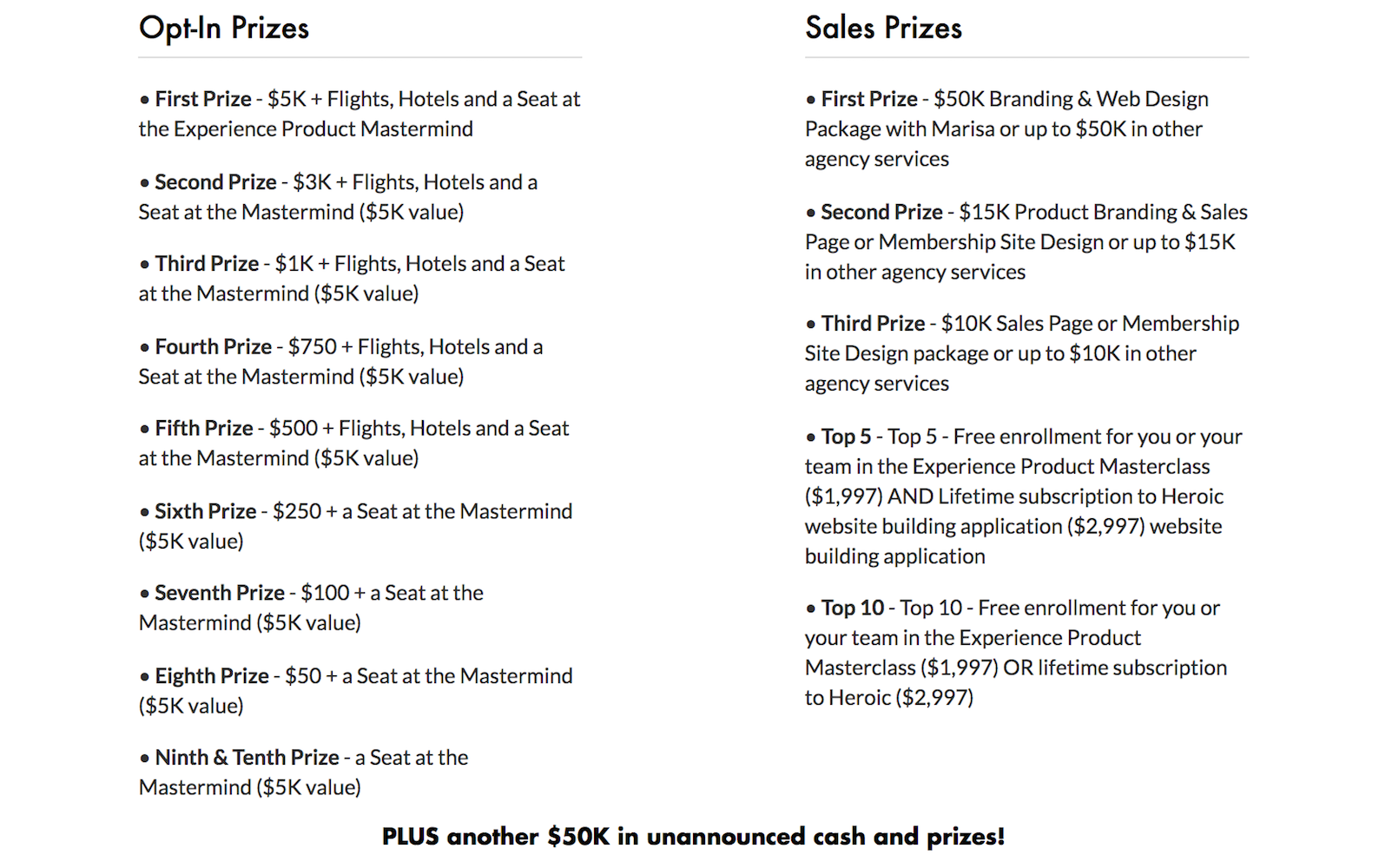 Fun Stats
During Marisa's last launch 20 affiliate partners brought in over $750,000 in sales.
Average earnings per optin was $38.72.
Average conversion from optin to sale: 1.85%
The top affiliate partner earned over $75,000 in commissions and another $30,000 in contest prizes!
Rest assured, you will not regret promoting this product!
Important Dates
The next launch dates are October 10-26, 2018.
This launch is going to be HUGE.  Sign up and get it on your calendar now!
What Others Are Saying About Experience Product Masterclass
This is just ONE of the cinematic style testimonials that Marisa will share during the launch:
Here are a few more testimonials about the course:
"I just hit my stretch goal of $6,000 for a 1:1 coaching program I set up and launched in basically a day using the pricing model and mission statement from EPM. I have never made that kind of cash from one program or even in one month!" – Mary Schiller

"I took the outline and EPM approach to one of my past Automotive clients and they signed up straight away for $120,000 per year for me to coach and train their staff through their annual strategy cycle. The experience focus is what clinched the deal." – Raglan Tribe

"Our lives have completely changed since EPM!!! With our first launch we enrolled 15 students and made over $90K. We were not instructors before – no prior course experience and no list. The money is wonderful but the real magic is we have rave reviews from our first class!" – Davina Detrik