Over and over I hear from people that their #1 challenge with their online business is building their brand and email list.  That is why I am so excited to share Marc Guberti's Content Marketing Success Summit with you.  Marc is bringing together over 50 content marketing experts to help your audience get their ideas into the world. And it's a great affiliate opportunity.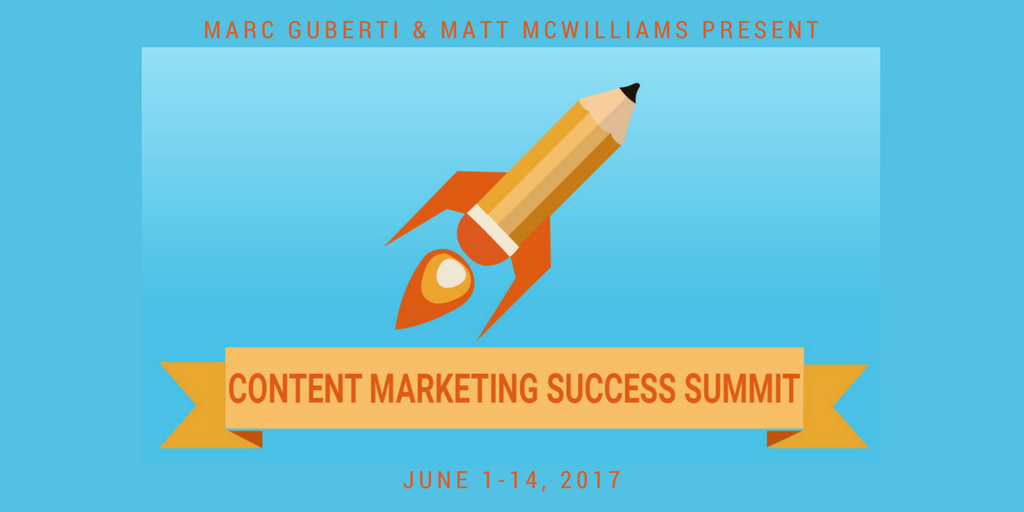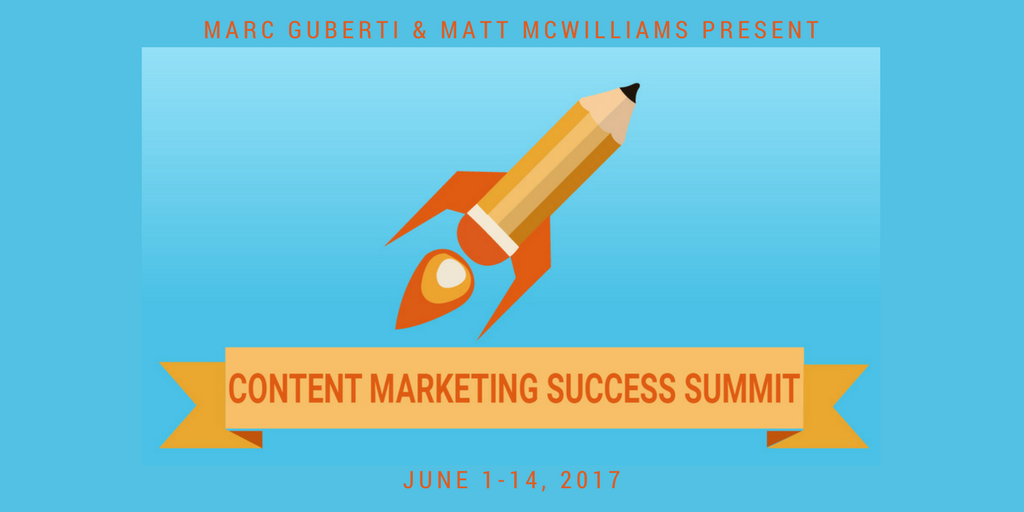 If you are interested in featuring YOUR affiliate program or launch, click here to contact us.
I'm excited about Marc's summit for 5 reasons:
This content is greatly needed. Like I mentioned above, over and over I hear that people's biggest struggles revolve around getting their message in front of more people.  In other words, content marketing.
It's free. This is one of the things that I absolutely LOVE about virtual summits.  They are completely free.  That means you get to be the hero that offers your audience access to ALL of these experts without having to pay a dime.
Great Upsells. Free is great for your audience.  Upsells make this promotion great for you.  Your audience will have the opportunity to purchase an all-access pass as well as be presented with a content creation course following the summit.  More about those and the commissions for them below.
Marc is an inspiration. I have been super impressed with everything that Marc has accomplished.  The guy is like 18 years old and has built an awesome online presence.  When I think about what I was doing at his age…well, I just get kind of depressed!
Marc will take care of you. Marc has promoted several launches we have ran and has seen how we work with affiliates. Because of this, I know that he knows how affiliate launches should run.  I have no doubt that he will take care of you as an affiliate.
OK, and…I am speaking 🙂
About the Summit
The Content Marketing Success Summit is an 8 day virtual summit designed to help your audience learn how to create, promote and optimize their content.
The Summit will be broken down into 4 areas.

This section will help your audience learn tips, tricks and techniques to create high quality content.
Speakers in this section include (but aren't limited to):
Ana Hoffman
Jay Papasan
Joanna Penn
Mark Asquith
Amy Morse
…and many more

Having great content doesn't really matter if you can't get other people to view and engage with it.  That is what this step is all about…marketing your content.
In this step, your audience will learn from experts like:
Mary Fernandez
Bryan Cohen
Yaro Starak
Josh Haynam
Eve Mayer
…and many more

Our world almost revolves around social media these days.  In this step, Marc and his guests will show your audience how to build your social media presence and get them to engaged with their content.
Experts featured in this section include:
Jim Kukral
Derric Haynie
Tanya Smith
Kate Talbot
Daniel Alfon
…and many more

This is the step I am most excited about…and yes, it's partly because I am featured.  But more than that, this is where things get real for your audience…actually making money from their content.
There are some rock stars in this section (including Mark, from my team, and myself, both talking about affiliate marketing):
Ray Edwards
Lise Cartwright
Sue Dunlevie
Greg Hickman
Devin Slavin
…and many more
Target Audience
This Summit is for bloggers, speakers, authors, business owners and anyone else that has a message that they want to share with a larger audience.
The topics addressed will benefit anyone that currently is creating content in any niche (or wants to).
Click here to view all of our favorite affiliate opportunities posts.
Upsells
The Content Marketing Success Summit is free to attend.
Attendees will be givent the opportunity to purchase and All-Access Pass for between $47 and $297 (depending on timing).
They will also be offered an opportunity to purchase Marc's upcoming content marketing course, currently priced at $997.
Commissions, Price Points and Prizes
Commission: 50% on all upsells
Important Dates
It all begins on June 1st with the pre-summit emails.
Here's the rest of the calendar:
June 7-14: Content Marketing Success Summit
June 17: Webinar for course
June 21: Cart closes for course
If you have anyone in your audience who wants to get their message in front of more people, this summit is for you.