Click here if you are looking for my personal review of Pete Vargas' Stage to Scale Method course.
One of the best ways to grow your business and acquire new customers is speaking on stage. No one has more experience in leveraging public speaking to grow your business than my friend Pete Vargas, and now he has packaged that experience into the Stage to Scale Method to help entrepreneurs, business owners, and speakers scale their businesses using public speaking.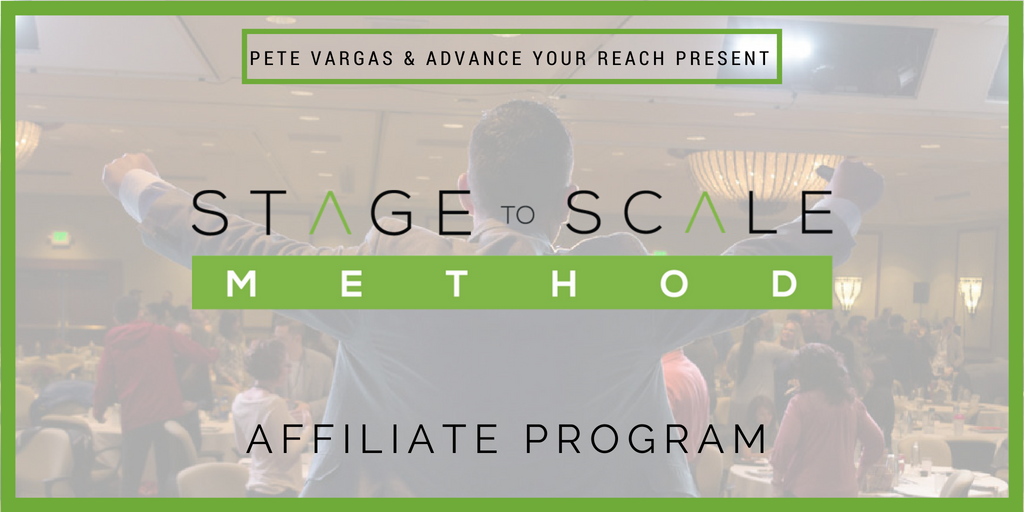 Three Reasons I Am Excited About Pete's Launch
1. Pete Himself
Pete is a good friend and one of the most genuine people I've ever met. I know the type of man he is and because of that, I have no reservations about recommending him and sharing his launch with you.
2. Pete Gets Results
Pete and his team have helped book over 25,000 stages. That's a LOT of experience! He's worked with some of the biggest names in the industry (and by "the industry," I mean ANY industry…seriously!). His clients have included Ryan Deiss, Stu McLaren, Ryan Levesque, Chandler Bolt, Nicholas Kusmich, Daymond John, Ted McGrath and countless others. 
His client list is a who's who of sought-after speakers.
3. Pete Learned From the Best (If I say so myself!)
Pete was a member of our very first class for our affiliate management course, 7-Figure Affiliate Launch. He and his team have gone through our training and because of that, I know that they'll run this launch well and you'll be taken care of as an affiliate partner.
About the Stage to Scale Method
Stage to Scale is the premier online program that shows entrepreneurs, individuals, and organizations how to use speaking to build their business. This course will help your audience understand the three key ingredients to use stages as a major customer acquisition channel (more on each of the three ingredients below).
When done correctly, speaking can also be referred to as the One Hour Launch!  
What you can do in one hour on a stage can take months and even years with other marketing mediums (blogging, podcasting, product launch, etc).
Target Audience
Stage to Scale is for any business or individual that is interested in using speaking on stages and public speaking to acquire new customers and grow and scale their business.
This includes:
Entrepreneurs
Speakers
Coaches
Consultants
Authors
Non-Profits
Service Based Business
Organizations
Experts
What's Inside the Stage to Scale Program
Pete Vargas' Stage to Scale Program has three key ingredients:
1. Story 
The greatest marketing tool you have in your business is your signature talk.  In this section, Pete and his team will help your audience craft your talk. They make sure that when your audience delivers a talk it is perfect. They also show your audience how to maximize every stage they are on.
When they complete this section they will have one powerful talk that can be used on all of their offline and online stages!  
2. Scale 
wIn this section, your audience will create a product suite that they can offer on stage to allow people ways to go deeper with them. They will build the system to capture 80% of all the attendees they are speaking in front of and how to convert those leads into clients after the stage. 
3. Stage 
In this section, your audience will learn how to find and stand out in front of those responsible for hiring you on their stage. Your audience will also learn about the 40 different types of online stages and the 4o types of offline stages, and how to choose which ones to pursue.
In addition, your audience will learn how to capitalize on each opportunity on a stage with an "Unstoppable Stage Campaign." Pete and his team have helped book over 25,000 stages using this exact campaign!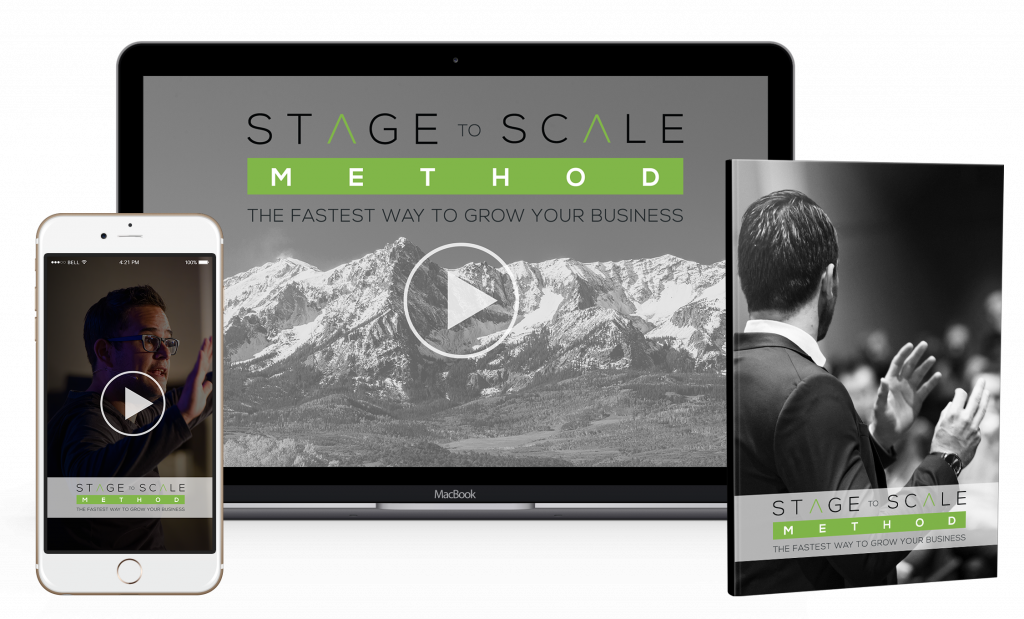 The course includes 50+ videos broken down into the three major sections listed above, plus these additional bonuses: 
Bonus #1: 8 weeks of group coaching.
Bonus #2: Ticket to Pete's annual live event.
Bonus #3: How to Scale with Speaking:  Going from 0 to 6 figures, 6 to 7 and 7 to 8.  This bonus gives you the key action items required to move through each phase.
About Pete Vargas
Pete and his team are directly responsible for booking over 25,000 stages worldwide and have been educating speakers about how to book stages for over a decade.  While he's known as the "Stage Whisperer," his real genius is in scaling revenue beyond the stage.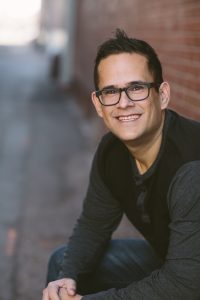 He has helped speakers, entrepreneurs, financial advisors, nonprofits and small business owners land speaking engagements and leverage the stage to grow their businesses.  Pete has booked legendary speakers including Ryan Deiss, Nicholas Kusmich, Josh Turner, Ryan Levesque, Shark Tank's Daymond John and countless others.
Pete believes that speaking is the most powerful marketing tool you have and the fastest way to build your business.  Speaking provides a starting point for customers and partners to want to become more involved with your business and get behind the impact you're making.   With literally millions of stages in every niche, Pete has become the expert in how to identify which stages to go after, how to find them and how to win them.   
Pricing
Single Payment: $1997
Payment Option: $397 x 6
Commissions
Affiliates will earn a 40% commission.
Prizes
Top 10 Partners: An Exclusive invitation to our "One Hour Launch" Mastermind held at a luxury resort in Colorado Springs, CO.
Top 5 Partners: Top 10 prize PLUS Pete's Stage Execution Workshop.
Top 3 Partners: Top 5 prizes PLUS Pete's Story Execution Workshop.
Top Partner: Top 3 prizes PLUS a VIP day with Pete Vargas and Pat Quinn
There will also be TONS of other cash and prizes announced later.
What Others Say About The Stage to Scale Method
"I continue to use my Signature Talk framework in everything I do. I did my talk in front of 14 people at my Powerhouse Retreat, and made an offer, and 10 people said yes. It was my biggest week = $111,000. A small yet powerful stage!"  -Amy Y.

"I'm two and a half weeks out of the workshop and our numbers are already improving. We normally convert 40% and we're now already in the 50% range." -Romney

"I was asked to be a speaker at a Women in Democracy dinner at the Governor's Mansion in Seattle in 2018! OMG! I'm honored to be seen as an "inclusion expert" AND that one of my champions recommended me! So glad I had my speaker page and kit ready to go when it was requested. So many layers of gratitude for this program." -Rachel R

"The response was FANTASTIC. At the evening reception, we received at least a dozen leads, not just individuals, but corporations for our training program for women in Tech. We also received two very good leads for cybersecurity consulting for our consulting group.This stuff works. Now we are working hard on follow up and converting leads into enrollments for our July intensive. THANK YOU AGAIN, Pete and team." -Karen W