No name is more synonymous with "sales" and "selling" than Zig Ziglar.  For decades Zig used timeless wit and wisdom to teach generations how to sell effectively as well as his proven secrets to closing the sale.  Now you have the chance to share Zig's sales principles and techniques combined with modern application from Kevin Harrington, one of the original "Sharks" from television's hit show, Shark Tank. This launch is destined to be the best launch of the year!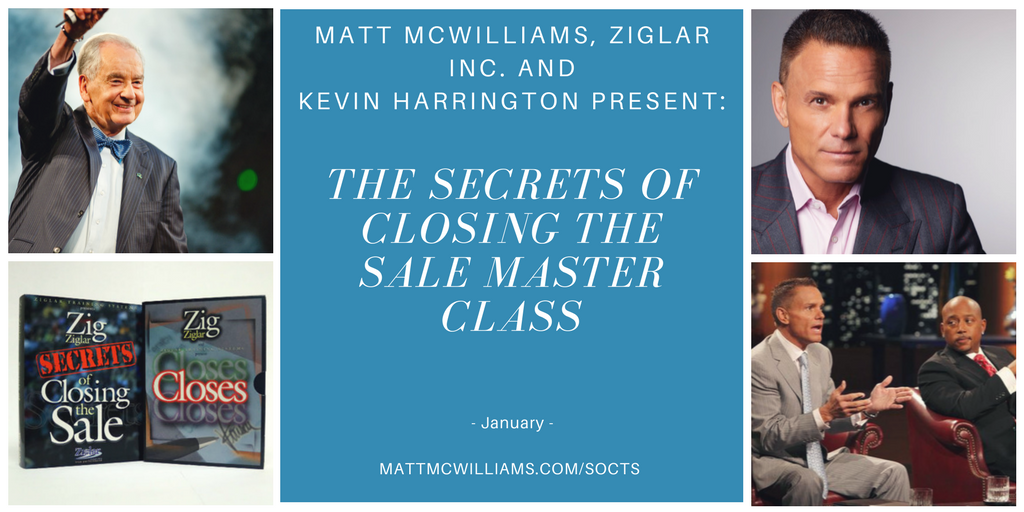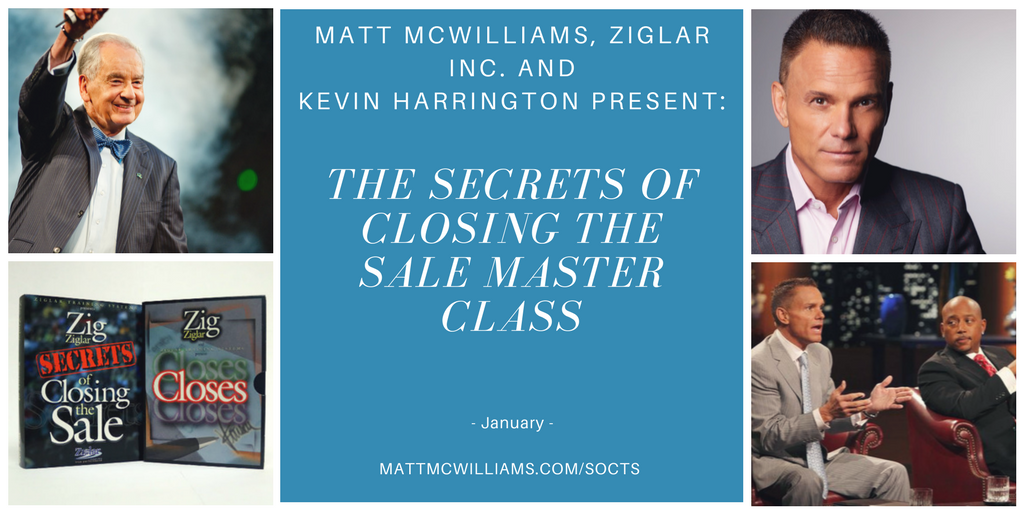 Here's what you need to know about this awesome launch and 5 reasons YOU should join.
About The Secrets of Closing The Sale Master Class
Epic—that's the only way to describe it.  The Secret's of Closing the Sale Master Class will be the course everyone is talking about this year.
Until now, Zig Ziglar's timeless wisdom has only been available via books and DVDs. In this new digital Master Class, participants will experience Zig Ziglar like never before, engaging world-class sales wisdom in a community of high-performers committed to over-the-top success.
The course content will feature both Kevin Harrington (the original Shark from the hit TV show, Shark Tank) and actual footage of Zig Ziglar in action, supported by a cutting-edge digital experience and practical resources to empower participants. Countless millionaires have been made by following Zig's secrets—and now those secrets are being reinvigorated for a new generation.
As a matter of fact, here's a video that Kevin shot just for YOU, our potential affiliate partners:
Target Audience
This Master Class is ideal for anyone who sells anything for a living (which is EVERYONE), as well as anyone who has benefited from Zig's sales training through the years.
Potential participants include:
        

Sales managers and professionals (mortgage, real-estate, automobile, pharmaceutical, insurance, etc)

        

Business owners and entrepreneurs

        

Anyone who makes a living with digital marketing—or wants to

        

Authors, speakers, and platform builders of all sorts

        

Anyone who needs to build an audience
A lot of people can sell, but only the best can close—consistently.  Now participants can learn how to use the secrets the masters use to close deals every day.
Price
$1,997 with various payment plans.
Affiliate Commission & Prizes
Commssions
You get big rewards for helping your list… 40% for each sale.
Prizes
Our top affiliate partners will join Kevin Harrington for three-day mastermind in Florida where he will help them explode their business. He's made a career doing it and he'd love to sit down and help this mastermind do it, too.
Kevin simply never does it, but he's offering this exclusive mastermind experience for top promoters of this Master Class where you can get recharged personally and supercharged professionally—and have a blast doing it.
There will be other contests and prizes that we will announce later, but this is the big one!
Check out more info. and details on prizes and who is in for the launch here.
Promotional Resources
You'll have everything you need – done for you and ready to go, including swipe copy for email and social media posts. Banner ads and more images will be provided as well.
About Zig Ziglar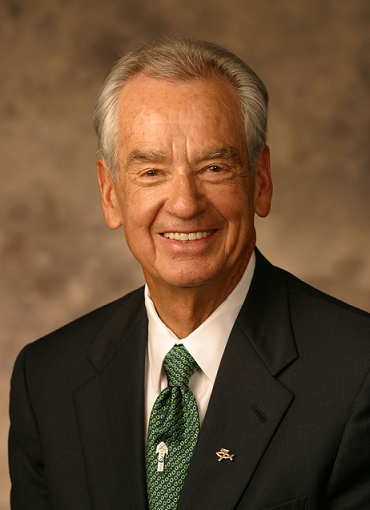 Zig Ziglar is America's most influential and beloved encourager and believer that everyone could be, do and have more. He reached and influenced an estimated 250 million people with his 33 books, innumerable videos and recordings, and many live presentations to auditoriums filled with tens of thousands.
From 1970 until 2010, he traveled over five million miles across the world delivering powerful life improvement messages, cultivating the energy of change. Recognized by his peers as the quintessential motivational genius of our times, Zig Ziglar's unique delivery style and powerful messages earned him many honors, and today he is still considered one of the most versatile authorities on the science of human potential.
His best-selling book, Secrets of Closing The Sale, has sold nearly 1,000,000 copies and is a mainstay for anyone that sells for a living. Ten of his thirty-three books have been on the best-seller lists.
A committed family man, a dedicated patriot, and an active church member, he and his wife of 66 years, Jean, faced a number of painful parenting challenges while raising four kids. Once his faith was awakened, Zig realigned his priorities and began uniting his principles for success with his love for his family—and everything changed.
About Kevin Harrington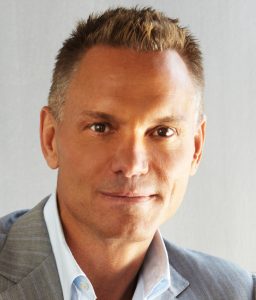 Kevin Harrington has been a successful entrepreneur over the last 40 years. He is an Original Shark on the ABC hit, Emmy winning TV show, "Shark Tank." He is also the Inventor of the Infomercial, As Seen On TV Pioneer, Co- Founder of the Electronic Retailers Association (ERA) and Co- Founder of the Entrepreneurs' Organization (EO).
Kevin has launched over 20 businesses that have grown to over $100 million in sales each, has been involved in more than a dozen public companies, and has launched over 500 products generating more than $5 billion in sales worldwide.
Kevin's influence has reached over 100 million people through his multi-media presence and industry dominance. A prominent business thought leader, he is often featured and quoted as a business leaders in the Wall Street Journal, New York Times, USA Today, CNBC, Forbes, Inc., Entrepreneur, Fortune, The Today Show, Good Morning America, CBS Morning News, The View, Squawk Box, Fox Business, and more. He is a regular contributor to Forbes.com, Inc.com, and has published acclaimed books like Act Now! How I Turn Ideas Into Million Dollar Products as well as the best seller, Key Person of Influence.
5 Reasons To Join This Launch
1. Zig Ziglar
The name Zig Ziglar is synomous with quailty and success.
Simply put, you can be proud to support this launch. That is rule #1 of affiliate marketing.
Zig Ziglar impacted 250 million people—almost everyone has heard of him. And anyone who sells anything knows Zig as "The Master of Sales" and author of the sales bible—Secrets of Closing the Sale—a book that has sold more than 1 million copies.
2. Kevin Harrington
Another well-known name is the world of sales and entrepreneurship, Kevin Harrington joins Mr. Ziglar as the Master Class host.
Kevin is the original "Shark" on the hit television show, Shark Tank, inventor of the Infomercial, and founder of the As Seen on TV brand.
Kevin attributes his financial success to the influence of Zig Ziglar.
A living protegee of the Master of Sales, Kevin will offer his own keen insights to participants and his media know-how to the launch of the class.
Here's what Kevin says about Zig Ziglar:
"I've been an entrepreneur more than 40 years. But when you think about all of my business success, the key to all of that success is sales…and Zig Ziglar is the master of sales!

I simply would not be where I am today if it weren't for Mr. Ziglar."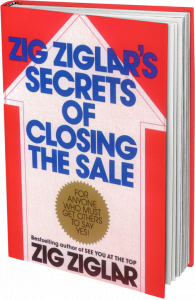 3. 1,000,000 Copies
Zig Ziglar's book, Secrets of Closing The Sale has sold nearly 1 million copies.  The strategies, techniques and tips he teaches have been tested and proven time and time again.
Zig's timeless secrets are the basis for the Master Class and fueled the creation of multiple video and audio resources and this best-selling book.
4. The PLC (FREE) Content is Awesome
Honestly, our biggest challenge with this launch is figuring out what to include in the pre-launch content.  Zig Ziglar has SO MUCH amazing content from his decades of training sales and business leaders that we are trying to narrow it down to the best of the best (and that is HARD!).
Join the Program Today!
So what are you waiting for?  This is your opportunity to share Zig's timeless sales wisdom with your audience.
Sign up to support the Secrets of Closing The Sale launch as an affiliate today.