If your audience is made up of people who have been working hard but still feel stuck in one or more areas of their life, this opportunity is for you.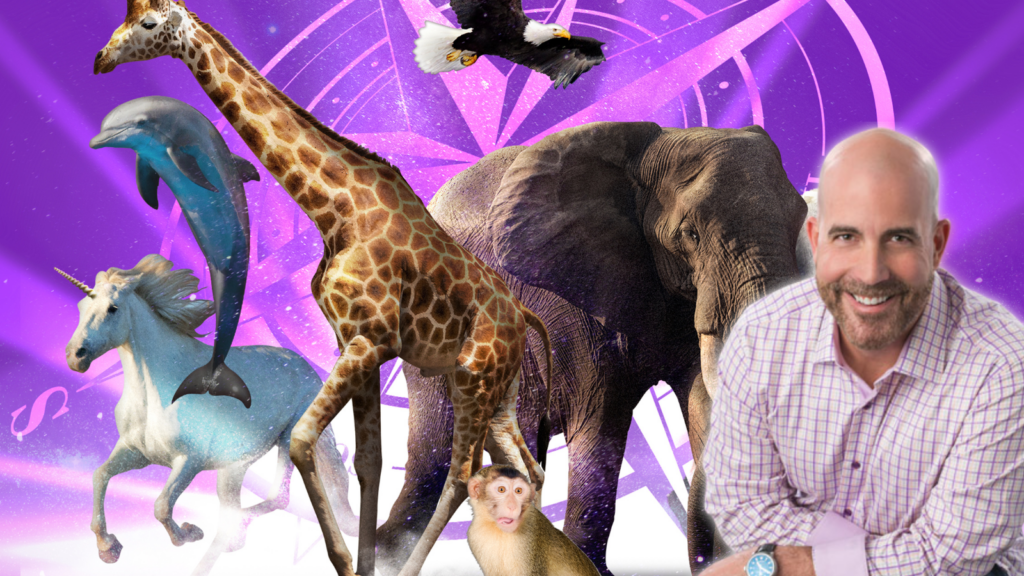 UNCAGED is the quickest and most impactful program for people who are struggling to :
Enjoy better health;

Build greater wealth;

Develop stronger relationships;

Advance their careers

Have more fun
The founder of UNCAGED, Chris Jarvis, has created a program that provides people with a new perspective so they can conduct business and live life differently. As a bestselling author, he has had the opportunity to speak to thousands of audiences over his 25 year career.  Chris has advised over 1,000 professional firms, hundreds of millionaires, and more than a few billionaires.
I'm excited about this opportunity because Chris Jarvis is the real deal.
Over the last 30 years, Chris has advised over 1,000 professional firms, hundreds of millionaires, and more than a few billionaires. He's hired to solve their most complicated financial and business problems – when other professionals fall short.
As a bestselling author, he has had the opportunity to speak to thousands of audiences.
Before selling his financial firm in 2016, Chris' education-based marketing programs helped him win sales awards from multiple companies.  Since the sale, Chris has focused his efforts on helping others find unique paths to unconventional success.
Of his 16 books, the last three bestsellers have had the most success.  6 Secrets to Leveraging Success: A Guide for Entrepreneurs, Family Offices and Their Trusted Advisors shows people how to break through and reach higher levels of success.  Giraffe MONEY: See Better Paths to Elevated Wealth shares the hidden financial secrets of the wealthiest families and shows you how to apply those lessons to grow your wealth.  Go WILD: Follow your Inner Animal to Health, Wealth, and Happiness is the third foundational piece – as it shows you how to tailor your efforts toward what matters most to you.
Chris has been published in Entrepreneur magazine and Bloomberg.com. He has been quoted in The Wall Street Journal and Los Angeles Business Journal and has been a guest on Bloomberg Television's Personal Finance. His interviews have been seen on A&E and Bravo and he was the subject of a documentary on The Learning Channel.
But it's best if you hear about this program straight from Chris.
A Note From Chris
Do you feel stuck? 
Maybe you're working your ass off, but you still can't break through to that next income level.  
Perhaps you have big plans or huge dreams, but something keeps getting in the way. 
You may be successful (in other people's eyes), but that's not enough for you.  
In any case, you are here because you want more out of life – better health, a more fulfilling career, greater wealth, deeper relationships, or you want to have fun again!
If any of this sounds like you, I can relate. This is how I felt for most of my adult life – and I didn't figure out what to do about it until 2015. 
I had graduated from a Top 10 MBA program and was ready to take on the world. After five years of working 100 hour weeks and running up over $100,000 of credit card debt, things finally changed.  
I was earning more than $500,000 per year and lived in a 5,000 square foot house in the hill country in Austin – not more than a mile from Michael Dell. 
From the outside, everything seemed to be going extremely well.
However, life wasn't too pretty in between the two major milestones of getting my company to 'successful' and then selling it for millions. 
I struggled with my first marriage and got kicked out of my first company.  Both of those ended in ugly lawsuits – that wiped me out financially and almost broke me emotionally. 
I don't tell you all of this for you to sympathize with me but to tell you how even when life gets dark you can blast through it and create a new amazing life for yourself.
That is exactly what I did.
It all changed when I took the steps to free myself from the self-inflicted cage I put myself in.
I started putting myself first. 
I got the right mentors around me including America's #1 Success Coach, Jack Canfield who I am honored to call a close friend and business partner. 
I began to set goals around the lifestyle I wanted to live.  I practiced meditation and visualization.  I got clear on what my true strengths and weaknesses are.  I began removing obstacles that were in my way that I never knew were there until I did more introspective work.
After trial and error and countless hours of perfecting this process, I was ready to share it with the world!
I became a three-time bestselling author, worked with millionaires and billionaire families, got quoted in The Wall Street Journal, and wrote multiple articles for Entrepreneur magazine. I was a guest on Bloomberg Television's Personal Finance, Mindvalley's Superhumans at Work podcast, and Talking About Success, which aired on A&E and Bravo.
Now, I am Introducing you to UNCAGED!
You can follow along the same journey from stuck, burnt out, and struggling to a new sense of clarity, direction, and get yourself UNCAGED!
I believe this program will do wonders for you and your network as an affiliate partner for 4 major reasons.
It is a proven plan. It has worked for me and others and has been approved by other successful individuals

It includes all great aspects of a program. Self-paced video courses, live events, workbooks, complimentary guides, and a written personalized report.

The production value in the program is top-notch. I shot part of it in a studio and the rest in creative locations.

Payments to you will happen swiftly.
So, what do you say?
Want to join me in helping the world become UNCAGED and on the way to living their best life?
Chris Jarvis
About UNCAGED
Uncaged is the quickest and most impactful program for people who have been working hard but still feel stuck in one or more areas of their life.  In only four short minutes with the "Wild Factor" assessment, you can take the first step to:
Enjoy better health

Build greater wealth

Develop stronger relationships

Advance your career

Have more fun
After your audience takes the proprietary "Wild Factor" assessment, they will be given a personalized report, with scores in all five areas of their life. These will be the baseline to measure the meaningful improvements they will get from the UNCAGED course. 
The course offers hours of videos, worksheets, and case studies to help the student identify tangible ways to make small changes that will yield big results. 
The program will be supplemented by "live" group training with Chris Jarvis who provides hands-on training and answers student questions.
Mastering the UNCAGED material will give any manager, leader, coach, or salesperson a powerful tool to make quick, meaningful connections that result in career success. 
The lessons teach how others make decisions and reveal the best way to differentiate yourself as you bring value to your employees, customers, clients, or prospects. 
Main Points of UNCAGED:
Every person wants more money, better health, more meaningful career, deeper relationships, or more fun.
Our natural abilities help us in certain areas of life — but hold us back in others.
Our parents, upbringing, and experiences form our behavioral biases.
Subconscious biases create dominate our decision-making.
Our subconscious biases hold us back in many areas of life.
Awareness of bias is the key to unlocking greater wealth, health and happiness.
Your inner animal — Elephant, Eagle, Dolphin, Monkey or Penguin — will give you memorable clues to help you leverage your strengths and avoid pitfalls.
Uncaged will not only help your audience get what they want in life, but it will also teach them how to quickly identify what other people want and need.
Uncaged will help your audience with their colleagues, employees, customers, and friends.
What's Included:
This product includes 16 categories with 60 video lessons, totalling 4 hours of instruction.  You also receive invitations to monthly live workshops, a workbook filled with practical exercises,  and multiple bonuses.
Target Audience: 
The primary audience is business owners and entrepreneurs.
But, UNCAGED is for anyone who:
Wants to become more successful,
Is working your butt off, but feels stuck,
Has put him/herself last and is ready to make a change,
Is unfulfilled or uninspired in a career or job,
Have you given too much of yourself to other people,
Wants to have more in life.
Launch Dates:
Evergreen. Ongoing availability starting in August.
Pricing:
The "Wild Factor" assessment retails for $20, but you'll get to share a code with your audience to get it for FREE through your link.
The Uncaged course will be available for $499.
Commissions:
40% on any course purchases from your referrals
Additional commissions are available on upsells & downsells throughout the different sales funnels
Lifetime Commissions
Exclusive: Chris' team will share the data from the Wild Factor assessment with you so you can learn how to communicate best with your audience
Prizes & Contests:
These will be announced within the program, but you'll have chances to get exclusive access to courses, trainings, and live events.
Testimonials:
"I love Chris's brilliant intellect, wonderful sense of humor, and no-BS approach to business and life. Chris is first and foremost a teacher who wants to help people by eliminating the unnecessary stress and aggravation around money. His motives are purse, and his advice is unbiased." – Jack Canfield, America's #1 Success Coach
"Chris identified powerful financial planning opportunities I had never seen. More impressively, he led a team of attorneys to integrate the new ideas within the regulations and complexities of a family-owned, national franchise. Having a high-priced team of professional firms working for you doesn't mean you are getting the best possible advice. I highly recommend you talk to Chris and see what you might be missing." – Gordon Logan, CEO, Sport Clips
"Chris is a valuable asset to my company, my family and me. He takes the time to understand the real concerns, asks the tough questions most people won't, and brings very creative solutions. He communicates well with our other advisers, our management team and our family members. Working with Chris was a great investment on my part." – Chris May, CEO, IE Discovery
"BEST USE OF AN HOUR! Every time I talk to you, I get more out of my hour than I get from weeks of working with other advisers. You help me get to the real problem quickly, weigh the issues, clearly see the real costs and benefits of the options, and come up with the best plan of attack. I highly recommend anyone with tax, financial or business issues to hire you for a couple hours. It will be a test drive worth taking." – Dr. Simeon Wall Jr., Plastic Surgeon