Congratulations to…
Mark Sieverkropp for winning a copy of a book that ironically he and I recently discussed in the comments, Leadership and Self-Deception, one of the best leadership books I have ever read.
Send Mark a Note of Congratulations via Twitter: Click here to tweet a message.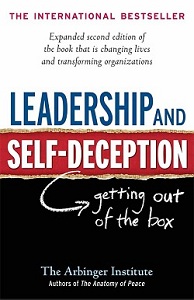 I believe in this book and will be sharing it with various winners throughout the year. That being said, I would not wait to win a copy. Go buy it now. It is at first a quick read, but one you will want to re-read many times.




As a reminder, each month, a winner will be chosen at random from the top ten commenters. The higher you rank, the more entries you get in the drawing. I do this to encourage more people to participate and have a chance to win as opposed to just rewarding the top commenter.
About Leadership and Self-Deception:
Since its original publication in 2000, Leadership and Self-Deception has become a word-of-mouth phenomenon. Its sales continue to increase year after year, and the book's popularity has gone global, with editions now available in over twenty languages.
Through a story everyone can relate to about a man facing challenges on the job and in his family, the authors expose the fascinating ways that we can blind ourselves to our true motivations and unwittingly sabotage the effectiveness of our own efforts to achieve success and increase happiness.
This new edition has been revised throughout to make the story even more compelling. And drawing on the extensive correspondence the authors have received over the years, they have added a section that outlines the many ways that readers have been using Leadership and Self-Deception to improve their lives and workplaces—areas such as team building, conflict resolution, and personal growth and development, to name a few.
Read this extraordinary book and discover what millions already have learned—how to consistently tap into an innate ability that dramatically improves both your results and your relationships.




Here were the top commenters last month. Thank you all for participating!