Are you challenged at work? If not, you are probably wasting your talent. I got this fortune cookie recently and amazingly it has the best career advice I have ever seen or heard.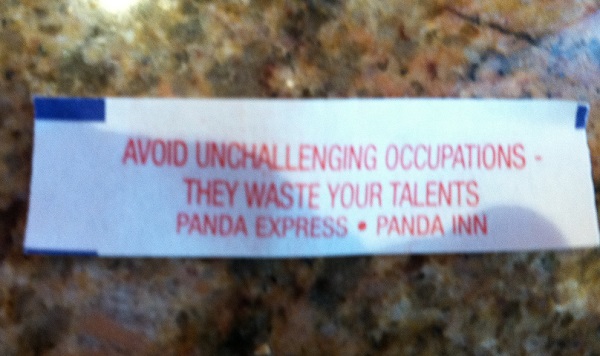 I tend to thrive on pressure. Not everyone is like that and that is not the point. But if I am not constantly pressured and pushed, I waste my talent. It never gets a chance to come out. It never sees the light of day.
And I end up miserable. I look for challenges in other places. The wrong places.
So for you it might not be pressure cookers. You might not thrive in crises like me. You might not enjoy being under the gun every day with short deadlines.




But there is something that challenges you and inspires you. And when you find it (odds are you already have found it, but aren't living in it) you will be using your full talent. You will experience exhilaration every day.
What challenges you? What talents are you not using and how can you use them?