My child is a product of my parenting.
That is the key takeaway of the book Parenting the QBQ Way: How to be an Outstanding Parent and Raise Great Kids Using the Power of Personal Accountability by John Miller.
Not the schools. Not Head Start. Not the church. Not her friends. Not the celebrities du jour. My child is a product of my parenting.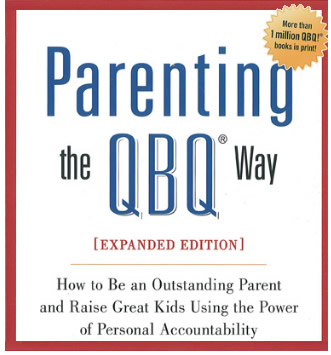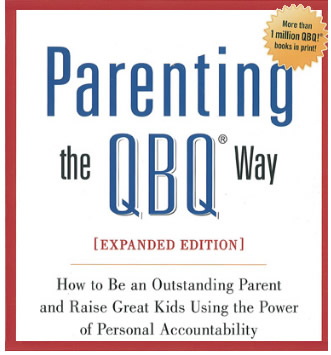 And with that easy-to-acknowledge but hard-to-swallow fact, John Miller issues a call for personal accountability in parenting.
Before we go too much further, welcome to day two of Family Leadership Week. The rest of the week looks a little something like this:
Wednesday, March 6: QBQ Practice. This one should be fun.
Thursday, March 7: Interview with John Miller, Part One
Friday, March 8: Interview with John Miller, Part Two
Part one yesterday is here: The Problem with Parents Today.
Make sure to subscribe to my RSS feed or get posts via email (and get my free book as a bonus) so you don't miss any of this week's posts.
OK, now back to the review.
If you are not familiar with John Miller, check out all of this books here. They are all centered on the same concept; that personal success, fulfillment, and influence begins with personal accountability.
You should read all of his books, but you probably won't like them. The message is not popular or sugar-coated and much like some of Jesus' followers, you will be tempted to say "this is a difficult teaching, who can follow it?" and relegate the books to a life of gathering dust.
But, please don't. You need these books. (NOTE: I certainly could say "the world needs these books" but this is all about personal accountability and I am speaking directly to you.)
What I like about the book
In addition to the message itself, I love the format of Parenting the QBQ Way. In typical QBQ fashion, the chapters are short and stand alone well. You can read for 3-5 minutes a day and get immediately applicable principles, action items, and inspiration. Like his other books, this is not a "sit down on a Sunday afternoon and read the whole thing" book. It is best taken a little at a time and the author makes that easy for you.
John also tells a lot of personal stories. I am a "story learner." I learn best from personal stories to which I can relate and from seeing the principles and tools in action.
John does an outstanding job of weaving touching, funny, and thought-provoking stories in and out with his lessons. There are few, if any, lengthy stretches of instruction-only without a story.




So What is QBQ?
I don't want to give away the whole book, but QBQ stands for "Question Behind the Question." In John's words, as it relates to parenting, it is a "tool that enables parents to practice personal accountability by making better choices in the moment." The QBQ identifies the real question you should be asking. It eliminates the victim mentality.
What John calls IQs (Incorrect Questions) usually sound a lot like:
"Why is this happening to me?"
"Why didn't my parents show me how to do this?"
"Who is going to help me with this?"
"When are the schools going to teach ____?"
QBQs sound like:
"What can I do to understand my daughter better?"
"What can I do to educate myself more on good parenting?"
"How can I find a mentor?"
"How can I teach my child ____?"
That is QBQ in a nutshell, but there is so much more that you will have to read for yourself.
Money Back Guarantee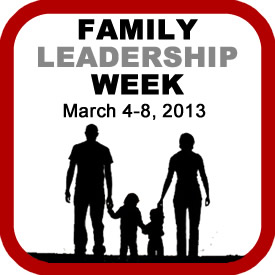 So how much do I believe in these books?
So much that I am willing to put my money where my mouth is.
If read any or all of John's books and don't feel that they have changed your life for the better, I will buy them back from you at full price.
If you don't believe that the message makes you a better employee, leader, spouse, or parent, you get your money back. That is how much I believe in this message.
Here are the instructions:
The book must be in good condition. I will buy the book from you in order to give it to someone else who is open to the life-changing message or to the library.

Contact me here. I will send you the address to which to send the book too. 

Send the book and the receipt and give me 2-3 weeks to send you a check. Make sure to include your return address.
So there you have it…a call to personal accountability and a money back guarantee. Go get the books now. Start with whichever is most needed in your life.
In what ways are you personally accountable for your children?
Do you find freedom in personal accountability…in asking QBQs instead of blaming or waiting for others?