What can you not stop doing?
That is one of the critical questions presented in Jon Acuff's new book, Start: Punch Fear in the Face, Escape Average and Do Work that Matters.



I pre-ordered the book more than a month ago and what I expected was something along the lines of, "Matt (I expected Jon to write the book personally to me), you know you've always wanted to _______, so what are you waiting for?"
But that's not what I got at all. And that was disappointing at first. I assumed I was missing out on something, that I was missing my calling, and that this book would show me how to start something new and revolutionary.
But it didn't.
Your revolution is already there
You are probably already doing your dream in some capacity. Rarely does anyone say, "You know, I've always wanted to be a professional gardener," but has never wielded a hoe or planted some seeds. You are probably spending your weekends gardening at home, helping your friends, and daydreaming of weekends by noon on Monday. You read gardening books, watch gardening shows, and have a membership to a gardening forum.
You are already living your dream. And you can't stop. It would kill you to stop.
That's what I found as I read the book. There was no great revelation. No epiphany that revealed to me that I have been missing my calling all along. It simply asked me, "What can I not stop doing?"
Studying myself
It also showed me how to connect the dots in my life's timeline.
I grew up playing competitive (eventually professional for a short time) golf.
I've run four political campaigns (two of my own).
I've run three businesses.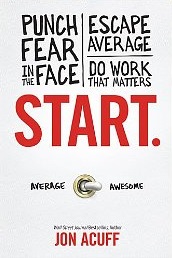 I started a blog, learned to wake up two hours earlier, and ran a 10k.
And I realized that all of them tie together. I've learned from all of them. I've been awesome before. I will be awesome a lot more.
Acuff writes:
You need to be a student of you. Don't walk down this road to awesome as if you've never been awesome before. You have. You've succeeded at something…How can you apply that to this ?
Three promises
I could write about more general ideas from the book, but the video will cover that, so instead I will make you three promises.
This book will change you.

You will laugh…a lot.

You won't take me up on my offer.
My offer: If you buy the book and you don't feel it was worth the investment, I'll buy it back from you. That is how much I believe in it.
So, now you have nothing to lose and a life of awesome to gain.
The first thing is to START reading this book.
What can you not stop doing?