If you are anything like me, you have to be reminded of this every 6-8 minutes.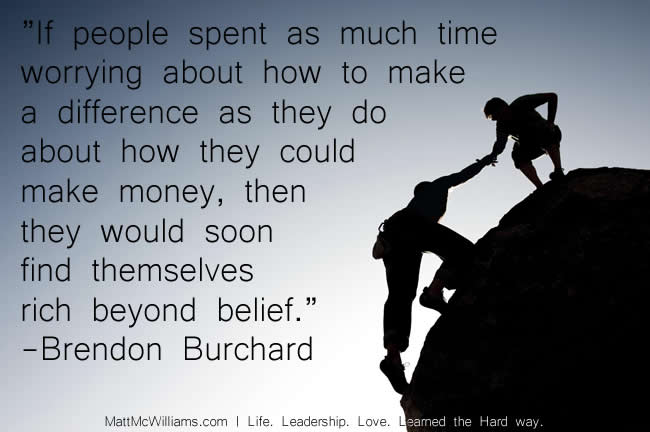 I vacillate between wanting to change the world and wanting to be independently wealthy by the end of next Tuesday. It's often a confusing place to be.
The thing that I finally realized as I pondered this quote for some time was that the word "rich" might have nothing to do with money. Oh, if you make a difference in a commercial way (Apple, Google, and Dave Ramsey come to mind), you will be rewarded financially.
But I also have to remember daily how rich I am when I come home to a smiling and running toddler yelling my name. Or when it seems my world is crashing around me and I have a wife who is right there with me. Or when I break the heart of the One who created me only to remember that He redeemed me nearly 2000 years ago.
When you serve your family, you are making a difference. When you honor your marriage or a business contract, you are making a difference. And when you receive grace, refuse to wallow in self-pity, and go out and show others how to do the same, you are making a difference.
I cannot; I will not promise you wealth or happiness. But I do know that if you focus on making a difference, you will. And you will find joy in the most unexpected places.
What will you do today to make a difference?