"Inspiring…to me and to everyone who will see it!"
"Such a powerful message. Can't wait to wear it proudly."
"I can't wait to be a walking billboard for such an important message."
"The only thing missing is a giant screen print of your face, Matt. That is the only way to make these more awesome."
That's what people are saying about the WORLD CHANGER (JUST LIKE YOU)™ t-shirt. (OK, I made that last one up…and thankfully there is not a giant print of my face on these, just powerful words.)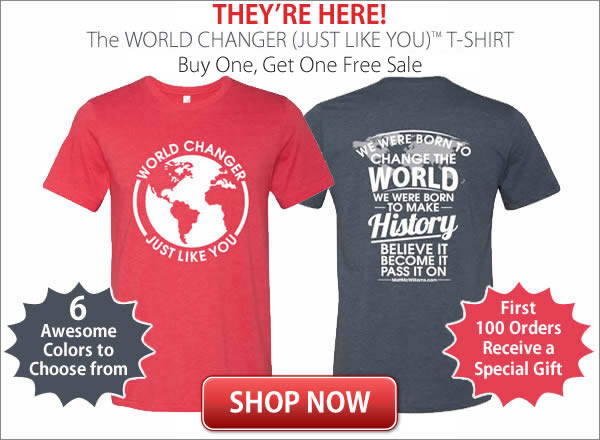 They are finally here. Tara and I have been working on this for months and they are finally available for pre-order (we're doing a pre-order so we have an idea of how many of each size we will need to keep in inventory).
Buy One, Get One Free Pre-Order Sale
If you order in the next week, you'll get the best deal we will ever have on the shirts. Buy one and you get a second shirt free.
We encourage you to give it to someone else to inspire them and remind them that they are World Changers just like you.

Special gift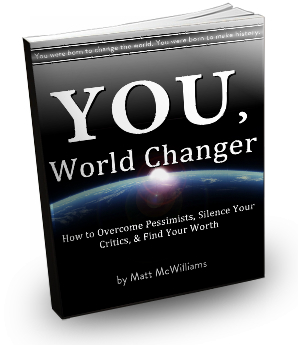 The first 100 orders will also receive a special gift (as if the 2nd shirt for free wasn't enough).
If you are one of the first 100 orders, you will receive a free copy of my new e-book, You, World Changer: How to Overcome Pessimists, Silence Your Critics, & Find Your Worth.
Hurry because we are truly limiting this special gift to the first 100 orders.
Questions
Q: How do I order?
A: Visit my store and click on the t-shirts.
Q: What are the shirts made of?
A: There are two types of shirts. White/Black: 100% combed ringspun cotton. Vintage Styles: 52/48 cotton/polyester. All shirts are sewn in a fine jersey knit (flat, tightly bound fibers) and use ringspun (ultra-soft) cotton. I can assure you that these shirts are top of the line and they aren't cheap (trust me, we spent 5+ hours just choosing the type of shirts).
Q: What sizes do you offer?
A: XS through XXXL. The XXL shirts have a $5.00 upcharge and the XXXL are $5.50 more. That's how much more they cost us.
If you're unsure of what size to order, consult the size chart on the order page.
Q: When should I expect my shirts?
A: Between July 5-17. They will be shipped Priority Mail as soon as we have them from the manufacturer.
Q: Do you shop internationally?
A: Yes, via the USPS Priority International. It's the cheapest method out there, but still pretty expensive.
Q: Do you have an affiliate program so that I can promote the shirts?
A: Not at this time. This promotion is exclusively for my audience. We will open it up to the public after the pre-order. That being said, if you want to share it with others, I encourage you to do so.
Thanks so much for making this possible! We're excited to spread the word that you are a world changer. We all are.
One last thing…
When you order, please tell your friends on Twitter. It will help spread the word!