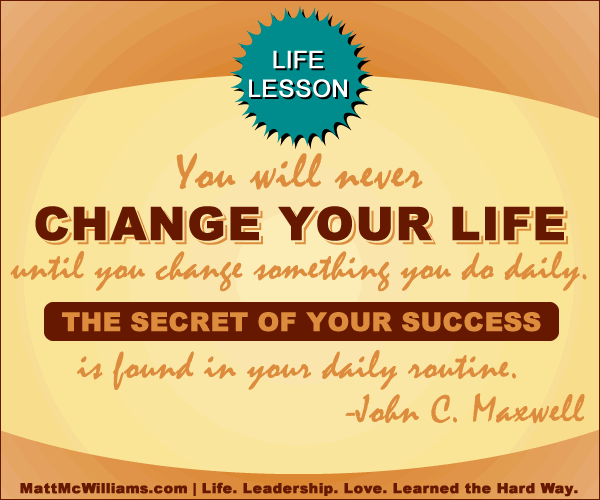 Share this Graphic on Pinterest | Share on Facebook | Click to Tweet Quote
Here are three things to remove from your daily routine and three things to add.
Remove these things:
10 minutes of social media. I'm not saying to go Amish (I can always make fun of the Amish online because they have no proof I wrote anything). I'm telling you to find 10 minutes to remove. That's all.
15 minutes (or more) of email. There are countless books, articles, and podcasts on managing your email. The KISS method of cutting back on email time is this: 

Check and respond in batches only during certain times of the day. Some brag that they only check twice a day. Great. I work in service industries so that is not optional, but I still stick to a strict schedule of checking email…and I knock out all of them each time.

Don't check email on your phone unless you are prepared to reply. You probably waste 5-10 minutes each day reading and marketing as unread only to read again later.

Follow Rule #7 here and teach other my rules for not sucking at email. They will save you time!

10 minutes of "Open Fridge Staring." Maybe it's just me, but it seems that I find myself daily wondering what in the world I am going to eat. If you are like me, you can eliminate an average of 10 minutes each day by planning ahead one day a week. 
Add these things
5 minutes of cleaning. I've only truly cleaned my office once in two years. And it is spotless. Take 5 minutes at the end of each day to put things in order for the next day.
15 minutes of exercise. Every day. I am all for longer exercise times many days. But even on your off days, find 15 minutes first thing in the morning to get loose, get your heart rate up, and warm up for the day. 
15 minutes of planned breaks. Yes, I said planned. I am not a discipline junkie and I have yet to train my bladder to wait for my planned breaks. But, I do suggest three five minute breaks on your calendar each day to stretch, think, walk around, or lie down on the floor.
What can you take away from your daily routine that is unproductive or self-sabotaging?
What can you add that you are not currently doing?