What do you see when you look at yourself?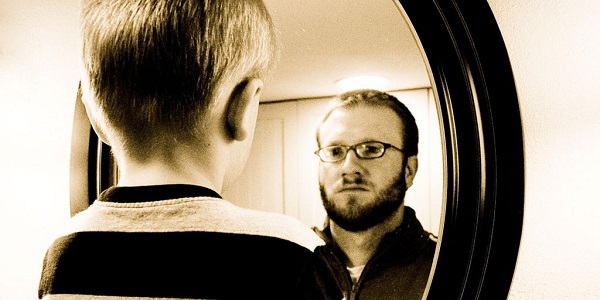 Do you see someone who is successful, talented, and personable?
Do you see someone who is creative, energetic, and attractive?
Do you see yourself as a necessary part of the team? As a necessary part of the world?
Or do you see yourself as unproductive, mediocre, ugly, unneeded, or a myriad of other negative things?
Sometimes what you see in yourself is due only to a poor reflection.
In other words, it's not the real you. What you see is not reality. It's not your fault that you see ugliness, mediocrity, failure, or laziness. That is what has been reflected to you.
A distorted window
I was recently exercising outside on our back porch and I got a glimpse of myself in the window. Because of the lighting and distortions in the glass, I looked huge. I looked like I weighed well over 400 pounds.
That is not the image I had of myself while exercising. Prior to seeing that image, I only saw myself as fit, energetic, and athletic while exercising. But that image changed me.
That image, that I knew was a distortion, that I know was a lie, changed me. It sapped my energy. It deflated my ego. It depressed me.
A false image, projected on to me by something (or someone) else, did that to me.
The same thing happens anytime someone alters your image of yourself.
When your coach calls you lazy.
When your parents call you fat.
When a teacher gives you the Murphy's Law award (true story actually in 7th grade).
These are all but poor reflections of your true self. They are not the real you.
When I saw that false image of myself, I initially allowed depression and pity to set in. For one moment, I allowed it to derail me from my goals and change my image of myself.
And then I did something so simple and yet so powerful…
I moved.
I changed my mirror. I moved 10 feet to the left. I stopped looking in that window. My reflection was again what I saw in my mind, not what I saw in the window.
I was once again powerful and energetic. I was once again who I wanted to be, not what someone or something else told me I was.




All because I changed my mirror.
No one changed it for me.
I simply made a decision to no longer allow that image to be the image I saw.
With lifelong false images, I know it's not that simple. It takes time. But it starts with that decision to change mirrors. It starts with choosing to see yourself the way God created you, the way that you want to see yourself.
Your ideal self
So how do you see your ideal self? How do you see yourself when the mirror is not distorted, when the negative voices are not drowning out the positive ones?
Are you healthier?
Are kinder and gentler?
Are you more energetic? More outgoing?
Your superhero mirror
The fact is that you can be what you always dreamed about when you were a kid.
You can remove the negative voices of your parents, teachers, bullies and others.
There was a time, before the voices and false images, when you could do anything. You had boundless energy, unlimited creativity, and no fear. You could even fly. You were a superhero.
I declare to you that you can do anything God calls you to do.
You can be a superhero.
Go find your superhero mirror. Throw out the old, distorted one first, then stand in front of your superhero mirror.
Now tell me what you see.
What is your superhero mirror telling you?
Related: Breaking Bad Mind Habits | Be a Furniture Mover: Visualize and Rehearse Success