There are certain things that no successful person ever says. Successful people are intentional about the words they speak, to themselves and to others. Today, I'm going to share 29 things successful people never say.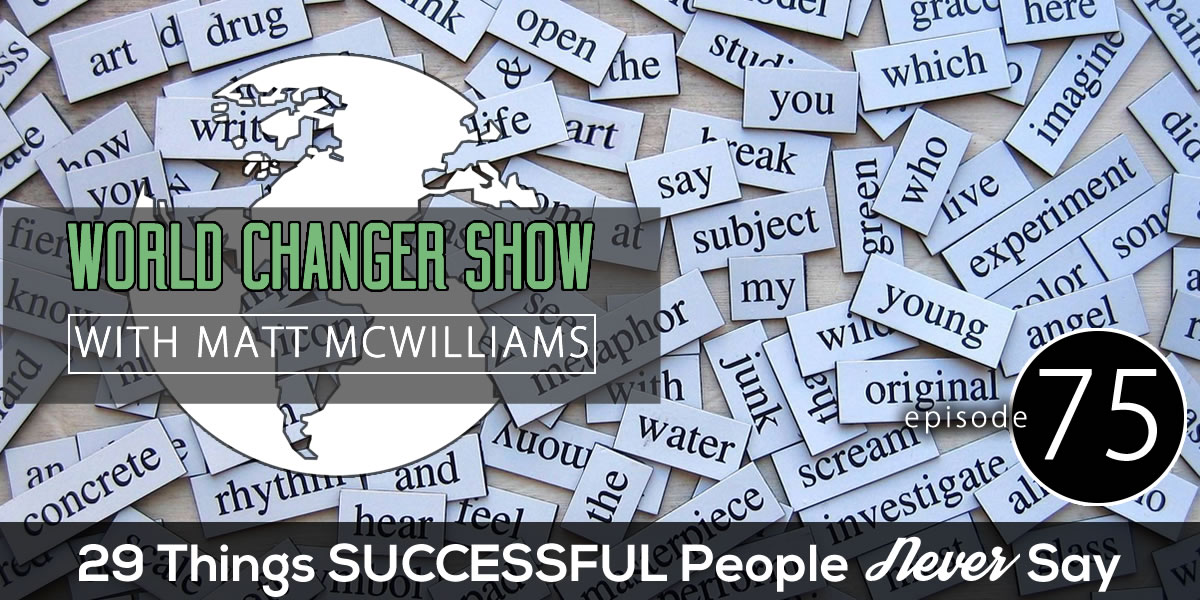 Some of these 29 things might seem obvious. Others some might surprise you, especially if you've based your definition of success on what Hollywood or the media says.
It is by no means a complete list, so I want to hear from you. Leave a comment below with what you would add. You can also tweet it using the hashtag #SuccessNeverSays.
In today's episode, I go into detail about each of these, why successful people never say these things and how simply saying these can harm you and keep you from success. You can listen to the full episode below the list.
I never failed along the way.
My dreams can wait.
I never thought about quitting.
Everyone believed in me.
No one believed in me.
I did it all by myself.
I relied on others.
I never lost any sleep.
It's too late to start.
There's plenty of time to start.
Everyone thought it was a good idea.
It was always fun.
It was no fun.
I've kept all the same friends.
I never celebrate the little milestones.
I listen to my doubters.
I listen to no one.
This is what my parents wanted for me.
I avoid conflict.
I never learned to delegate.
I watch a lot of TV. (OK this doesn't apply to people whose career is in TV)
I let things like email, social media, and phone calls distract me.
I keep quiet.
I speak exactly what is on my mind.
I never ask for help.
I never cry.
I said yes to everyone.
I said no to everyone.
I've got it all figured out.
Action item: Think of things that you say to yourself and others that you need to stop saying. Then stop saying them.
Action item 2: Tweet about that or something else successful people never say. Include the hashtag #SuccessNeverSays. Below are some images you can post on Twitter, Facebook, and Pinterest.
Listen to this Episode

Episode Links and Resources
POSTS ON DELEGATION: What Every Great Leader Eventually Learns | The Real Reasons You Are Overworked
CHEAT SHEET: Positive Declarations Starter Guide
Itay Talgam TED Talk
Ask Me a Question
If you have a question, comment, thought or idea, you can leave a voicemail for me or contact me via email.
Subscribe to the Podcast
Share the Love
If you enjoyed the show, please rate it on iTunes and write a brief review. That would help tremendously in getting the word out and raising the visibility of the show so that we can inspire other World Changers just like you.
Next Episode
Join me for episode 76 with someone I am so excited to introduce you to, although you may know him already. He is a protégé of the great conductor Leonard Bernstein and has conducted orchestras around the world. He is also the author of the amazing new book, The Ignorant Maestro, which has quickly become one of my favorite leadership books. If you want a preview of this interview, check out his popular TED Talk above in the resources section. To date, it has more than 3 million views.
What would you add to this list? What else do successful people never say?