At any point in time, we're either going through a transition, we just came out of one, or we're about to go through one. How do we handle the difficult transitions in life? Today's guest will show you how.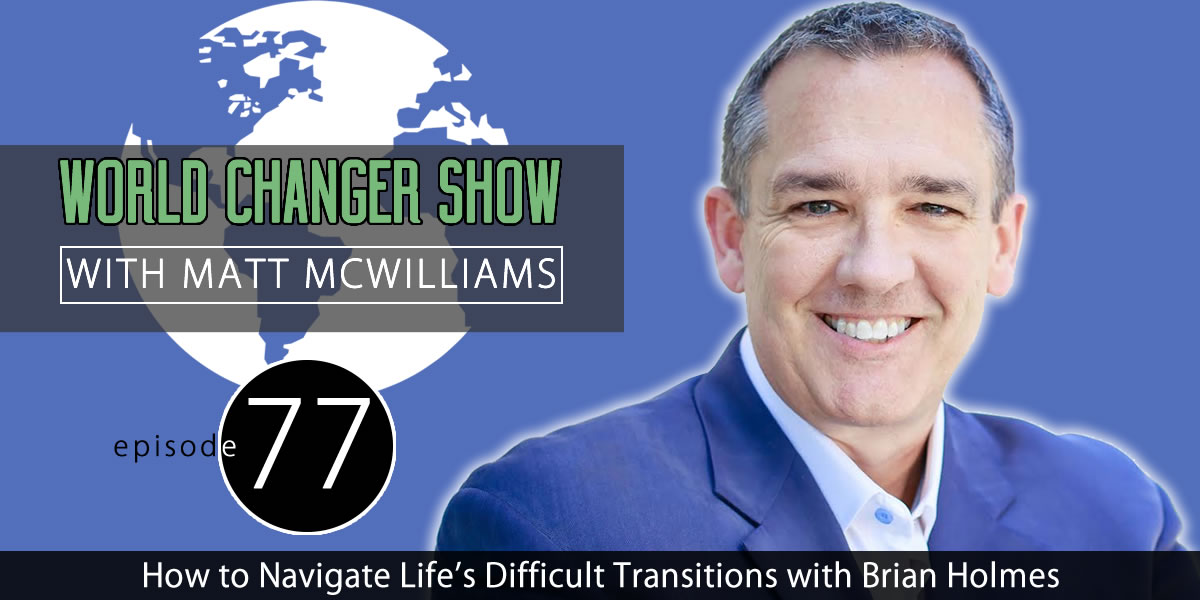 The title of the episode is "How to Navigate Life's Difficult Transitions" and the title says it all. It's one that truly applies to everyone. My belief is that all of us are either in a transition, just came out of a transition, or about to enter one.
In today's episode, we discuss:
Why change is so scary
The four stages of transition
The secret ingredient of navigating transition
Why discontentment is healthy
About Today's Guest
Brian Holmes, the Founder and President of the Strategic Living Institute (SLI), a life changing organization dedicated to teaching people to harness the power and potential that God has given them. SLI's mission and method is revolutionary, providing individuals the opportunity and means to receive inner life healing, purpose specific training and development, and the practical activation necessary to be mobilized as leaders of cultural transformation.
Each year, Brian travels extensively, speaking in conferences and leadership forums around the world. He has authored numerous books and curriculums, including the internationally acclaimed, 'The Ties That Bind', a study on identifying and breaking unhealthy connections and soul ties. In addition to his books, Brian has also created numerous video and audio programs which are specifically targeted to unlocking and releasing the full potential of every individual. Brian is a board certified counselor; a certified facilitator for The Pacific Institute; an author and lecturer; a Certified Life, Business, and Leadership Coach; a Master Coach Trainer; and mentor to people in all fields.
Listen to This Episode
Episode Links and Resources
POST: This is Helping "Ordinary" People Have Extraordinary Success
PODCAST INTERVIEW: Jeff Goins on Finding Your Calling
My interview on Brian's Podcast on Limiting Beliefs
FREE BOOK: 8 Signs You Have a Crappy Job
Quote
A role that you play is not necessarily your identity. It's simply a role that you're playing while you walk out your identity.
Ask Me a Question
If you have a question, comment, thought or idea, you can leave a voicemail for me or contact me via email.
Subscribe to the Podcast
Share the Love
If you enjoyed the show, please rate it on iTunes and write a brief review. That would help tremendously in getting the word out and raising the visibility of the show so that we can inspire other World Changers just like you.
Next Episode
Join me for episode 78, 5 Ways to Boost Your Energy. When it's the middle of the afternoon and you need a boost, what do you do? You could reach for the coffee, but caffeine loses its effect after a while. Not to mention it's only a temporary lift. You need lasting energy. So what do you do? In episode 78, I'll share five ways to boost your energy at the office or at home. Number three literally changed my life.
What transition have you gone through that put you in a better place in life? What did you learn from it?