How often do you negotiate each day? Odds are, you are negotiating all day long. Whether it's negotiating your salary, a large purchase, a decision at work, where to go to lunch or convincing your child to do their chores. We negotiate all day long. Today's guests will help you get the most of the negotiations you find yourself in.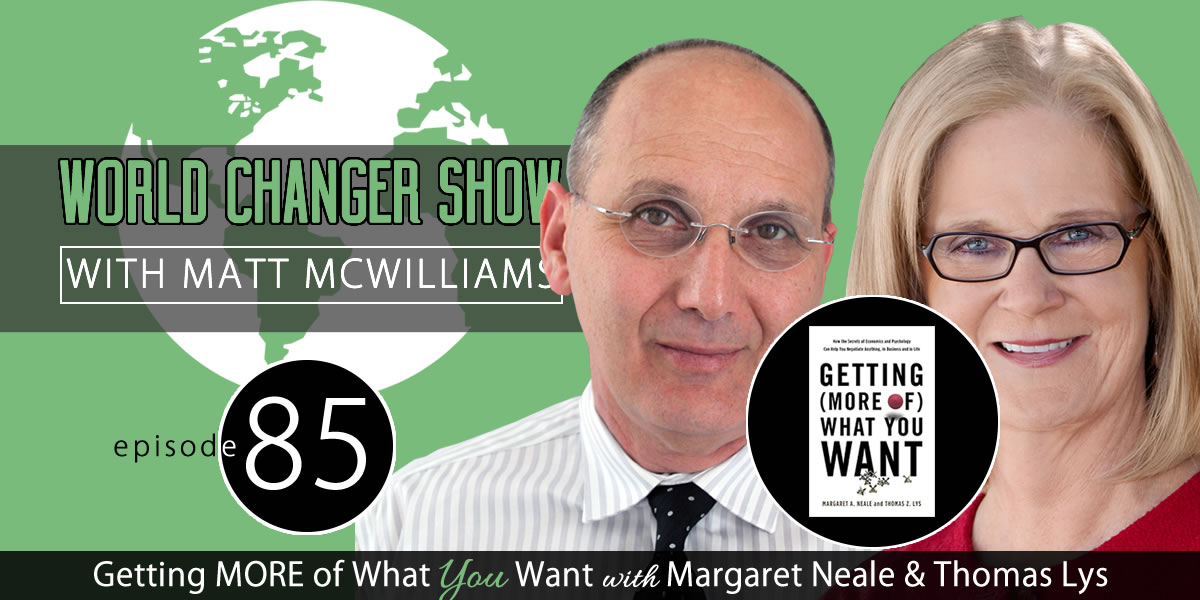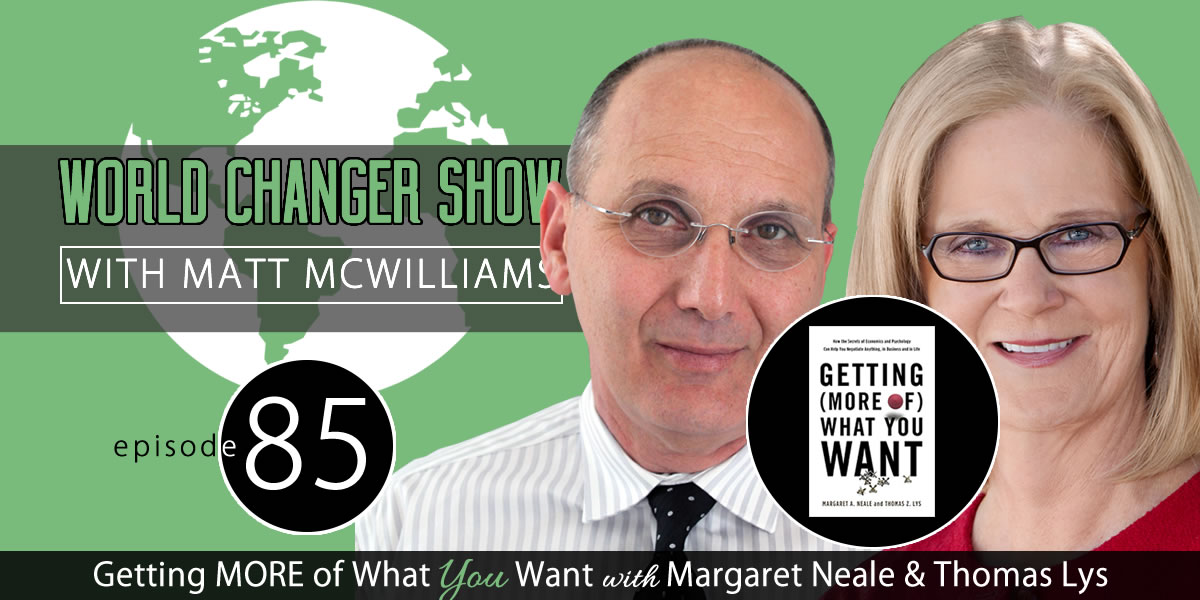 About Today's Guests
Margaret Neale is an Adams Distinguished Professor of Management at the Graduate School of Business at Stanford University, where her research focuses primarily on negotiating and team performance. She is the author of over 70 articles on the topics of bargaining and negotiating and is the coauthor of three books.
Thomas Lys is the Eric L. Kohler Chair in Accounting at the Kellogg School of Management at Northwestern University. He was an editor of the Journal of Accounting and Economics for eleven years and has served as a consultant for General Electric and IBM, among other companies.
Together Margaret and Thomas wrote the new book, Getting (More Of) What You Want: How the Secrets of Economics and Psychology Can Help You Negotiate Anything, in Business and in Life.
In Today's Episode
Our guests and I talk about:
What is negotiation?
When should we negotiate?
When should you walk away from a negotiation?
Should you make the first offer?
Does Win-Win really work?
What is the role of emotions in negotiation?
Margaret and Thomas explain how everyone is negotiating every day. This interview can benefit you whether you're negotiating a car purchase or getting your child to do their chores.
Enjoy my interview with Margaret Neale and Thomas Lys.
Enter to Win a Free Copy of Getting (More Of) What You Want
I am giving away 1 free copy of Margaret and Thomas' book, Getting (More Of) What You Want to one listener.
All entries must be in by Midnight PST on August 16, 2015.  The winner will be announced during Episode 086 on August 18, 2015.
Get an extra entry into the drawing by sharing this post on Twitter:
I just entered to win a FREE copy of 'Getting (More Of) What You Want'. You can too..
Listen to This Episode
Watch This Episode
Episode Links and Resources
CONTEST: Enter To Win a free copy of Getting (More Of) What You Want
POST: How To Ask For a Raise: 9 Tips to Get What You Want
BOOK: Influence by Robert Cialdini
Quote
"So much of life is a negotiation – so even if you're not in business, you have opportunities to practice all around you."
Ask Me a Question
If you have a question, comment, thought or idea, you can leave a voicemail for me or contact me via email.
Subscribe to the Podcast
Share the Love
If you enjoyed the show, please rate it on iTunes and write a brief review. That would help tremendously in getting the word out and raising the visibility of the show so that we can inspire other World Changers just like you.
Next Episode
In Episode 86 we talk about how to silence your critics forever. We will give you several tips on how to make sure your dreams are not crushed by the critics in your life. Also, we will announce the winner of the free copy of Getting (More Of) What You Want.  
What is your biggest struggle with negotiating? Or, if you consider yourself skilled at it, what is your best negotiating tip?