Have you ever had a job you hated? I mean REALLY hated? Are you in you in it now? Well in today's episode, we're going to talk about how to leave a job you hate using the power of a great network.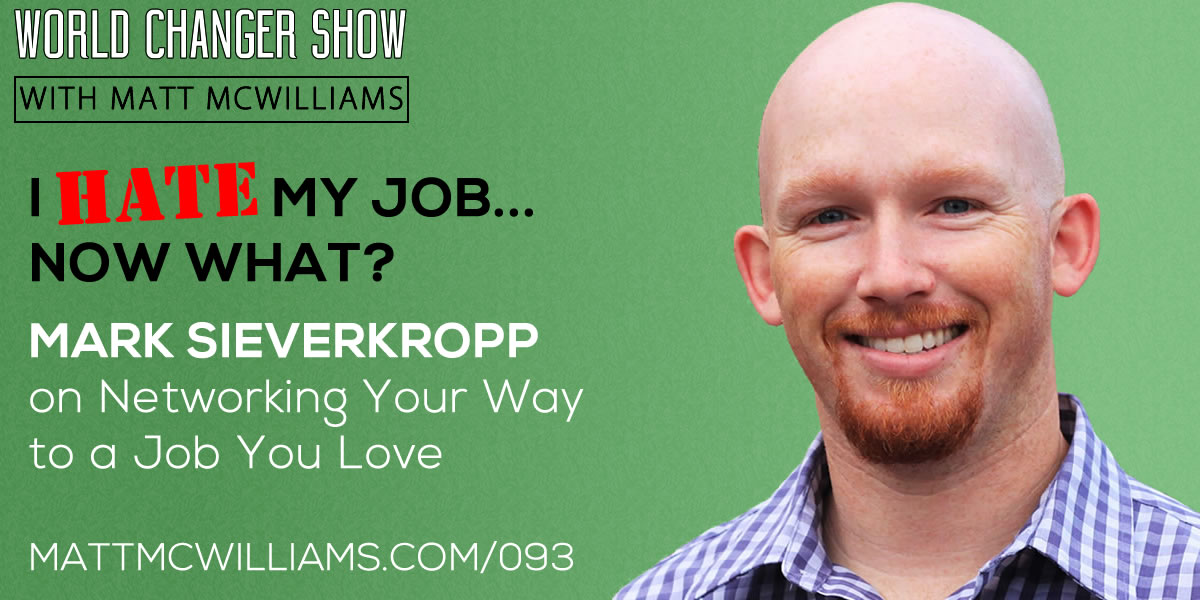 Today's Topics
In today's episode, our guest and I talk about:
Power of building a network
How to use projects to change your life and world
How to get out of a job you hate
About Today's Guest
Mark Sieverkropp is a Podcaster, blogger, author, entrepreneur, connector, leader, consultant and speaker.
He is the author of Project:Success, which climbed to #3 in the Self-Help category in the Amazon Kindle Store as well as Start a Conversation with Anyone, Anywhere. He is also the co-founder and former co-host of the Happen To Your Career Podcast and the current co-host of this podcast, The World Changer Show. Mark is passionate about connecting with others, finding ways to add value to them and helping other people do the same.
Listen to This Episode
Watch This Episode
Episode Links and Resources
PODCAST: Episode 032: John Corcoran on How to Build an Amazing Network and Working in the White House
PODCAST: Episode 026: Chandler Bolt on Saving 10,000 Lives, Thinking Big, and Being More Productive
PODCAST: Episode 049: Networking with Purpose
FREE BOOK: 8 Signs You Have a Crappy Job
BOOK: The Power of Starting Something Stupid by Richie Norton
Contest
Text CONNECTOR to "33444" to enter to win a FREE Copy of Judy Robinett's book, How to Be a Power Connector  or Click Here.
Quote
'Magic happens if you're in motion' @RichieNorton
'When we start taking action, we instantly change the world' @Skropp2
Ask Me a Question
If you have a question, comment, thought or idea, you can leave a voicemail for me or contact me via email.
Subscribe to the Podcast
Share the Love
If you enjoyed the show, please rate it on iTunes and write a brief review. That would help tremendously in getting the word out and raising the visibility of the show so that we can inspire other World Changers just like you.
What one action have you delayed taking that you need to take today?
Questions?
Text me anytime at (260) 217-4619.
Or…check out some of my free reports to help you get on the right track: