Have you ever had the opportunity to talk with someone that you have looked up to for a long time?  What would you ask them?  What would you talk about? Recently I had the opportunity to do just that…my guest and I talk about fear, business and how to prosper with purpose.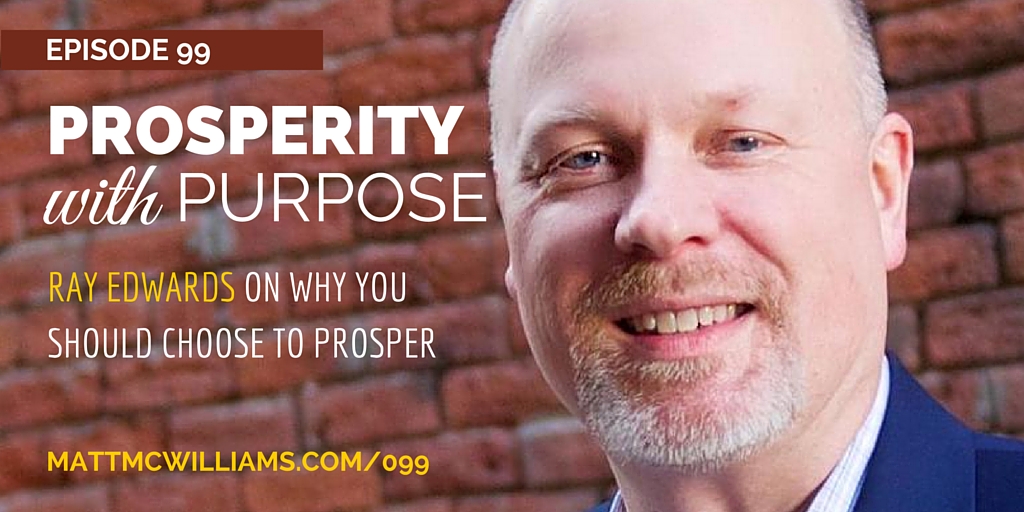 Today's Topics
In today's episode, our guest and I talk about:
What the root of business is
How business is inherently good
What "prosperity with purpose" means
The importance of authenticity in business
The role Ray's faith plays in his life
About Today's Guest
Ray is a copywriter by trade (meaning he writes sales copy, so don't ask him how to copyright your new widget). He has worked with some of the most powerful voices in leadership and business including New York Times bestselling authors Jack Canfield and Mark Victor Hansen (Chicken Soup for the Soul), and Tony Robbins. He is also a speaker and author, hosts my favorite podcast, wrote the #1 Amazon Bestseller Writing Riches, and a good friend.
Listen to This Episode
Watch This Episode
Episode Links and Resources
VIDEO: Hans Rosling's 200 Countries, 200 Years, 4 Minutes – The Joy of Stats
BOOK: See You At The Top by Zig Ziglar
BOOK: Atlas Shrugged by Ayn Rand
BOOK: The Fountain Head by Ayn Rand
FREE RESOURCES: The World Changer Vault
Matt's Pick of the Week
Influence by Robert Cialdini
Quote
'You can have everything in life you want if you will just help enough other people get what they want.' @TheZigZiglar
Ask Me a Question
If you have a question, comment, thought or idea, you can leave a voicemail for me or contact me via email.
Subscribe to the Podcast
Share the Love
If you enjoyed the show, please rate it on iTunes and write a brief review. That would help tremendously in getting the word out and raising the visibility of the show so that we can inspire other World Changers just like you.
Share the Love
Next week's episode is Episode 100!!! Join us next week for a special celebration episode of the World Changer Show…Including appearances by several past guests from the first 100 episodes! You definitely don't want to miss this episode!
If you could talk with anyone in the world, who would it be?