If you are thinking about buying Marisa Murgatroyd's Experience Product Masterclass, make sure to read this full review first. I'll show you the what's great, what could be better, and if the course is right for YOU. I'll also show you how to get more than $2,500 in BONUSES as well.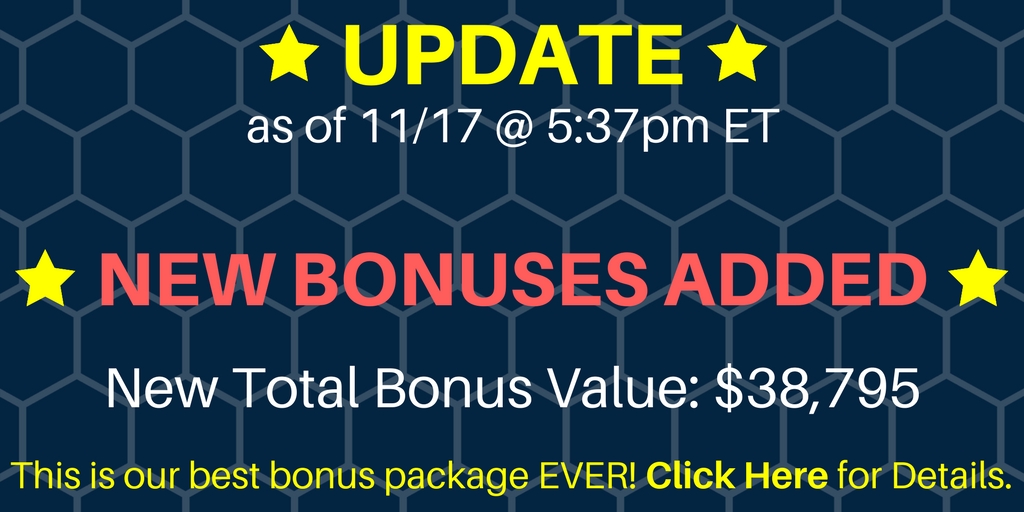 So the big question, of course, is what IS the Experience Product Masterclass? And is it right for you?
Hopefully this review will answer those questions and more.
First off a disclaimer though: I am an affiliate for Marisa's course. Now, that in no way affects the validity of this review. You'll see quickly that I share the good and the bad. I also don't want anyone to buy the course if it's not right for them. Neither does Marisa for that matter.
It does, however, mean that if you purchase through my link, I make money (a commission). I'm not going to retire to a private island anytime soon, but it's enough that I'm able to throw in some awesome bonuses (worth more than $2,500) if you do purchase through my link. These bonuses are not available anywhere else. Click here to skip right to the bonuses if you want.
[Updated 17 November 2017 12:45pm ET] NEW Bonuses added.  Click Here to See ALL the Exclusive Bonuses you get when you enroll using my link.
Let's start with the good stuff.
What's Good About Marisa Murgatroyd's Experience Product Masterclass?
Marisa is the real deal
Marisa knows her stuff. She's worked with legends such as Danny Iny, Justin Livingston, Callan Rush, Sage Lavine, Josh Turner, Alexis Neely, and Susan Peirce Thompson.
On the surface, that means absolutely nothing, BUT…it gives me the warm fuzzies knowing she's worked with some of the top names in online marketing. And she's done all this stuff herself.
This isn't theory. And it's not something she's done only a few times. She's honed her craft working with folks like these.
And she is someone I've looked up to for quite some time in the online marketing space.
Practical training
This is kind of a repeat of the first point, but I feel like it's worth mentioning separately.
The cool thing about Marisa having gone through all this stuff herself is that her Experience Product Masterclass ends up being very practical.
I've taken a lot of courses that teach me a lot of cool things, but many of them end up with a lot of "fluff" and a lot of stuff that I just don't need to know. It's kind of like high school calculus. I remember wondering why I would ever need to know that stuff and sure enough, 20 years later, I don't.
Marisa's class is more like English (at least for me). I enjoyed learning it at the time and I'm using it today.
NEW SLOGAN SUGGESTION FOR MARISA: My course is better than calculus!
Step-by-Step Instruction (Without a Bunch of Steps You Don't Need)
I am currently taking another course right now about sales pages with my team and one of the things I commented on was how I LOVED that it literally outlined the steps for us. I'd been so intimidated by idea of shooting a sales video that I never did it. But the course outlined things for me step-by-step…and made it SO easy.
Experience Product Masterclass is just like that. It's step-by-step instruction on how to create and sell YOUR product.
This truly makes it for just about anyone…beginner to intermediate at least.
The Implementation Workshop
I have a problem with a lot of courses…they suck at getting you to actually implement what you learn. The reality is that most courses have a terrible success rate because of this.
This is why I love taking courses with my team or with others…we hold each other accountable.
Well, Marisa does this, too, with her 8-week Implementation Workship. I LOVE THIS idea!
She literally breaks down the entire Experience Product Masterclass process into miniature daily tasks. And you get to do it with a group, supporting each other and holding each other accountable.
Oh…and Marisa and her team are there with you.
Seriously, this feature is AWESOME. I'm releasing a course next year (thanks to Marisa!) and I'll be including this very feature.
The Q&A/Coaching/Live Review calls with Marisa
I know, almost every online course has Q&A calls with the creator, but Marisa's are different.
Seriously, they aren't just a bunch of Q&A. Marisa will actually be doing live reviews and coaching on the calls.
You. Get. Your. Own. Coach.
When you purchase Experience Product Masterclass, you get access to a certified coach, trained by Marisa.
For the entire 8 weeks of the program.
No limits.
Whatever you need.
Dang.
What's Not So Great About Experience Product Masterclass?
It's a brand new course
Don't get me wrong…EPM is awesome, but it is brand spankin' new.
That means there are going to be some bumps along the way.
I just released a BETA version of my own course (again, thanks in large part to learning from Marisa) and it was rough. But, in the end, everyone felt they got a 100X value. Everyone RAVED about it.
Marisa's team has the course pretty well polished and overall it is awesome, but don't expect perfection.
It's hard freaking work
I don't really know if this is something "bad" about the course, but I felt the need to include it.
If you aren't ready to hustle, don't waste your money.
This is not a course that shows you how to do things the easy way. And it's not a course you sit back and learn. It's VERY experiential. And the work is HARD.
That's not to scare you, but to prepare you.
Honestly…that's it for the not-so-great stuff. I know that sounds weak that I'd only list two things and neither of them is all that bad, but really that is it. This sucker is SOLID.
Who is Experience Product Masterclass for (and NOT for)?
Who EPM is for
Coaches looking to productize their message.
Speakers looking to package their message and reduce their travel.
Anyone with a story to tell who wants to monetize that story.
You've been thinking about creating a product forever and haven't pulled the trigger yet.
Anyone with expertise in any industry (really).
Bloggers, podcasters, influencers, consultants, and writers.
Anyone who's created a product in the past and it flopped.
Who EPM is NOT for
See above…anyone who is not willing to put in a lot of work. This is not some get rich quick scheme. It's a get rich by working your BUTT off method.
You've created and sold multiple products and are making a good income. It might be a little too intermediate level for you.
You aren't willing to make the financial investment. I know Marisa offers some payment plans, but you're going to spend more than you'd spend on dinner at Taco Bell.
You don't want to create an online course. Duh. I can't believe you made it this far.
So…What's Inside Marisa Murgatroyd's Experience Product Masterclass?
It would probably be shorter to list what is NOT inside this course, because it is COMPLETE!
Here's a quick overview of what you get:
6 Core Modules
This is the meat and potatoes of the course.
This is everything that will teach you how to create and sell your product.
If this was all that was in it…yes, it would be worth the price as is.
2 Bonus Modules
Marisa is adding two bonus modules on choosing your niche and one that I don't know about yet.
She keeps sweetening the pot 🙂
8-Week Implementation Workshop
I mentioned this above so I won't go into it again…but it's pretty awesome.
6 Q&A Calls with Marisa
I also went into this in detail above, but I did want to give you two tips.
Tip #1: Come prepared for the calls with specific questions but also problems you are having.
Tip #2: Don't tune out when someone else asks a question. You'll find that others ask the questions you wish you'd asked (like in high school calculus).
LIVE 3-Hour Virtual Offer Lab
This is going to be absolutely amazing. I have not seen this but knowing Marisa, prepared to be WOW'd!
You. Get. Your. Own. Coach.
Yeah, I mentioned this above, too, but I'm going to repeat it here because…it's that AWESOME!
You get your own coach.
For 8 weeks.
No limits…ask anything.
12 Months Access to the EPM Mastermind Community
When you purchase Marisa Murgatroyd's course, she's also going to throw in free access to her mastermind community.
These are some of the best and brightest minds in the world, sharing their best stuff.
It's also full of people just like you, supporting each other, motivating each other, sharing what's work and what's not.
Bonuses Galore
Good grief…Marisa got a little crazy here. (In a good way!)
Check out some of these bonuses:
Exclusive 2-day live training with Marisa to help build your product website. You get2 full days with Marisa Murgatroyd and her team to get all the help you need building your site. I spent 25+ hours building my first product site and it still kinda sucked. I wish like crazy I'd had something like this.
3 months account with Heroik. These guys are amazing. Check out their site. You can build or makeover your entire site with the Experience Website experts at Heroik.
20 done-for-you website templates. Remember that 25+ hours I spent? That would have been about 10 with these templates.
Marisa's $10,000 ad swipe vault. These are all of her best Facebook ads.
What is the Risk?
In a word, none.
When you're as experienced as Marisa and you have the results to back it up, you can easily offer something like a money back guarantee.
Marisa's track record speaks for itself. I'm a huge fan myself (if you couldn't tell) but so are her clients like Alexis Neely, Justin Livingston, Callan Rush, Susan Peirce Thompson, Sage Lavine, Josh Turner, and Danny Iny.
Those kind of people don't put their names on the line and endorse something like this unless it is the BEST of the BEST.

So yeah, you have no risk. If you put in the work, this program WILL WORK FOR YOU.
If you don't, it won't.
Exclusive Bonuses
**I JUST added 5 brand new bonuses, DOUBLING the value of the bonuses.**
Click Here to See ALL the bonuses you get when you enroll in EPM through my link
Oh yeah…bonus time, baby!
Bonus #1 – Destroying Your Limiting Beliefs Workbook ($399)
It takes guts to build a course. To put your reputation and experience on the line and say "HEY WORLD, LOOK WHAT I'M OFFERING!"
That's why 99.9% of the population will never do it.
They'll never write that book or create that course. And even if they do…they won't sell any.
A lot of the battle starts in your MIND. It starts with your limiting beliefs. The beliefs that are holding you back, keeping you from having the impact you should have, making the money you should make, and leaving the legacy only you can leave.
There are four types of limiting beliefs and I show you how to DESTROY all of them.
This self-coaching plan was previously available only to my private coaching clients, but if you purchase Experience Product Masterclass through my link, you'll get it FREE.
Bonus #2 – Access to the Replay of my Networking With Purpose LIVE Event ($197)
I'll make this super clear…you cannot sell very many courses without a network of people.
It takes a village to get your course out there to the masses. That's why you need a powerful network.
When you buy Marisa's course through my link, you'll get access to the replay of my Networking with Purpose LIVE event that I hosted with former White House writer turned relationship-builder extraordinaire John Corcoran and networking guru Mark Sieverkropp.
We all share our experiences, tips and relationship-building strategies that will help you build a powerful network.
Bonus #3 – 7 Figure Affiliate Launch Course ($1997)
There is no better way to sell your courses than through affiliates.
You don't pay until you make the sale.
They are infinitely scalable.
They are fun to work with.
In this exclusive training, I teach you how to recruit an army of affiliates, how to motivate them to promote more, and how to grow your business like you never imagined.
I've worked with some of the top names in the online marketing industry helping them do just this. Names like Kevin Harrington, Zig Ziglar, Michael Hyatt, Lewis Howes, Ray Edwards, Jeff Goins, Peter Voogd, and Brian Tracy.
And if you purchase Marisa Murgatroyd's Experience Product Masterclass through my link, I will GIVE you this training that I recently sold for $1997 and is currently unavailable to the public.
Total Bonuses: $2,593
BUT WAIT…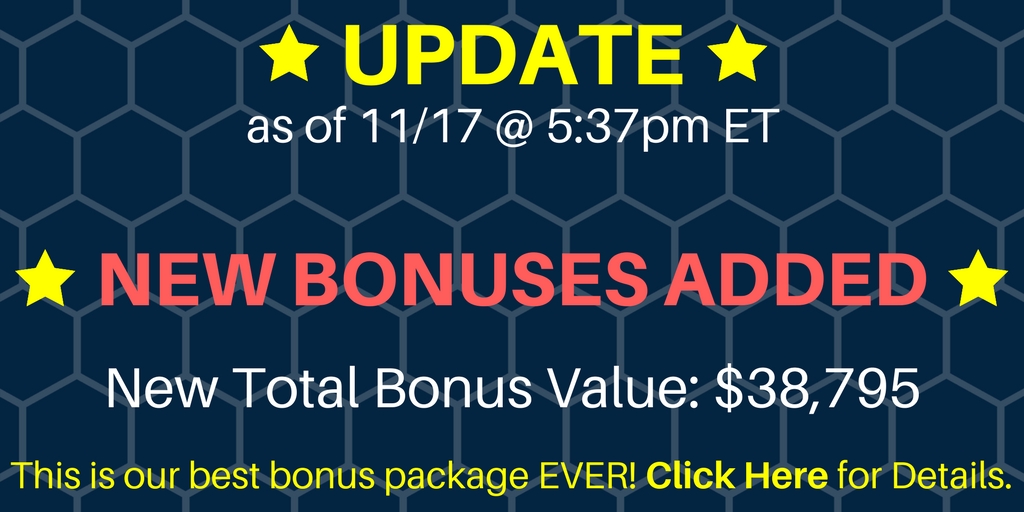 QUESTIONS? Call me at 317.825.8826.
Yep…I'm literally taking calls to help you decide if Marisa's course is right for you. If I don't answer, leave a message and I'll call you back.
Click here to buy Marisa Murgatroyd's Experience Product Masterclass