There is more to the fish parable than just giving and teaching.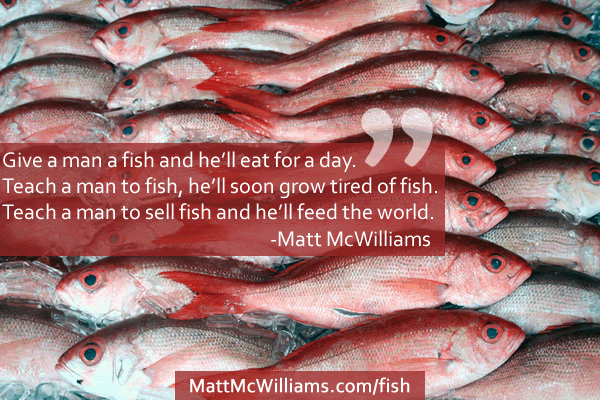 You know the saying:
Give a man a fish and he'll eat for a day. Teach a man to fish and he'll eat for a lifetime.
But there is more to it than that.
I say:
If you only teach a man to fish, he'll soon grow tired of fish. Eventually he might grow so sick of it, that he will no longer eat. And he will die of starvation.
But…
Teach a man to sell fish and he'll feed the world and enjoy a variety of foods with the profit.
Yes, teach a person to sell and they can do nearly anything. And yet, our schools teach nothing of the sort. So it's on you and me to teach these skills to the ones we care about.
Best-selling author
I am currently reading Eric Metaxes' biography of Dietrich Bonhoeffer. On the cover, I noticed something that I have seen on countless books over the years and never paid close attention to. It's a blue circle with the words, "New York Times Best-Selling Author."
Not "Best Author" or even "Best Book." Best-Selling author. Don't get me wrong, the book is phenomenal and crappy books generally don't sell very well, but there is so much more to being a best-selling author.
I heard Metaxes speak no less than three times at various gatherings before I decided to read the book. He toured the country exhaustively selling his product.
Someone taught him how to fish (to write) but more importantly someone taught him how to sell his fish (books) so that the whole world could benefit from his work.
Get sales training
Regardless of your profession or desired profession, get sales training. Read books on sales, attend seminars, take classes. Do whatever you can to learn how to be a better salesperson. You will need it in every aspect of life.
Here are five steps to becoming a better salesperson.
1. Books
I recommend Influence by Robert Cialdini, Selling 101 by Zig Ziglar, and The Sales Bible by Jeffrey Gitomer as starters. These are a great way to get an introduction to sales without all the pressure.




2. Intra-company training
If your company has a sales department, ask if it's possible to attend their sales training. Yes, it will be more company-specific, but you will learn a ton of general stuff along the way…and it's free.
3. Seminars and classes
These can be intimidating and often scammy, but many will pay huge dividends in time. I recommend the Dale Carnegie training since it is less salesperson-focused and more focused on helping you be an influential person in general.
4. A sales mentor
If you are able to, find a mentor specifically to help you learn to be a better salesperson. Some one-on-one time talking about your specific sales problems will go a long way. Often, you might be able to find this personal internally at your company (i.e. the sales manager).
5. Determination
Ultimately, all the books, seminars, mentors, and training in the world is useless if you don't make a commitment to being a salesperson. You have to dedicate your time and energy to learning and practicing, over and over. And most of all, you have to get out of your comfort zone.
With sales comes rejection. Guess what? Rejection is possible with everything in life. Trying to sell a product, idea, or service just magnifies this possibility.
Selling as a profession or as a part of your career goals can be incredibly rewarding. Trust me, there are few greater natural highs than closing a big sale. I'd rate it right up there with finishing my first half-marathon. It's exillerating!
You must learn sales. Otherwise, you'll end up with a pile of fish, an empty stomach, and no one to buy them.
What are you doing to become a better salesperson? Whether it's in your job, your marriage, your parenting, or in general.