Great leaders demand three things from their teams.
1. Accountability
2. Pushback
3. That they work in your strengths
Leaders who fail to demand all three of those will never rise past mediocrity. Let's explore each one in-depth so that you, too, can become a great leader.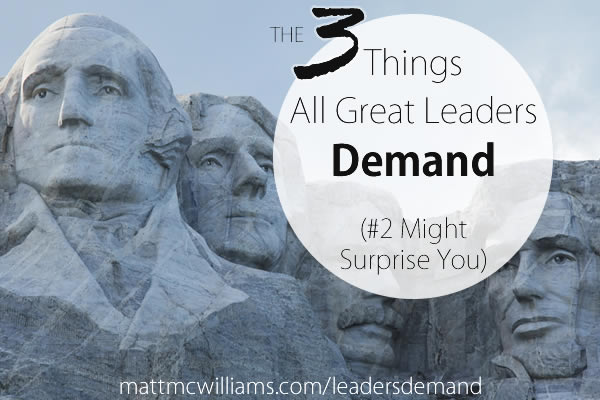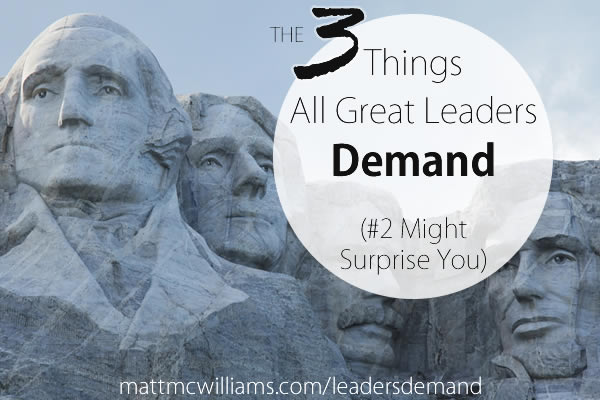 I remember clearly when I realized I was in over my head. I was 27 years old, leading a team of nearly 15 people and I was failing miserably.
Sadly, it didn't get much better for a while. In fact, I was fired two years later and didn't get another chance to lead a team for nearly two years. This time, I swore, I would be ready.
Only I wasn't. I didn't make the same mistakes I made the first time, but I was still failing. I wasn't demanding the three things that all great leaders demand from their teams.
Bonus Content: The three things great leaders demand of their teams stem from the questions they ask. That's why I put together a free bonus, 21 Questions Great Leaders Ask Their Teams. It's yours absolutely FREE and will help you to ask your team the right questions. Look for it at the end of this post or Click Here to Get it Now!
The 3 things all great leaders demand
1. Accountability
Great leaders demand accountability.
Accountability comes down to one simple principle:
You do what you say you're going to do.
So, how do you hold your team members accountable and more important to get them to practice accountability on their own?
Do as you say. How can you expect your team to be accountable if you aren't? If you tell your team you are going to do something, do it. Follow your own rules.
Set clear priorities. Just as you should for yourself, set specific and crystal clear objectives for each day. Don't just set long-term goals, tell them the 3-5 things you expect them to do each day. Then ask them this question often: "Do you know what is expected of you?" If not, make it right. A great place to ask this question is in one-on-one meetings.
The key to accountability is to ask your team "Do you know what is expected of you?"
Get buy-in. The best way to get buy-in is to involve them in decision-making. We'll talk more about this in the pushback section below, but for now, know that if you want your team to be accountable to the goals and strategies, it helps to involve them in the process of establishing them.
Develop an ownership mentality. You want a team full of entrepreneurial minded people. Allow them to think like owners of their department, their customers, and their projects. Tie income to their performance. (Related Post: Why You Want to Hire Entrepreneurs)
Give frequent feedback. You must make getting and giving feedback a habit. Get feedback from your team on their projects. Get feedback on your performance as a leader. And give feedback daily to your team. If they are slipping, give them feedback. Don't let the problem get to the point where you have to fire someone. As Chris LoCurto often says, "No one should ever be surprised they are getting fired." If you want to learn how to get, give, and use feedback as a leader, get my free book on the subject.
There must be consequences. If you are serving a role model for accountability, setting clear priorities, getting buy-in from most of your team, empower an ownership mentality, and give feedback and someone is still falling short, there must be consequences. Without consequences, there is no accountability.
All of these require the leader to be:
Mentally strong.
Disciplined.
Committed to the cause.
Comfortable with conflict.
Consistent with each team member.
Demand accountability and your team will flourish.




2. Pushback
Most leaders underestimate how hesitant their team members are to push back.
Most of your team members are afraid or unwilling to speak up when a project seems to be a waste of time. They are afraid or unwilling to argue with the "boss" or create conflict in the organization.
Why? Here are some common reasons:
Leaders must give their teams absolute permission to push back on any idea, project, or policy.
–
Fear of job loss.
Fear of conflict with team members.
Top-down leadership. "My way or the highway."
They don't have enough information about the project or task.
They've never been given permission.
I know one leader who recently found out that one of his direct reports was still using an old system to file a report. This old system took an hour longer each week compared to the new system. This had gone on for nearly a year before it was discovered. All because the leader never empowered his team to push back on the way things are done.
Key takeaway: Leaders must give their teams absolute permission to push back on any idea, project, or policy. 
Don't just put it in your employee manual.
Don't throw in a lame attempt at the end of a meeting and say, "Any thoughts on this?"
Don't just have an open door policy and then shoot down feedback right away.
Mean it. Encourage it. Open every meeting with the premise that you want, expect, and demand pushback.
3. That they work in your strengths
This requires one simple thing of each team member:
Honesty.
Great leaders demand that their team members honestly assess their strengths and only do the things that they are most skilled at (or develop a new skill).
Great leaders don't fix weaknesses. They amplify strengths.
Great leaders don't want twenty people operating at 50% capacity because they are wasting time on things they suck at or hate. They want ten people operating at 100% capacity because they are efficient, happy, and focused.
To demand this of his team, the leader must ask: "Does this project/task fit your strengths?"
And the team member must be allowed to answer: "No."
This question is one of the 21 Questions Great Leaders Ask Their Teams, which you can get free by clicking here. It's a question most leaders fail to ask out of fear that the answer is "no." "No" means that you might have to hire someone else or contract someone. That can get expensive.
But, what is even more expensive is wasting your talented team members on projects that they aren't qualified for or hate doing.
Key takeaway: Great leaders don't fix weaknesses. They amplify strengths.
You must allow your team members to be honest with you about their strengths. No, that doesn't mean they can say "no" to everything. Those type of people don't last very long in great organizations. But it does mean that when a team member honestly feels that a project does not fit his or her strengths, you should probably look elsewhere.
Great leaders demand each of these three things. Which one is the hardest for you to demand of your team and why?


Questions?
Text me anytime at (260) 217-4619.
Or…check out some of my free reports to help you get on the right track: