When I was still in college, my Dad taught me a lesson that will stay with me my entire life. He taught me that great leaders, those people who attract followers and leave powerful legacies, know when it's time to instruct and when it's time to encourage.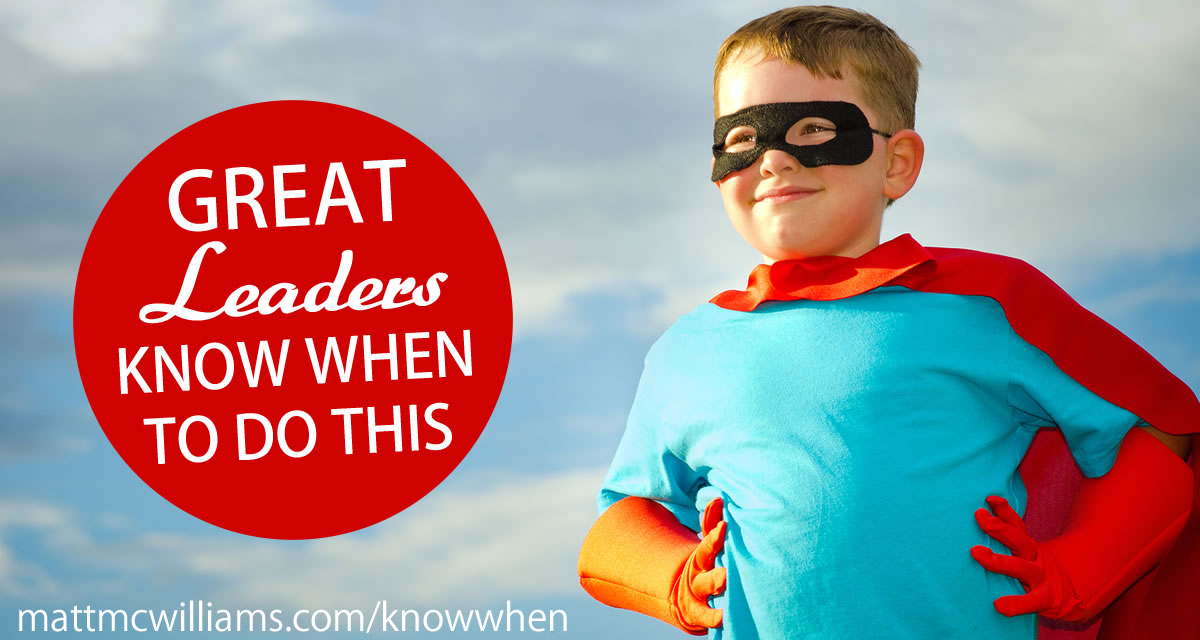 My Dad and I invited my friend Ryan for a round of golf one afternoon. The weather and the course were perfect and I was playing extremely well. Ryan, on the other hand, was not.
Ryan and I had grown up together and for a long time viewed each other as equals at golf. Then, during our senior year of high school, his father was diagnosed with terminal brain cancer. Ryan didn't touch a club for nearly three years.
On this day, I viewed Ryan as someone in need of help. He was hitting the ball all over the place. His tee shots were usually in the trees amd the rest of his shots weren't any better. It wasn't the Ryan that I knew. My heart went out to him so I tried to help in the only way I knew how:
I instructed him.
On every hole. On every shot. If it went poorly, I offered correction. If it went well, I explained why. (I know, I can sense all of you lining up to play golf with me right now…what fun!)
After all, I was the expert. I was the one ranked 14th in the country. I knew what he needed.
My Dad never said a word about it. He was a man of few words to begin with, but he was particularly quiet on this day. The only words he offered to Ryan were the occasional, "Knock it in" or "Hit a good one, Ryno."
For nine holes, this continued. I instructed Ryan and he grew more frustrated.
On hole ten, I gave up. I stopped trying to help Ryan and just enjoy the afternoon. I was playing well and knew that if I focused on the back nine, I could shoot my lowest round ever on that course. But my Dad's words increased. Before each shot, he offered Ryan encouragement. He offered no instruction. He didn't impart any wisdom on Ryan. And he didn't give him any advice. He simply encouraged him.




Empowering words
On the 12th hole, Ryan again hit an iron shot that was far from his intended target. I resisted the temptation to help him on his recovery shot and kept my mouth shut. My Dad, however, said one simple thing to Ryan:
"You got this."
I then watched as he hit one of the single best shots I've ever seen in my life. Off the sand, over a tall tree, from fifty yards away…to less than two feet from the hole.
His face lit up. His arms went over his head in triumph. He ran towards my father and gave him a huge high five. It was as if nearly four years of heartache and frustration were forgotten for a moment.
I watched the two celebrate while I just stood to the side, utterly speechless.
I realized at that moment that I'd gone about it all wrong. What Ryan needed wasn't instruction, but encouragement. He needed what my Dad was giving him, not what I was imposing on him.
I asked my Dad about it later and he said, "You told him everything you knew. You shared all your knowledge, all of it correct. But you never gave him the one thing he needed most: to know that a good shot is possible."
In other words, I made two critical mistakes.
The two mistakes leaders often make when others are struggling
1. I offered instruction without being asked.
Ryan never solicited my advice. When someone you know is struggling, first ask if you can give them some instruction. That might not be what they need and you can avoid wasting a lot of your time and theirs.
2. I gave instruction instead of encouragement.
Sometimes, as in Ryan's case, what struggling people need is to know that success is possible, not how to get there. Three simple words: "You got this," gave Ryan more confidence to pull that shot off than any instruction I could offer.
Great leaders know when to instruct and when to encourage.
Who do you need to encourage today?
Questions?
Text me anytime at (260) 217-4619.
Or…check out some of my free reports to help you get on the right track: