To this day the sound of velcro tearing on a golf glove draws me to attention and puts me in a zone.
Why is that? Well, in a way, that's what today's episode is all about.
Today, I'll share with you six ways to help you get in the zone.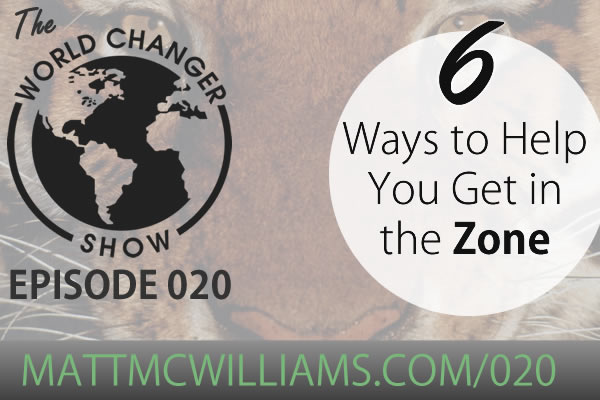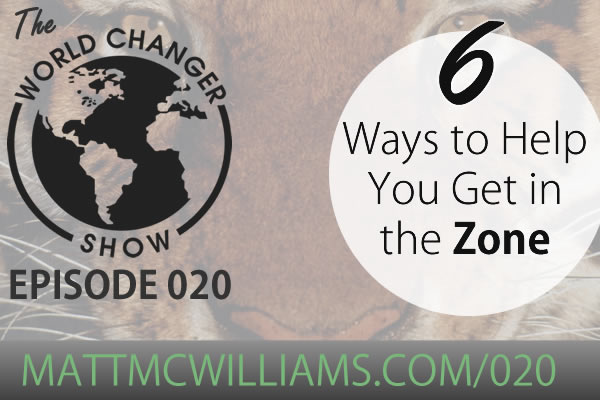 What is "the zone" exactly? Perhaps in 2014 terminology, we could call it a "flow state" or just "focused."
I've always liked the phrase "in the zone" though because it conjures up an image of being in a physical and mental place (the zone) that I can actually go to.
So, how do you get "in the zone?" Listen below to today's episode to find out the six strategies and techniques I use to get in the zone and really focus.
Listen to this episode: 
Quote
Few things are sadder than encountering a person who knows exactly what he should do, yet cannot muster enough energy to do it. "He who desires but acts not," wrote Blake with his accustomed vigor, "Breeds pestilence." ~ Mihaly Csikszentmihalyi, Flow: The Psychology of Optimal Experience
Episode Links and Resources
FREE ACCESS to the World Changer Vault
RECOMMENDED BOOK: Flow: The Psychology of Optimal Experience
5 Steps to Finding your Focus Trigger


Question
What do you do to get into the zone? 
Share in the comments below.
Ask Me a Question
If you have a question, comment, thought or idea, you can leave a voicemail for me or contact me via email.
Subscribe to the Podcast
Share the Love
If you enjoyed the show, please rate it on iTunes and write a brief review. That would help tremendously in getting the word out and raising the visibility of the show so that we can inspire other World Changers just like you.
Next Episode
Make sure to listen to the next two episodes, both BONUS episodes:
Bonus Episode #1: John Lee Dumas on One Thing and One Thing Only: FOCUS
Bonus Episode #2: 12 Proven Strategies to Get Your Focus Back
And join me for Episode 21 with Sundi Jo Graham. She shares her amazing story of how she lost 145 pounds and is inspiring others to find their true worth today. I'll also announce the winner of the $195 book, The WHY Engine from Episode 17, so if you haven't registered yet, do so here.