As a leader, all eyes are on you.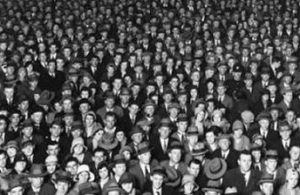 How's that for pressure?
It's not an exaggeration though. It's an indisputable truth.
Yesterday morning as I was feeding my daughter Aracelli, I gave her a bite of my cereal. I had no qualms about doing so. After all, I my cereal was a mix of some Kashi, organic corn clusters, chia seeds, wheat germ, and soymilk. She absolutely loved it and immediately asked for more.
The thought struck me though…what if, like only a few years ago, I was eating Lucky Charms or some other cereal that usually comes with a toy inside? How would I feel about sharing my cereal with her then? Is it OK for me, the leader of our family, to sit in her presence chomping on a bowl full of diabetes while she is left to eat her food, which closely resembles mulched cardboard?
Leaders, all eyes are on you. Everything you do, in your family, in your company, in your church, is an implicit endorsement of its acceptance and virtue. In fact, it's full-blown encouragement of it.
The way you talk, the way you dress, the way you act, even the way you eat are all on display. Business leaders, your team is looking to your office wardrobe as a guide on what to wear. They are watching how you treat rude customers or vendors. They are watching everything you do and using it as a behavioral barometer. Your life is truly a stage.
"Do as I say, not as I do" is not an option for leaders, in any area of life.
I've found three ways to better demonstrate how you want to be perceived and in the process show the right behaviors to your followers. Here are three ways leaders can set a better example:
Get honest with yourself. What behaviors do you already know you need to change? Your eating habits? Your tone of voice with a complaining customer? Your tardiness? Fix these first. It's not rocket surgery. If you are 40 pounds overweight have haven't touched a vegetable or seen a gym since Clinton was president, that's a great place to start.
Ask others what they would change about you. What do you do that offends them or annoys them? Where do they see the most room for improvement in your life? Danger: don't ask 20 people to list 20 things. That is just depressing. Ask 3-5 people for 1-2 things each to start and focus on those.
Start changing. Right now. Making just one big change will produce dramatic results in your life. It will also jump start a lifelong process of self-improvement. Don't wait for the "right" time. There is no right time…other than right now.
I'm on my own journey with this. The first change was excruciatingly hard (I'll write about that later). It felt impossible. The second change was no easier, but the third and fourth ones got easier. I have many more to go and now look forward to the process. The journey continues…
What can you do today to demonstrate better leadership to those around you?