Who needs your love? Like many people, my wedding included a reading from Chapter 13 of 1 Corinthians (AKA, the "Love Chapter").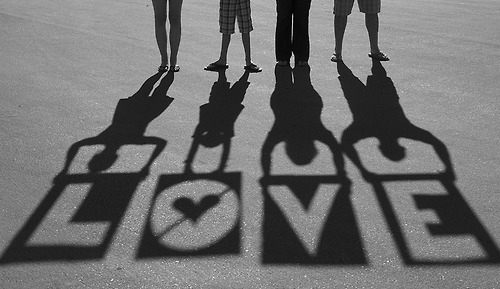 I'm pretty sure that every Christian wedding since approximately 125 A.D. has required at least portions of this chapter to be read. If it were not read, I am pretty sure the part of the wedding in which the pastor asks, "does anyone have any objections," would have been followed by someone interjecting that the obligatory reading of 1 Corinthians 13 was missing.
I always took that chapter as "the marriage chapter." It was great advice for husbands and wives, but it stopped there. I never applied these principles to other forms of leadership or relationships.
Love is patient, love is kind. It does not envy, it does not boast, it is not proud. It does not dishonor others, it is not self-seeking, it is not easily angered, it keeps no record of wrongs. Love does not delight in evil but rejoices with the truth. It always protects, always trusts, always hopes, always perseveres. Love never fails.
Love in the Family
Love is being patient with your children. After all, they are younger than you. And odds are they have a long way to go before they make as many mistakes and bad decisions as you did.
Love is being kind to your in-laws when they belittle your dreams.
Love at Work
Love does not envy the colleague who gets a promotion you think you deserve. It celebrates with him or her.
Love does not boast when you do get that promotion.
Love gives credit where credit is due. Love, in fact, gives more credit to others than they are due.




Love is calm with the boss who never listens to your ideas or, worse, takes credit for them. Love does not keep a tally of all the times he or she has done this.
Love never asks a team member to be anything less than honest. Love does not put team members or colleagues in compromising situations.
Love Everywhere
Love always looks out for others who are down and lifts them up.
Love always believes in and for the best in others.
Love always helps others be their best.
Love is always on the path to success. Love always wins.
Without Love
The apostle Paul warns us about a life without love.
If you truly show love to your wife or husband, but do not love your children the way that Paul writes about, it is all for nothing.
If you pay your team well, provide the best health insurance and 401(k) for your team, but do not truly love them properly, you are nothing.
If you are not patient with others, do not celebrate their successes, believe for the best in them, help them out of their pits, forgive them quickly for their faults and hold no record of their wrongs…if you do not do these things, you have nothing.
Every moment is an opportunity to express love.
How will you express love to someone today?