Are you like the 99.997% of people who struggle with self-doubt?
Have you wanted to do something amazing, launch a product, or start a movement, but let fear cripple you?
Well, today's guest knows a thing or two about overcoming self-doubt, tackling fear head on, and starting something world-changing.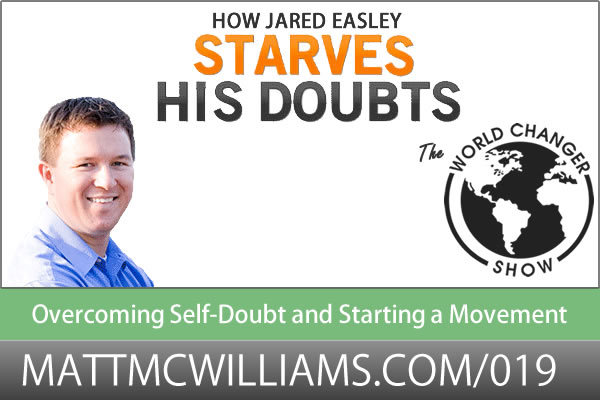 His name is Jared Easley and in today's episode we talk about his journey, what it's like to interview world changers around the globe about how they starved their doubts, and how he started a MOVEMENT…literally.
He's interviewed guests such as Seth Godin, Guy Kawasaki, Gary Vaynerchuk, and many more, but the true value of this interview lies in his story.
So sit back, relax, forget about your fears and doubts and join Jared Easley and I for an amazing conversation.
About Jared
Jared is the host of the Starve the Doubts Podcast, where he shares his conversations with successful entrepreneurs and high achievers on how to overcome self doubt. I've been a past guest and I assure you that it is one of the most unique and informative podcasts out there. Jared is also the co-founder of the Podcast Movement, a conference which just wrapped up its first year and from all accounts was a resounding success.
That is a major focus of this episode…how he took that from concept to must-attend, world-changing status and what you can learn from that experience.
Listen to this episode: 
Quotes
"Inaction breeds doubt and fear. Action breeds confidence and courage. If you want to conquer fear, do not sit home and think about it. Go out and get busy." – Dale Carnegie
Action breeds confidence & courage. If you want to conquer fear…Go out & get busy
Episode Links and Resources
My interview on Starve the Doubts
FREE RESOURCE: Overcoming the 7 Barriers to Success Worksheet
Ask Me a Question
If you have a question, comment, thought or idea, you can leave a voicemail for me or contact me via email.
Subscribe to the Podcast
Share the Love
If you enjoyed the show, please rate it on iTunes and write a brief review. That would help tremendously in getting the word out and raising the visibility of the show so that we can inspire other World Changers just like you.
Next Episode
Join me for Episode 20 plus 2 BONUS episodes next week. I'll be talking about focus. How to get focused, how to keep it, and how to get it back when you lose. I am joined in one of the bonus episodes with the master of FOCUS himself, John Lee Dumas. He'll share what his acronym for FOCUS is and how he stays focused in the midst of a world full of weapons of mass distraction.
Questions?
Text me anytime at (260) 217-4619.
Or…check out some of my free reports to help you get on the right track: