Take a moment to answer this question: Who have you always wanted to connect with? It's probably someone you admire like your favorite author, entrepreneur, or business leader. The problem is that those people are very difficult to connect with…until you know how.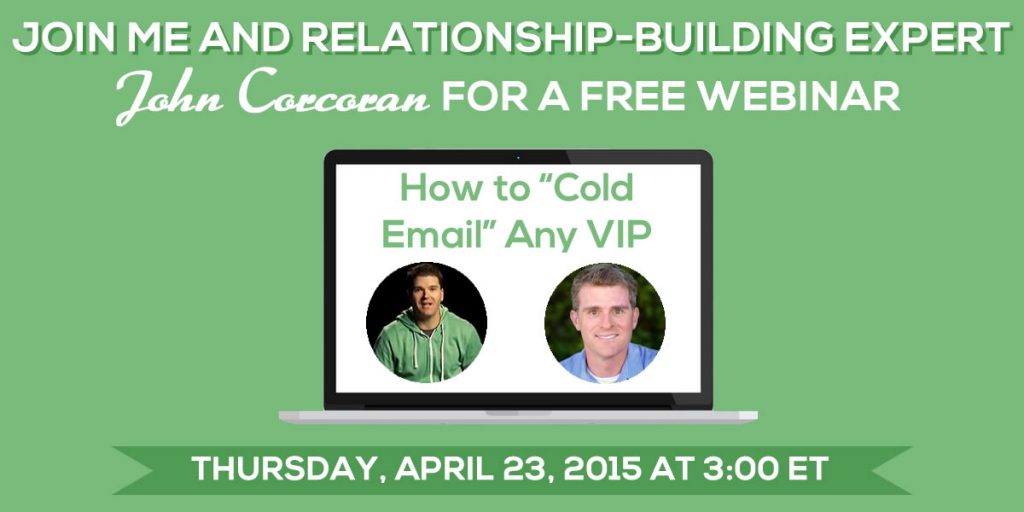 We all have people we look up to and wish we could connect with. We read all their books, watch all their speeches, follow them on social media, and listen to every interview they give. We know their stories and we feel a connection to them.
But the question remains…how do we connect with them?
Well, one of the easiest ways is via email. But, if you're like me, you have a love-hate relationship with email. Most of us do.
The Pros and Cons of Using Email to Connect
On the one hand, email is fast and usually free. And we can connect with someone half a world away in minutes.
On the other hand, it is becoming increasingly difficult to connect with busy people – especially VIPs and influencers you look up to – using email. It's a daunting task and feels virtually impossible.
The good news is, it is possible…if you know how. There are some simple "tricks" you can use to ensure you get a response every time – even if you are sending a "cold email" to a busy VIP.
My friend John Corcoran is a master at this. A former writer at the White House, John knows how to connect with influencers and VIPs using email. That's why I was honored to "share the stage" with him earlier this year for our Networking with Purpose LIVE event.
The thing about John is that he had more amazing jobs by the age of thirty than most will have in a lifetime. Besides the White House (doesn't get much cooler than that) he's worked as a Speechwriter for the Governor of California, for Steven Spielberg at DreamWorks SKG, and even worked with startup entrepreneurs in the heart of Silicon Valley, right across the street from eBay.
FACT: You don't get that many cool jobs unless you know how to communicate.
I invited John to come give us a training on how to send 'cold emails' to VIPs. He's super busy but he accepted. In fact, we've been planning this for more than two months.
The webinar is How to "Cold Email" Any VIP and it's 100% free. You can sign up here:
What You'll Learn on the Webinar
On this free webinar, you'll learn:
The 5 things you MUST do if you want your emails to be opened, read and responded to by VIPs you admire.
How to go from getting your email opened to building a genuine relationship.
How to go from a genuine relationship to building your income based on these relationships with VIPs.
PLUS, John will also share 5 of his best email templates you can use to connect with the VIPs you want to build relationships with.
It's time to quit just thinking about connecting with the people you admire and actually connect with them! This webinar will show you how.
Will you join me?
See you there!
NOTE: Since first posting, a lot of you have asked if there will be a recording. YES! There will be a recording, but you need to register to have it sent to you after the live training.