Seven months down, five to go…less than five months left to make 2014 the best year of your life.
It's kind of crazy to think we're seven months into 2014. Time truly does fly when you're doing what you love (and writing this blog is definitely a labor of love).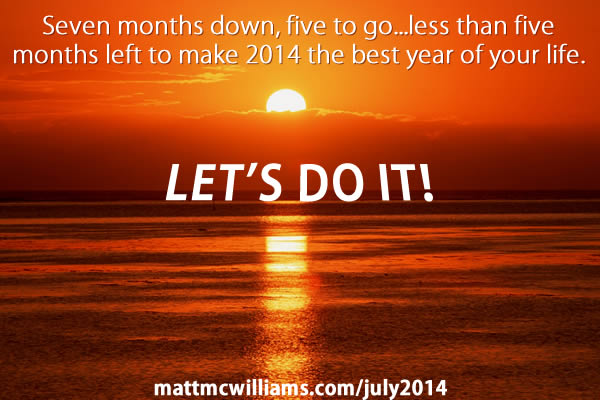 July was another record-setting month and below I share with you the ups, the downs, and even the downright hilarious from the month that was.
The Ups
The two big highlights of July were shipping the WORLD CHANGER (JUST LIKE YOU)™ t-shirts and announcing my upcoming podcast, The World Changer Show.
Shirts
We finally got the shirts out, albeit a week later than we wanted (more on that below), but the upside was getting all the pictures of World Changers wearing the shirts out and about. Here are but a few of the pictures we received:
Hearing the feedback about how much people like them was definitely rewarding. Order yours here.
Podcast
I announced my long-awaited podcast last month as well. After more than a year of countless people asking me to start one, telling me I should start one, and in some cases demanding that I do, we (my wife Tara and I) finally decided to make it happen. The show launches on September 16 and we have a huge launch day planned, so stay tuned for details.
Three action items related to the podcast:
1. If you haven't yet, please take this 2-minute survey. I'd like to know what topics you want to learn about and what guests you suggest. This show is about YOU, the listener, so let me know what you want to hear.
2. If you'd like to nominate a world-changer to be a guest on the show, click here after you complete the survey.
3. If you are interested in being a part of my Podcast Launch Team, simply click here and I will be in touch soon with more details on how you can help launch the podcast.
Top Posts
My top posts in July were as follows:
Interviews
I was honored to be interviewed multiple times in July, discussing a wide range of topics. Here are the three that recently aired:
Join Up Dots with David Ralph – We were all over the place, but this was one of my favorite interviews of all-time. Prior to the interview, my friend Mark Sieverkropp, a past guest on the show, jokingly asked me to mention his name as many times as possible. David and I took him up on it and…well the conversation turned downright hilarious at times. Still a ton of powerful stuff in there, but prepare to laugh as well.
Affiliate Buzz with James Martell – This is more marketing focused as we primarily talk about the launch of the WORLD CHANGER (JUST LIKE YOU)™ t-shirts but another one of my favorites.
Top community members – win a t-shirt
This blog is all about you. The best part, admittedly, each month is the comments that are left by awesome people, like the top ten commenters from July.
NEW: Beginning with July, the top ten community members each month will be entered into a drawing for a free WORLD CHANGER (JUST LIKE YOU)™ t-shirt. So, make sure to leave as many helpful comments as possible and you just might win the next one. Below the list is this month's winner.
Congratulations to Heidi Bender for winning this month's free shirt. If you want a chance to win next month, make sure to leave some quality comments below.
The Down
As I mentioned above, the shirts shipped out a week later than we wanted.
It comes with the territory in the t-shirt business, but I wasn't pleased with missing our promised deadline.
When we received the shirts, you can imagine we were excited. I even sent out an email to everyone who ordered saying they were in and would be shipping soon. That wasn't the smartest thing I've ever done.
Then we opened the shirts and began trying ours on. The first one was great, but the next one was not so great. And the next one and the next one and…it continued like that for a while. Almost 1/3 of them were messed up. We had to reorder them and have them reprinted.
The end result was a truly perfect product that people love, so it was all worth it. But those few days of dealing with the misprints and then waiting for the reorder weren't all that fun.
Tick, tock…
As I said above, there are less than 5 months left to make 2014 the best year of your life. No matter where you are at with your goals, you still can.
Let's do it! Are you ready?
What was the highlight of your July?