Today is the last day to get two WORLD CHANGER (JUST LIKE YOU)™ t-shirts for the price of one.
This awesome promotion ends tonight at midnight Pacific Time. Then they will be full price.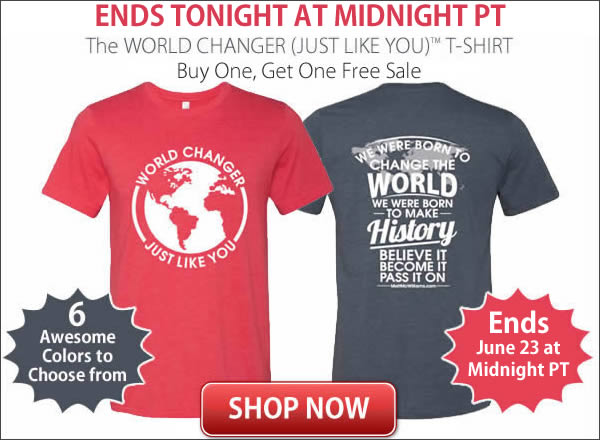 I've been blown away by the response to the shirts. Across the country and even as far away as Switzerland (that was pretty cool!) people are declaring, "I am a World Changer (Just Like You)."
Was it worth it?
Many people have asked me about doing their own shirts as a result of this launch. It's not very common for a blogger like me to offer t-shirts after all.
How hard was it? What all was there to do? Where are you getting them? Was it worth it?
My answer: "YES! It was worth it, but maybe not for the reason you think." Here's an inside look at the process.
How we did it
Message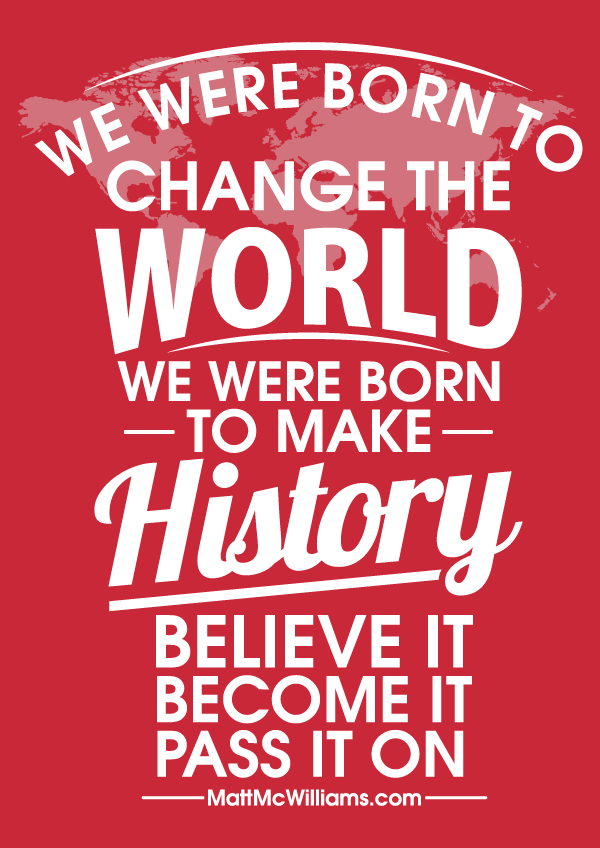 The idea for the shirts came to me out of nowhere, as most good ideas do. I never intended to sell shirts…or any merchandise for that matter, but I had a vision for a shirt that made a bold statement and the WORLD CHANGER (JUST LIKE YOU)™ part came to me immediately. The quote on the back came in part from previous posts and from brainstorming with my wife, Tara. She is responsible for much of the content on the back.
Total time spent: 3 hours
Design
The design came from a selection of more than 200 designs from 60+ designers at 99designs. For nearly two weeks, we worked closely with the designers to fine tune their designs and pick the final five. I cannot recommend 99designs highly enough.
Next, we chose the final five and received input from you – that's right, we asked my audience. We polled you and the results of that poll helped us to pick the winning design. We crowned a winner and then received the design from him.
Total time spent: 15 hours
The shirts
This was the area where all credit goes to Tara.
If it'd been up to me, the shirts you are ordering would…well, in a word, suck. They'd feel approximately like a burlap sack and would probably fade within the first seven minutes of sun exposure. I'm pretty sure they'd also shrink at the sight of water. Good luck with that.
But they were a lot cheaper…and they came in an awesome green color. Boy, was I wrong!
Tara convinced me to actually spend the time picking the right shirts, so we agonized for hours over the materials, the colors, and the brands. I'm thankful she convinced me to spend that time and to spend the extra money to get the right shirts. As a result, the shirts you're getting are top-of-the-line. The White/Black: 100% combed ringspun cotton. Vintage Styles: 52/48 cotton/polyester. All shirts are sewn in a fine jersey knit (flat, tightly bound fibers) and use ringspun (ultra-soft) cotton. In other words, they are awesome!
We went with a local company from the beginning, even though it's a bit more expensive. We wanted to touch and to feel the shirts…let me rephrase that…Tara wanted to touch and feel them (did I mention how right she was?). Plus, all things being close to equal, we wanted to keep the money local. Fort Wayne needs it.
Total time spent: 10 hours
The sale

Once again, all credit goes to Tara here.
I wanted to do a preorder to gauge interest and sizing needs. Honestly, I had no idea what sizes to order. For all I know, my audience is 73% hobbits and 27% offensive linemen. Since I did not ask height and weight questions in my latest audience survey, the only way to get the right percentages down was to do a preorder.
But we needed a deal. Tara's idea for a Buy One, Get One Free offer was perfect.
You can thank my wife
Tara's idea is why you can get this deal…but only through today. 2 shirts for the price of 1.
When you order, you can thank her on Twitter – @TaraMMcWilliams.
Get yours now before it's too late.

So…was it worth it?
Absolutely! Even if we only sold a few, it was worth it…but thankfully we sold a lot more than that!
When I saw Tweets like this one from John Lee Dumas of Entrepreneur on Fire, it brought a smile to my face:
Fire Nation, you ARE a World Changer. Check out these shirts from @MattMcWilliams2 http://t.co/X4KhPcfqtg  John Lee Dumas (@johnleedumas) June 20, 2014
But when I see ones like this one, it made it all worthwhile:
Handing these out to my team when they go 3-10! @LTDHQ #worldchanger @MattMcWilliams2: — Dorrel Enterprises (@DorrelEnterpris) June 18, 2014
Sharing a powerful message with his team…now, THAT is what I call being a WORLD CHANGER.
What's your next big project? What are you excited to launch?