What you feel and what is real aren't always the same thing.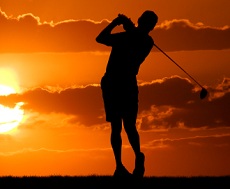 As the sun set on another Tennessee spring day, my father and I stood alone on the driving range at his golf course. I launched one more golf ball into the air like a streaking black bullet penetrating a breathtaking crimson sky. It had been a long day of practice and my golf swing felt horrible. I had a tournament in three days and I was beyond frustrated.
"What you feel and what is real are not always the same thing," my father said, invoking a familiar refrain. At 17 years old, familiar parental refrains are usually met by a roll of the eyes. This moment was no exception.
What my father meant was that in the golf swing, what I feel like I am doing and what I am actually doing (reality) are not always the same. While I may feel like I, for instance, kept my right knee flexed perfectly during the swing, the reality is that it moved quite a bit.
Only by reviewing the video of my swing could I see with my own eyes that my father was right. Only then could I see the reality. At 17 my father's word was not enough. I needed proof. At 33 I usually still do.
What you feel and what is real aren't always the same thing.
Once I felt like my boss went behind my back and intentionally cheated me out of my commission. The reality though is that he didn't want to disturb my weekend with a technical problem and operated out of ignorance of how our system worked. What I felt was betrayal. What was real was entirely different. I felt like quitting but my wife calmed me down and told me find out his side of the story. (Men, if you have forgotten, your wife is usually right). I did find out, stayed, and was promoted four months later.
I once felt like a fellow team member was slacking off because he was leaving before 5:00 every day and not getting a particularly important daily task done before he left. As far as I knew it was never done until the following morning and he was just a lazy bum. The reality was that his wife had recently received a promotion and he needed to pick his son up from daycare by 5:30 every day. Every night, he got back on the computer and finished that task, hours before the midnight deadline. I just never saw it until I rolled in the next morning.
What I felt was not reality and my warped perception led to bitterness and a strained relationship. I later managed him and he was one of the hardest working guys on the team.
Here's what I've learned: Anytime you feel, make sure you find out what is real.
When you feel cheated, impeded, or mistreated, get the facts before you pass judgment, get angry, and potentially destroy a relationship or look foolish. Find out their side of the story. Many times you will find that your feelings are not based on reality.
Have you ever had a "what you feel is not what is real moment?" What did you learn?