We did it!
Thanks to you, we hit an amazing milestone last month. Below I share all of the highlights and lessons learned in October 2014.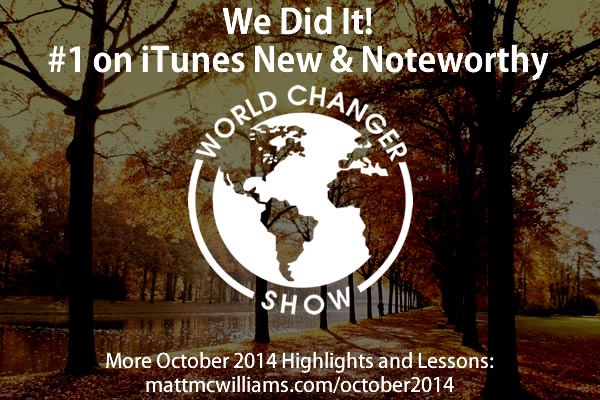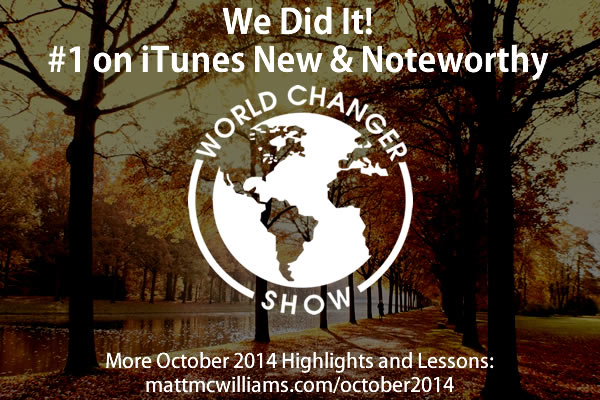 Highlights
The World Changer Show Hit #1
Thanks to my amazing listeners who've supported the show, The World Changer Show is currently the #1 New and Noteworthy podcast in three different categories on iTunes (Business, Health, Society & Culture).


This is an awesome milestone and blessing to our mission here. Because of the increased visibility of the show, we've seen a dramatic increase in new listeners. The audience is growing and the message is spreading far and wide!
If you haven't yet, you can help the podcast expand and reach more people by leaving a quick rating and review in iTunes or Stitcher. Why are podcast ratings and reviews important and how do I leave one?
Top Posts
1. Do You Even Know What Your True Dreams Are?
2. Don't Make This Dangerous Leadership Mistake
3. The 7 Things You Must Give Up to be Successful
Top Podcasts
1. Episode 017: Ridgely Goldsborough Helps You Discover Your WHY
2. Episode 016: 7 Steps to Getting Out of That Funk
3. Episode 021: Sundi Jo Graham on How She Lost 145 Pounds and Telling Your Story of Redemption
Top Community Members
This blog is all about you. The best part, admittedly, each month is the comments that are left by awesome people, like the top ten commenters from October.
The top ten community members each month are entered into a drawing for a free WORLD CHANGER (JUST LIKE YOU)™ t-shirt. So, make sure to leave as many helpful comments as possible and you just might win the next one. Below the list is this month's winner.
Congratulations to…
Mark Sieverkropp for winning the t-shirt. Congratulate Mark on Twitter.
Lessons Learned
I learned my WHY
It's no surprise that my most popular podcast episode in October was Episode 17 with Ridgely Goldsborough.
In that episode, he took me on a guided exercise to find my WHY. We all have a WHY that drives. But until I learned what mine truly was, I never knew what motivated me or why I do the things I do.
This episode changed my life and it can change yours too. Give it a listen.
I learned that great leaders demand three things…and at least one of them is surprising
I learned that great leaders demand three things.
1. Accountability
2. Pushback
3. That they work in your strengths
That second surprised me until I dug a little deeper. I cover it in-depth in this post.
2 months left
You have less than two months left to make this the best year of your life.
Think about how you will close out the year.
Which goals have you already hit? Celebrate.
Which ones are you close to hitting? Hit them this week or next if possible. Put it into another gear.
Which ones have you given up on? Ask yourself why.
Which ones do you need a miracle to achieve? Pray. Then go make a miracle happen.
I believe in you and I believe that these last two months are going to be miraculous.
What was the highlight of your October?