Does your family have a negative history? What about your job? Is there something that it seems you inherited or as "always been that way?" If so, you are the one to break the cycle. In today's podcast episode, I'll show you how.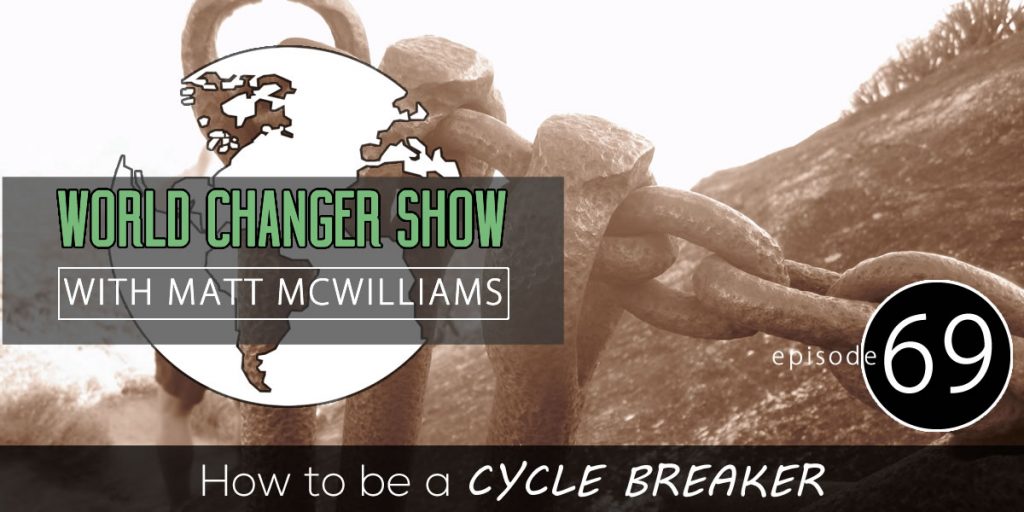 That's right. I declared that you are a cycle breaker.
You can break the negative cycles of your father, your mother, your grandparents, your predecessor at work, or your team's performance. You are capable of putting an end to anything you put your mind to.
That means though that you have to take responsibility for doing so. You can't blame your parents or family history. You can't blame the team leader before you or your boss. You can't blame God.
A Warning
If you aren't the one to break a cycle, it may never be broken. It will come back to haunt future generations. And it will be your fault.
If you want to learn how to break the negative cycles in your family, your business, and your community, today's episode is for you. Listen below to learn how.
Listen to this episode:

Episode Links and Resources
Jeff Goins' Free Training: 7 Steps to Pursuing Your Calling
Jeff Goins' Free Training on How to Become a Full-Time Writer
John Corcoran Free Training: How to Cold Email any VIP
Quote
All things are difficult before they are easy.
Ask Me a Question
If you have a question, comment, thought or idea, you can leave a voicemail for me or contact me via email.
Subscribe to the Podcast
Share the Love
If you enjoyed the show, please rate it on iTunes and write a brief review. That would help tremendously in getting the word out and raising the visibility of the show so that we can inspire other World Changers just like you.
Next Episode
Join me for episode 70 with Dorie Clark, author of the brand new bestseller, Stand Out. This is an amazing book and even better interview. If you've ever wondered how YOU can find your breakthrough idea and actually build a following (and business) around it, this episode is for you. This is one that no platform builder or world changer should miss.
Have you broken a cycle? If so, how did you do it?