What's the next big thing in your life? Do you have big ideas, but feel stuck? What if there was a step-by-step guide to help you get unstuck and moving towards your dreams and passions? Thankfully, there is. It's called Project:Success, the new book from Mark Sieverkropp.
Listen to this post:




I was super fortunate to receive an advanced copy of the book and it blew me away. Mark is a first time author, but the ideas in this book are well-tested and proven to work.
I interviewed Mark ahead of the release of his book today. I've included some highlights from the interview below as well, but I highly encourage you to listen.
How would you describe Project: Success to someone? 
Project: Success outlines the process used by successful people the world over to accomplish their goals and dreams. The mindset, plan, and process included in this book will help you achieve success in any aspect of your life.  Project: Success changes the way you think and the way you look at your goals and dreams and give you the tools and resources to accomplish them.
What is a project, as described in the book?
A project is a plan with a defined objective, a set time frame and a specific plan to achieve it.  It's a unique way to look at your goals and plans that allows you to avoid the roadblocks that typically prevent people from being successful.
Why would I want to do a project?
There are several reasons that someone might want to do a project.  To gain a skill or experience, do something you've always dreamed of doing, transition into your dream job, achieve a dream or goal that you have attempted previously but failed to accomplish.  The principle of projects can literally be used in all areas of your life to help you achieve success.
I have a lot of ideas. How can I prioritize and select one to begin with a project?
Have a lot of ideas is a great thing!  Keep a list of all the ideas you have—if you don't turn one into a project now, you can in the future.  In the book, I talk about asking yourself questions like "What am I passionate about?", "What have I always wanted to do?" and "What skills or experiences do I want to develop?".  These will help you brainstorm ideas.  Once you have quite a few ideas, you start narrowing them down.  Ask yourself, "If I could only do 5 of these projects, what 5 would I choose?" then "If I could only do 4 of these projects…" then 3…and from the 3 you pick the one you would do if you could only do one.  This helps you define what your highest priority is.
I've started projects in the past and failed. How can I figure out what I did wrong and get over the fear of trying again?
The beauty of starting a project is that it makes it very difficult to fail.  The defined time period of a project makes completion equal success.  So when you frame your idea in terms of a project, even if you get to the end of it and you didn't accomplish all you had hoped, or you decide you don't want to continue doing it, you're still successful, because you completed the project. Utilizing the mindset shift I describe in the book will help you address and overcome those fears from past failures and move onto success.
How can completing a project help me with my professional and personal development?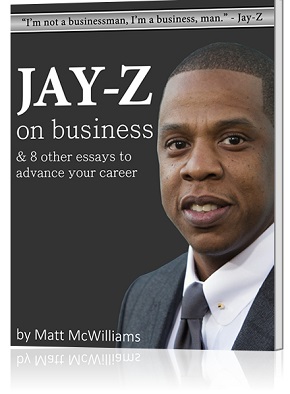 Projects can help with your development in multiple ways.  Nine times out of ten, we don't fail or get stuck personally and professionally because we aren't smart enough or capable enough…we fail because of the mental roadblocks that stand in our way.  Framing your goals, dreams and plans in the form of a project allows you to sidestep those roadblocks and achieve success that you hope to achieve.
How have you utilized the principle of projects in your own life?
The book itself is the result of a project…and that project was the result of several projects before!  When I learned about this idea from Richie Norton, author of The Power of Starting Something Stupid, I implemented it to meet up with Scott and out of that grew Happen To Your Career.  Launching the HTYC Podcast—which you've been kind enough to be a guest on—was a project that turned into an iTunes New and Noteworthy podcast.  Our fundraising campaign—which provided the resources and equipment necessary for the Podcast was a project.  Currently Scott and I are working with a couple other guys to develop a series of webinars and possibly a live event around the idea of Networking and connecting—and we are utilizing the principles from this book to do so.  This isn't theory. I've used these principles in my own life and I've observed dozens of other people use them as well. That's why I know it will work for anyone who applies them!
Why should someone buy Project: Success?




Project: Success is a system tested and designed to help you grab hold of your goals and dreams and achieve them.  If you don't have goals and dreams that you'd like to accomplish, I guess you shouldn't buy this book—but my guess is that the overwhelming majority of people have goals and dreams they would still like to accomplish.  Project: Success can get you there!  On top of that, we're offering several bonuses for those who purchase the book. Bonus videos to walk you through the steps of completing your project, worksheets, the audio version of the book, not to mention Matt, you were kind enough to offer a free eBook titled "Jay-Z on Business & 8 other essays to advance your career" to those who purchase the book. I am a huge believer in providing people with way more value than they pay for products and services, and that is exactly what I've done with this book and the bonuses we're offering along with it.
Purchase Project: Success now and get these FREE bonuses, valued at over $50!!
Project: Success Audio Book (Value: $7.99)– Listen anytime
PDF version of Project: Success (Value: $13.95)– View anywhere on any device
Exclusive eBook by Matt McWilliams (Value: $9.95)– Jay-Z on Business & 8 Other Essays to Advance Your Career
Bonus worksheets and videos (including video of one of Mark's first projects! (Value: $19.95)
SPECIAL LIMITED OFFER: Starting February 3 and going through 12:00pm EST February 9 Project: Success will be on sale for $5.99. After this limited time, the price will increase to the normal $9.99. Pick up your copy from Amazon today!
What's your next project?
If you're having trouble getting started, grab Mark's book now.