Don't buy Chandler Bolt's Self-Publishing School course without reading this first. You'll kick yourself later if you do.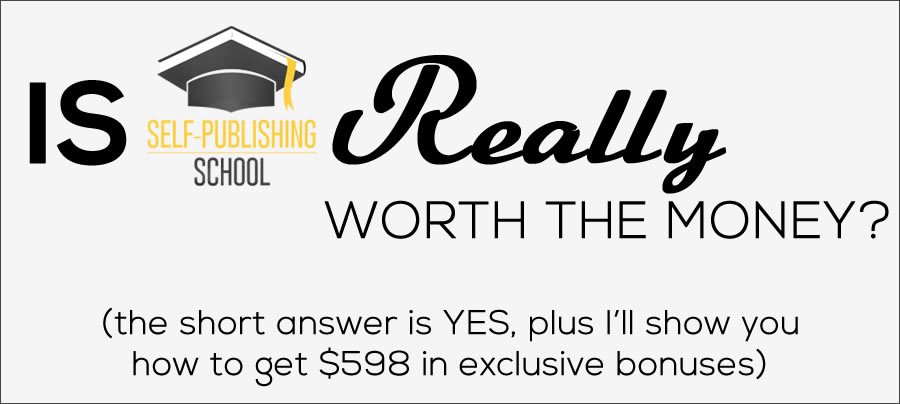 So what's the deal with this new course, Self-Publishing School by Chandler Bolt? Well, hopefully, this review will answer any questions you have.
First off, a full disclaimer: I am an affiliate for Chandler's course. However, that in no way affects what I share below. It does, however, mean that if you buy through my link, I'll earn a commission on your purchase. It also means that if you buy through my link, you'll earn access to my two exclusive bonuses, worth $598. More on those below.<<Skip to the bonuses>>
Alright, now to my review.
What's good about Self-Publishing School?
1. No content overwhelm
From the get-go Chandler makes it clear that this course is not like a lot of the courses that you might go through.
One of my favorite aspects of Self-Publishing School is that the course is sequential and delivered in that manner. Chandler says that they roll it out on an "as-needed basis." What that means is that when you first login, you're not overwhelmed by 72 different directions you could take. You get that week's content and nothing more. I've seen way too many courses where the first reaction to logging is, "Now what?" It's sometimes overwhelming. Not with Self-Publishing School. Chandler did an awesome job here.
2. Flexibility
Another advantage of delivering content on an "as-needed" basis is that Chandler can react to what students are saying they need as the course progresses. So many courses put everything together in one pretty package and then fail to answer their students' needs along the way. Not Self-Publishing School.
Now, admittedly, this benefit is contingent upon you actually participating. It's yet to be seen how students will respond, but I assume after you've paid as much as you'll pay for the course, that you'll make sure to share feedback with Chandler.
3. The Contract
The contract is something you sign to yourself as a commitment to doing what the course says you will do…give 100% over the 90 days of the course and write a book. It's also an agreement that the Self-Publishing School team makes with you. Chandler Bolt signs his name to it. They are promising to give you everything they've got, too.
Here's what it looks like:

Here's my suggestion: Sign it and put it somewhere you will see it every single day, like your bathroom mirror. In fact, go spend $20 on a decent frame and frame it and hang it up.
There is something magical and effective about this. I wish more courses did it.
4. Chandler covers mindset in addition to tactics
If you've read my stuff long enough, you know that tactics are useless without the right mindset.
Limiting beliefs say:
I'm not an expert
My book needs to be long
A self-published book can't compete in the marketplace
Empowering beliefs, on the other hand, say:
You don't have to be an expert to add value
A book only needs to be as long as it needs to be to add value
Self-published books already have and will continue to be competitive in the marketplace
Here's a screenshot of one of the videos:

5. They help pair you up with an accountability partner
I've been through so many courses where I felt like I was doing it alone. Guess how far I made it? Maybe 30% of the way through.
Some courses offer a forum and that's great, but have you ever seen those things? Give them a month and they turn into cess pools of self-promotion or newbie question extravaganzas.
Right away, in the Getting Started section, Chandler gives you the option to pair up with an accountability partner. They do the hard work of pairing you up based on your book topic, your availability, experience level, etc.
Self-publishing a book can be lonely, but this will make it less so. Make sure to take advantage of this opportunity once you are in.
6. The bonus content rocks
I'm not 100% sure if I am allowed to tell you about it, but I will and if Chandler get mad at me, I will remove this part. (Fingers crossed that they don't)
I won't tell you about all of them, but I will tell you about three of them.
7 Steps To Crafting A Best Selling Book Title – Worth half the price of the course alone. For most people, this is a tough process that involves continually refining what you have until you get to something you are happy with. This is a PDF and video combo that shows you every step to creating killer titles (and subtitles). I highly recommend checking out this video.
How To Use Your Book To Get Tons Of Leads – Chandler share his trick for 50-70% lead conversion…seriously. In this video they show you how to get A TON of leads with your book. They break down how they consistently get 50-70% of book buyer's emails & the 2 methods you can use to do the same.
Using HTML Tags To Improve Your Book Listing – Have you ever seen a book with orange header tags in the book description? They look like Amazon bestowed them upon the book, but they're actually put there by the author. They totally work, too. They make the book stand out more and have more credibility. You won't find how to do this anywhere but in Self-Publishing School with Chandler Bolt (at least that I have seen).
What's not-so-good about Self-Publishing School?
Alright, so I shared all the amazingly awesome stuff about the course. What about the not-so-good stuff?
Let me be clear, first, that this course seriously over delivers. That being said, there are a few things that you might not like.
1. While the content is power-packed, the presentations are not.
Personally, I don't mind this a bit. I've been through plenty of courses that looked like they paid $10,000 to have their slides done but the content sucked.
Self-Publishing School is the reverse. Don't expect to be wowed by the presentations or graphics. If you truly feel that will be a bother, this course is not for you.
That's it.
Seriously, I tried to find more. I really wanted to find three things wrong, just for the sake of being open and transparent. I wanted to make this review honest and share the negatives…because I know that actually helps sales. But the fact is that Self-Publishing School is just really freaking detailed. In fact, if I had to pick another downside, it would be that it can be a little overwhelming…but like I said earlier, Chandler and his team deliver it in a manner that prevents that.
You literally have no idea until you get in. It's unreal. I've never seen anything like it in my life. I've been through a lot of courses and usually end up saying something like, "I paid how much for this?" If you want to self-publish and actually sell books, this course is worth five times the asking price. Admittedly, if you just want to write a book and have a few hundred people read it, don't waste your money on this. You can do that on your own.
What you'll learn in Self-Publishing School
The course is broken into six phases, plus a phase on self-published hard copy books and audiobooks, the bonuses, and resources.
Phase 1: Positioning and Outlining
If you've ever wanted to write a book, but didn't know where to start, then the first part of phase 1 will blow your mind. You'll discover your WHY for your book.
The reality is that most people in the Self Publishing School community are just like you. They don't have a clue where to start. Phase 1 will help you to get clarity on your WHY – your purpose for writing the book. And it will show you how to position the book to get the most sales.
Will Self-Publishing School help me if I don't even know what I want to write about?
Yep. Chandler covers that, too.
If you want just a little taste of how to outline your book, check out this post on outling your book from Chandler.
Phase 2: Rapid Writing
AKA – How to write your book fast.
Have you ever read a book that was so good you just couldn't stop? Even if it was past midnight and your eyes could barely stay open, you kept reading to the next chapter.
This phase is all about teaching how to write a book like that as fast as possible. Part 9 of this phase is particularly useful if you've ever suffered from writer's block.
Phase 3: Editing Made Easy
Yeah, I know, this is the boring part. Everyone wants to be a writer. No one wants to edit.
In this phase, Chandler shows you how to outsource this part of the process (at least most of it) without costing a fortune. They'll also show you how to keep this phase from taking forever, a common problem for first time authors.
Part 2 of Phase 3 is something you can do with books, blog posts, or anything. You'll love it!
They'll also show you a process to follow that overlaps a lot of the steps to writing a book, so what would take six months now takes three.
Phase 4: Pain-free Publishing
The book is ready…now what?
This is where most first-time authors get stuck. This is the heart of the secret sauce in Self-Publishing School. If the course started here, honestly it would still be worth more than the asking price. They cover all the bases here.
You'll learn how to format, upload, and finish the book so you can get to the marketing phase.
Some of the things you'll learn here (there's a lot more, but this gives you a taste):
How to format for Kindle
How to hire someone to format your book
How to upload your book the right way
The step-by-step guide to finishing and self-publishing your book
Phase 5: Launching your self-published book
Chandler literally share his blueprint here. His proven blueprint. He calls it:
Our Step-By-Step Formula For Orchestrating A Best Selling Book Launch
If a tree falls in the forest and no one is around to hear it, does it make a sound? The same is true for your book.
Did you ever notice that books have stickers that say "Best SELLER?" not "Best WRITTEN?"
If you want your book to sell, follow his formula. EXACTLY as Chandler tells you.
Chandler and his team break it into three phases:
Building Buzz: 2-3 weeks
Pre-Launch Week: 1 week
Launch Week: 1 week
You'll learn:
The step-by-step method that  Chandler uses to launch #1 self-published books
Social media marketing
Kindle Consumer Psychology
How to write an author bio
How to reach out to influencers (networking)
How to optimize your book listing
How to get reviews early on
And SOOOO much more here
Phase 6: Maintaining book sales
So you launched the book…now what?
This is all about keeping sales up long-term.
You'll learn how to sustain book sales through outsourced services, how to use paid traffic, and so much more here. It may not be the most exciting phase as you get started, but you'll be glad it's there in a few months.
Why you should get the Master level
There are two versions of Self-Publishing School – The Pro Version and the Master Version.
Let me explain the difference and why I suggest the Master level.
You get four things in the Master level, two of which I think are worth much more than the price of the upgrade, so I'll focus on those.
Monthly Breakthrough calls with Chandler, one of the best marketing minds in the book business. I recently had a 15-minute call with Chandler and learned more about Facebook marketing in those 15 minutes than I've learned in 3+ years. He's that good. Consider these a deep dive into what it takes to write a best-selling self-published book.
Weekly 30-minute one-on-one private coaching calls. Do the math…let's go on the low end and say these calls are worth $100 each…alone they are worth the price of the upgrade.
Let me be clear…you don't NEED to upgrade. If money is tight and you're pinching pennies just to get the Pro level, don't worry. What Chandler teaches in the Pro level is enough. Think of the Master level as an accelerated version, not a requirement. If you can afford it, jump on it.
Exclusive Bonuses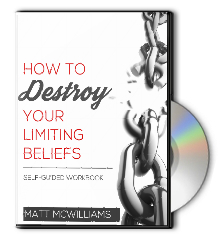 Alright, I've touched on some other bonuses…it's time to tell you all about them. If you go through my affiliate link for Chandler Bolt's course, Self-Publishing School, you'll get two extra bonuses from me. They are exclusive to my readers.
Together, these two bonuses are valued at $598.
Bonus #1 – Destroy Your Limiting Beliefs Self-Coaching Guide – $399
One of the biggest obstacles to writing a book (and publishing it for all the world to see) is your limiting beliefs. Chandler touches on these in the beginning of the course, but I go even deeper here. There are four types of limiting beliefs that you will need to overcome and I teach you how to do so in this self-coaching plan.
Normally, this workbook is only accessible to my private coaching clients, but I know how important it is to conquer these beliefs to do something as amazing as self-publish a book.
Bonus #2 – 1 Free VIP Ticket to Networking with Purpose Live! ($199)
If you purchase Self-Publishing School through my link, you'll get a free ticket to my Networking with Purpose Live event this year.
Another common obstacle to selling self-published books is having the right connections. This live online event will show you how to build, grow, and nurture your network to help you sell more books.
The cheapest ticket for this event will cost $99, but you'll get a free VIP ticket, which gets you access to the live event and a bonus group coaching call two weeks later.

Bonus #3 – My Affiliate Marketing Training Course, No Product No Problem ($297)
In my first two years blogging, I made more than $134,000 online in affiliate commissions before I ever had my own product. And you can, too!
You shouldn't wait to start making money from your platform. Start monetizing now with affiliate marketing.
You get to learn what your audience wants, how to sell, and develop the confidence you need to grow your business…all while getting paid to do so!
80+ video lessions in 9 Modules. Bonus lessons. Checklists. Templates. Success Stories.
Everything YOU need to succeed in affiliate marketing is inside this course.
And you get it FREE when you buy Chandler Bolt's Self-Publishing School course through my affiliate link.
Bonus #4 — 7-Figure Affiliate Launch  ($1997)
I've spent the past decade-plus running affiliate programs for online entrepreneurs like Michael Hyatt, Ray Edwards, Brian Tracy, Lewis Howes, Jeff Goins, and more.
The absolute NUMBER ONE way to sell more of your course is through affiliates. And I teach you how to run your own affiliate program and launch in this course.
You will learn ALL of the strategies and secrets of the top affiliate launches.
This course normally sells for nearly $2000, but it is yours for FREE when you get Self-Publishing School through this link.
The total value of my bonuses is $2890. 
So what are you waiting for?