What if being rich has far more to do with your heart than your wallet? That's the question Matt Ham asks through his blog, podcast, and new book, Redefine RICH. Matt is dedicated to guiding others toward rich living. His own experiences have led him to the understanding and freedom of a rich life, and through his RICH Principles he helps folks uncover true richness, identifying real treasure and discovering true joy and contentment. Matt share's a powerful lesson in today's guest post.
Deep down, I'm selfish. And you are too. You can call it being ambitious or you can call it being goal-oriented, but I promise you that—somewhere within—those feelings are hidden within the guise of selfishness.
Now, I'm not writing this from a position of condemnation, I'm guilty too. Rather, I'm writing from a position of warning and, possibly, encouragement.
Why?
Because I believe that wrestling this deceptive, selfish demon is necessary in embracing fullness in every aspect of your life.
The Oprah Factor
I never saw this truth more apparent than when I was publishing my first book. Honestly, it's painful to admit, but at times, there was an inclination within me to fantasize about the fame and stardom that awaited as soon as I said, "Ship."
Friends would joking say, "So when are you going on Oprah?"
That would immediately be followed by thoughts of reaching out to her as the little voice whispered, this stuff belongs on Oprah.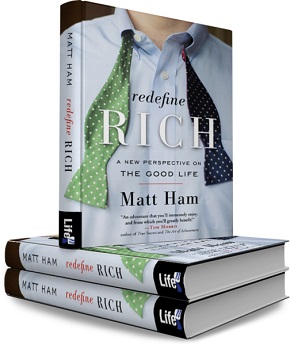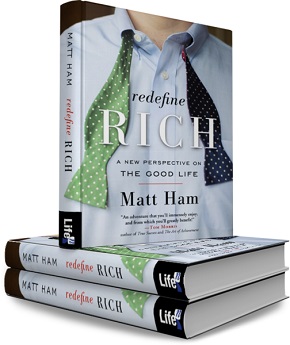 These selfish thoughts caused me to glamorize the spotlight and left me longing for more, my thirst for my own glory left unquenched. The more I fed it, the more its appetite grew.
As I wrestled this truth, I saw that it was apparent in other aspects of my life as well.
If my kids are well behaved, it will be easier on me.
If I sell more widgets, my commissions will be higher.
If I write the right words, maybe my post will go viral.
When those motives are pursued, we have a tendency to check sales and statistics, email customers, and promote our material based solely on the thought: what's in it for me.
Like a two-headed monster within our minds, this predisposition fights with our passion. The passion to help others and add value is real. But if we aren't careful, that passion will be covered up by the need for recognition.
What we really want is to live with passion and purpose and inspire that in others, but when the opportunity presents itself, we settle for popularity instead.
Popularity is not the answer
Popularity is a poor substitute for, well, anything.
The inherent problem is that our culture has taught us to validate our worth based on the size of our audience. Or wallet. Or company. Or how well-behaved our kids are. Or the number of sales. Or…
I think it's time we stopped believing those lies.
So, what's the answer?
I'm not completely sure. I'm great at asking questions, but I don't like to suppose that I'm one to provide answers. Instead, I'll attempt to add perspective.
Change whose world?
I think the answer lies somewhere within our willingness to begin to see our roles differently, to shift our point of view.
When the angry dragon of selfishness creeps in, we need to remind ourselves: the work we do is not for our own gain. Its purpose is the service we provide to others. What it does for us is a byproduct of its purpose.
Whether you're the President of the United States or the mom cleaning up after her kids or the receptionist or the guy taking out the trash, find purpose in your service to those you've been entrusted with.
Your life, then, becomes an outpouring of gratitude for that opportunity.
The point is, you're not a world-changer when you change your world. You become a world-changer by changing the world for others. One relationship at a time.




Quote
You're not a world-changer when you change YOUR world. Only when you change OTHERS' worlds.
When you learn to embrace that with confidence, any relative success is a byproduct.
And, truthfully, if you live with that level of conviction and passion, there will be loads of it.
What's one thing that you can do to change someone else's world today?