Are you waiting on someone's permission to change the world? Heck, are you waiting on someone's permission just to be yourself?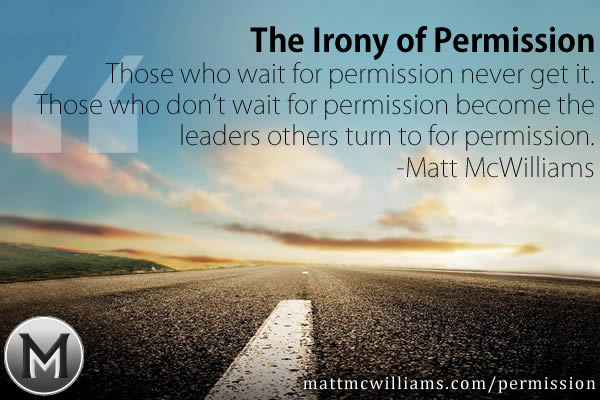 What is permission?
Permission is just a slightly longer word for "approval."
Is it OK if I step out a little?
Can I please do something different?
I'd like to change the world, but I want to check with you first.
I have all these great ideas, but you'll probably think they're crazy, so never mind.
Anytime you ask for, wait on, or demand permission, you demonstrate a need for approval. And you are allowing the need for approval to delay, limit, or even stop you from doing what you are called to do.
The irony of waiting on permission
You wait on permission.
You wait and wait and wait. You seek approval.
But it never comes. Now what?
I faced that question in 2009. I realized no one would ever "give" me permission to do anything special. No one would grant me permission to pursue my vision. And no one would dare to approve of any of my crazy ideas.
So I stopped asking. I stopped waiting. I annihilated my need for acceptance. I did what I was called to do. I became a revolutionary within my industry at the time.
But something funny happened:




When I stopped asking for permission and waiting on approval is when I began to earn the most respect (I won a major industry award). That is when I gained the most approval. That is when others looked to me for permission.
That is the irony of waiting on permission.
Those who wait for permission never get it. Those who don't wait for permission are sought for theirs. They become the leaders others turn to for permission.
3 paths to permission
You have three choices when it comes to getting permission for your dreams.
1. Ask for it.
Wait, wait, wait, and wait some more. Depend on others. Desperately need approval. Pick me, pick me, pick me.
Upside: You never have to make a decision. You can always blame others for your failure to achieve anything special. You'll never ruffle any feathers. You'll never step out on your own. You'll always have people telling you just how pleasant and agreeable you are.
Downside: You will die having accomplished nothing of significance. Nothing.
2. Demand it.
This sounds a lot like, "you better let me do X or I'll ____." Basically, it's the same as asking for it, but it involves a lot of whining and childish threats.
Upside: You might get what you want.
Downside: Did you catch the part about whining and childish threats? Does anything good come from those? You'll alienate everyone who could potentially be on your side. Even if your idea or dream is a good one, no one will support it.
3. Give it.
Give yourself permission. Give others permission. When I stopped asking for permission in 2009, I didn't do it with trumpets blasting. I didn't turn my back on everyone around me. I didn't storm out of my boss' office guns blazing, declaring that I was going to change the world.
I simply gave myself permission. And I gave others around me the same permission.
Permission to think big.
Permission to make mistakes.
Permission to be who we are called to be.
I did it quietly. But the impact it soon had was very loud indeed.

Action item: Choose one thing you've been waiting on permission to do. And do it. Give yourself permission to do something amazing.
What permission are you waiting for? Will you choose to give yourself and others permission?