"Everyone has a story of redemption."
Those words are from today's guest, Sundi Jo Graham. She is living a life of redemption and sharing with others how to do the same.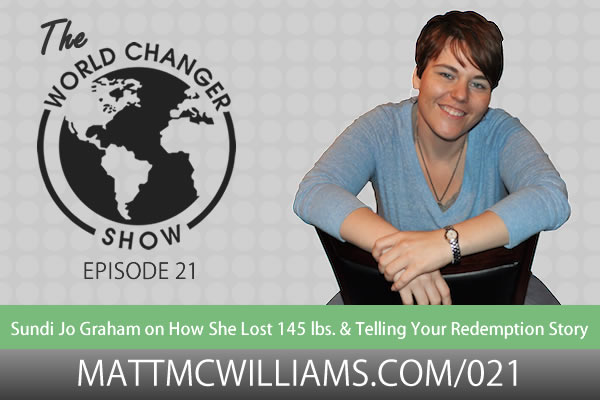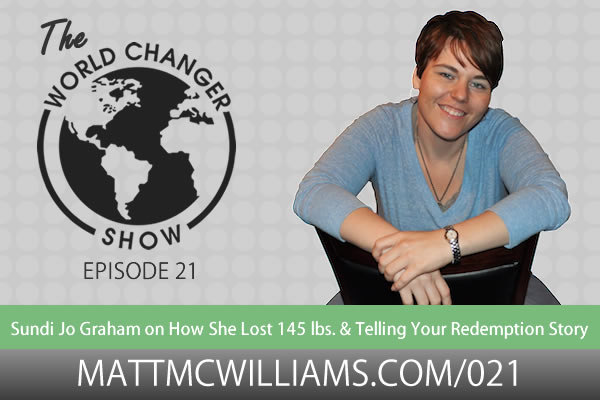 In today's episode we talk about how everyone has a story of redemption, how you can find yours and share it with others, and…how today's guest lost 145 pounds (no joke).
Join me in learning how she did that and what lessons you can learn from her journey.
About Sundi Jo
Sundi Jo inspires others to break free from self-destructive behaviors so they can learn to love themselves and experience lasting transformation. Her first book, Dear Dad, released in 2013. She blogs at sundijo.com on life application, faith lived out, and health and wellness. She is the founder of Esther's House of Redemption, a residential discipleship program, offering hope to broken women, free of charge.
Sundi Jo is the proud loser of 145 lbs. She lives in Branson, MO, enjoys hanging out at coffee shops, thinks Dolly Parton is the greatest singer ever, and believes you can't live life without laughter.
Listen to this episode: 
Quotes
"It is not true that everyone is special. It is true that everyone was once special and still possesses the ability to recover it." ― Criss Jami

"Any fool can be happy. It takes a man with real heart to make beauty out of the stuff that makes us weep." ― Clive Barker, Days of Magic, Nights of War
Episode Links and Resources
Find your true dreams worksheet
Ask Me a Question
If you have a question, comment, thought or idea, you can leave a voicemail for me or contact me via email.
Subscribe to the Podcast
Share the Love
If you enjoyed the show, please rate it on iTunes and write a brief review. That would help tremendously in getting the word out and raising the visibility of the show so that we can inspire other World Changers just like you.
Next Episode
Join me for Episode 22, 4 Ways to Shut up a Gossip. Gossip has no place in the life of someone out to change the world, so join me as I share with you four strategies you can use to shut up the gossips in your life.