"Everyone has a story of redemption."
Those words are from today's guest, Sundi Jo Graham. She is living a life of redemption and sharing with others how to do the same.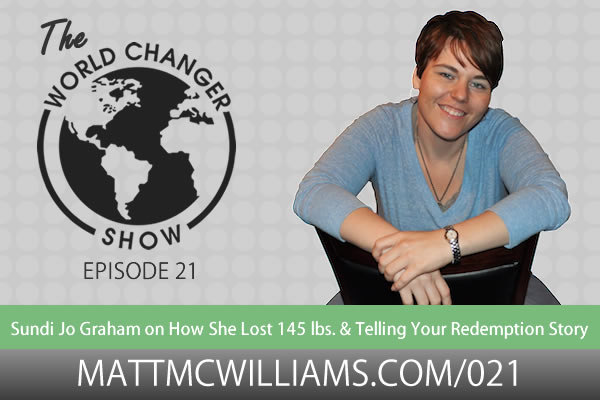 Learn how @SundiJo lost 145 pounds and found her beautiful story of a redemption. (Tweet That) | Share this Graphic on Pinterest | Share on Facebook
In today's episode we talk about how everyone has a story of redemption, how you can find yours and share it with others, and…how today's guest lost 145 pounds (no joke).
Join me in learning how she did that and what lessons you can learn from her journey.
About Sundi Jo
Sundi Jo inspires others to break free from self-destructive behaviors so they can learn to love themselves and experience lasting transformation. Her first book, Dear Dad, released in 2013. She blogs at sundijo.com on life application, faith lived out, and health and wellness. She is the founder of Esther's House of Redemption, a residential discipleship program, offering hope to broken women, free of charge.
Sundi Jo is the proud loser of 145 lbs. She lives in Branson, MO, enjoys hanging out at coffee shops, thinks Dolly Parton is the greatest singer ever, and believes you can't live life without laughter.